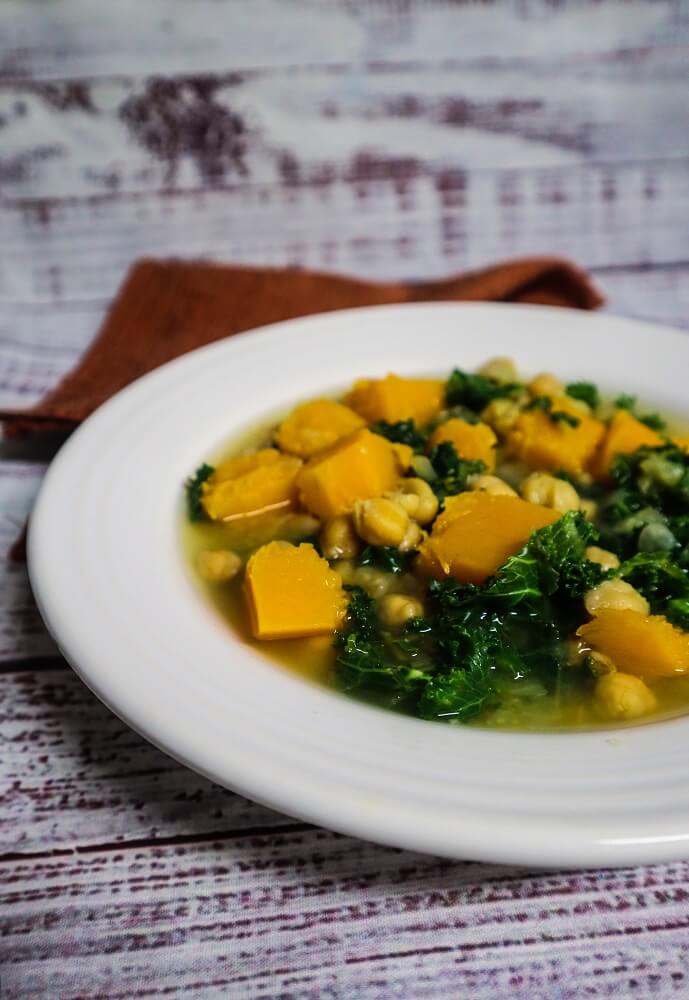 Butternut Squash, Chickpea and Kale Soup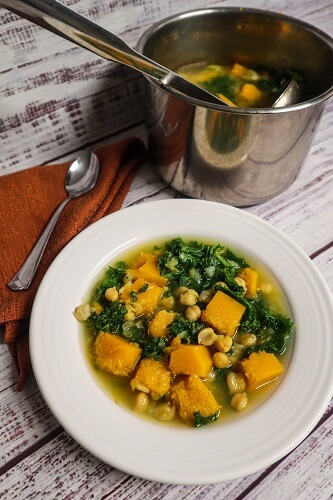 The weather is starting to cool off here, I am seeing a touch of color starting on some of the maple trees, and I am getting the comfort food cravings.  So I thought I would make some warming soup last week.  We had a few rainy days here, and it was just the thing to warm me up.  Especially the day Eric and I decided to go for a bike ride then got rained on half way through and had to ride an hour in the cold rain. I made some butternut squash, chickpea and kale soup!  One thing I am super excited about right now is squash coming into season. It is one of my favorite veggies ever!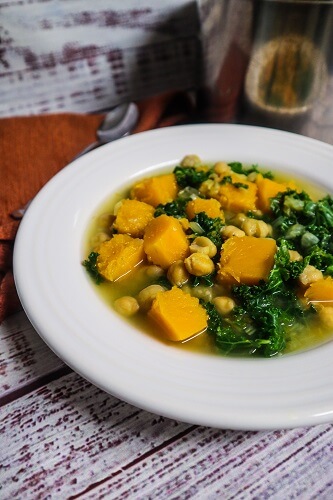 For this I used half my butternut squash for soup and I used the other half to roast and stuff for dinner another day.  I love making home made soup. I don't think I have actually bought any soup at the store, especially canned since my Mom taught me to make soup when I was in college.  The flavor is so much better, and there is just no comparison.  Plus most soup is pretty cost effective to make anyhow, especially if it lasts for a few meals!  This one did for us!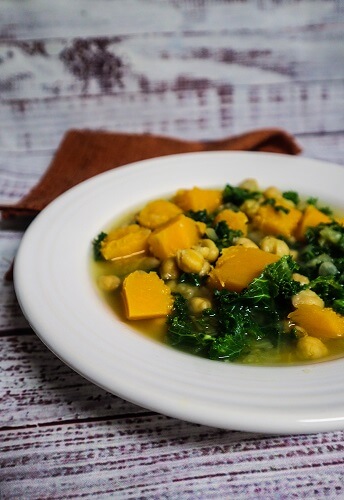 This is really simple to make!  I used my favorite soup base, which is just celery, onions and garlic with a little thyme.  If you use a flavorful broth for this, it makes it even more delicious. I used some home made broth, but you can use store bought if there is one you like!  After the less tender veggies simmered, I added the squash and let it cook for the last 10 minutes or so just so it didn't get too mushy. Lastly the beans and kale. I like to add the kale at the last minute so that it retains more nutrients.  This is something I do often, add greens to my soup at the last minute to add extra goodness!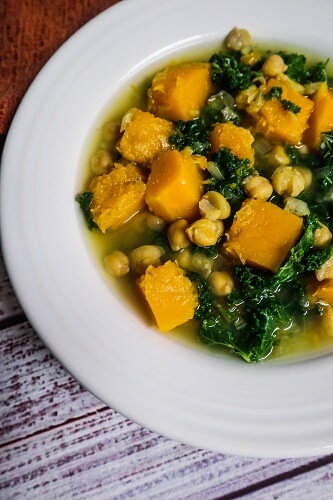 This soup turned out super delicious! I served it with some home made bread to dunk in it, and the broth was nice and flavorful. I love the sweet squash with the other savory veggies!  Which fall vegetable or fruit are you most excited about?  I love the squash but I am also excited for apple season!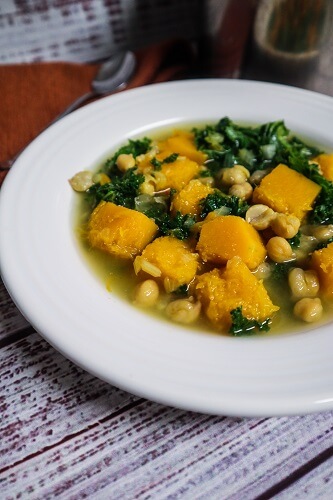 Butternut Squash, Chickpea and Kale Soup
Serves 3-4
Ingredients:
1 tsp olive oil
1/4 cup diced red onion
4 stalks celery, sliced
2 garlic cloves, minced
1 tsp thyme
1/4 tsp red pepper flakes
1/2 tsp sea salt
4 cups flavorful vegetable stock
sea salt
4 cups cubed butternut squash
1 1/2 cups cooked chickpeas
2 cups fresh kale, torn into small pieces
Instructions:
Heat the olive oil in a medium pan.
Add onions and celery and sauté until tender.
Add the garlic, tomatoes, thyme, sea salt, pepper, and filtered water.
Bring to a simmer, and allow to cook until the veggies are very soft and the flavor has melded, about 20 minutes.
Add the squash to the pot, and let cook for about 10-15 minutes.
When the squash is tender, stir in the beans and kale until kale has just wilted.
Serve!
(Visited 581 times, 1 visits today)