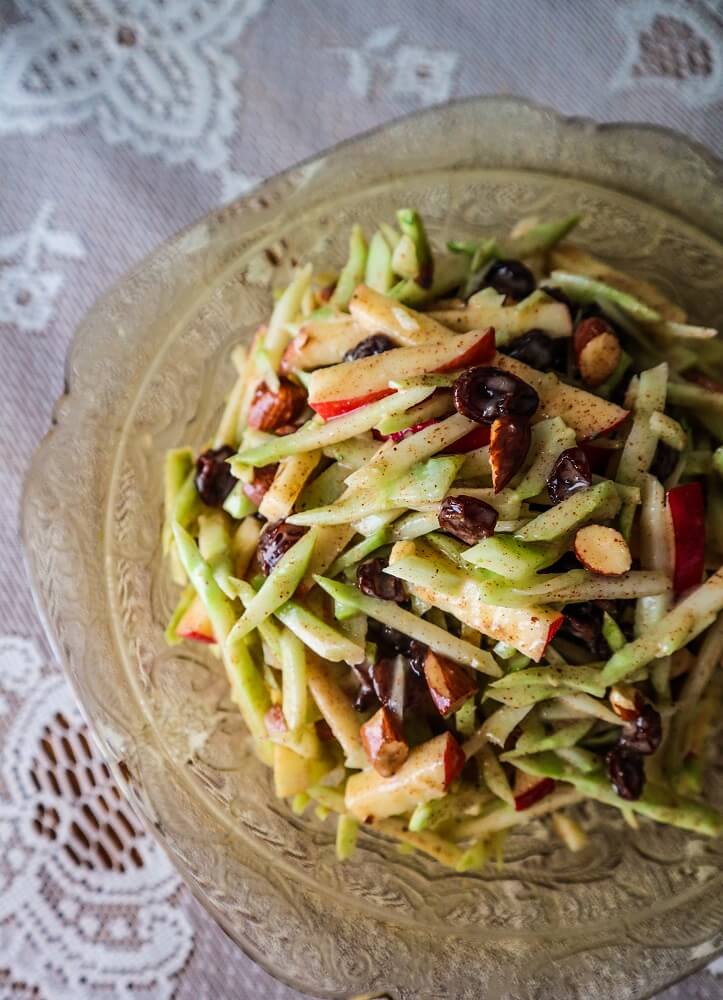 Broccoli Almond Apple Slaw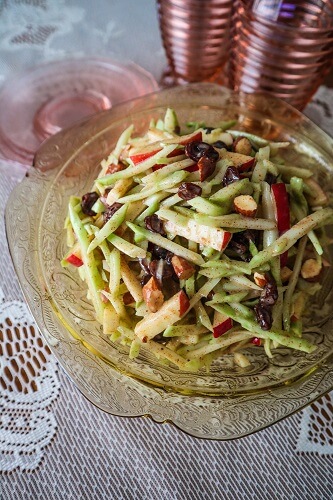 I don't know why everyone throws all of their broccoli stems away and just keeps the flowrettes, honestly the stems are the most delicious sweet part of the broccoli in my opinion!  So, when I was making a big broccoli salad the other day at work and had a lot of stalks bound for the trash, I decided to save a few and make a broccoli slaw.  I mean, you could pay a lot more for a bag of broccoli slaw mix at the store (essentially just shredded stems with carrots), so why not make your own from stalks?!  I had made a broccoli apple almond slaw years ago on this blog and decided it was time for an update as well.  Not because it was bad as it was, but because I wanted to take new photos.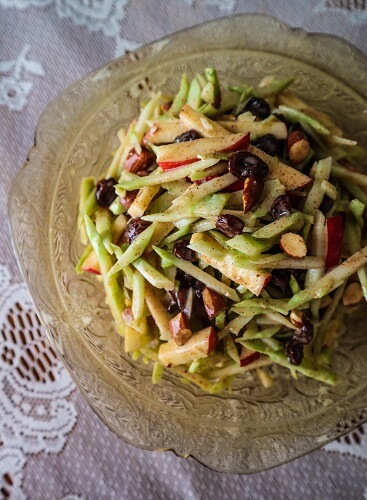 This salad is sooo good, and so easy to make!  The most time consuming part is just cutting the broccoli julienne.  I sit and chop veggies all day though, so it isn't a big deal to me.  But if you are not good with a knife and don't feel like cutting the broccoli julienne, you are welcome to shred it instead, it will still be delicious in this salad. I combined it with a sweet honeycrisp apple, my go to apple for salads because it is so flavorful, as well as some sweet raisins and almonds.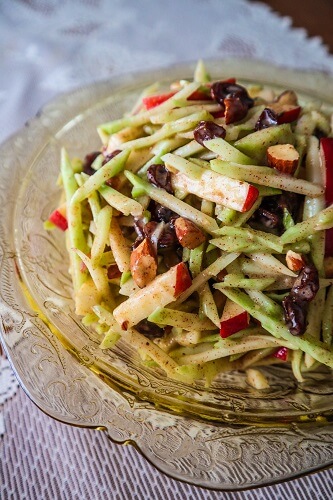 The dressing had to be delicious as well. Since the salad already had almonds in it, I figured I would make a creamy almond butter dressing for it. Honestly nut butter based dressings are my favorite and the ones I use most often. They are oil free, good for you and they only take a minute to whip up.  I keep some in the refrigerator at all times, usually it is a walnut pumpkin seed butter base, but almond butter is used often for dressing in my house too.  This one I wanted to be sweet and tangy.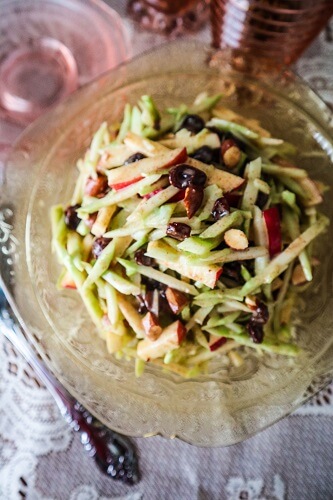 The salad turned out sooo good!  This would be the perfect thing to make for a side dish, or for lunches to bring to work (when everyone goes back to work, or maybe you are still working during this whole coronavirus thing like me).  It is crunchy, the broccoli and apples are sweet, the almonds add a nice crunch, and that silky tangy dressing is perfect on it!  Give this a try next time you have some leftover broccoli stalks on hand (or if you don't just have stalks, chopped broccoli would work as well, just use about 4 cups).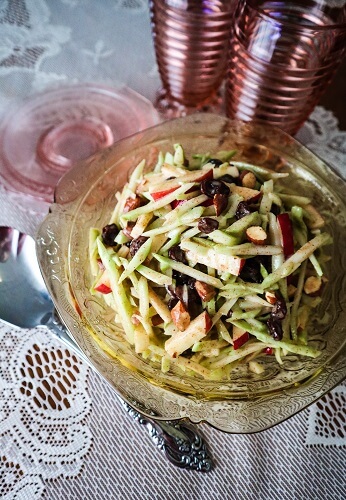 Broccoli Almond Apple Slaw
Serves 6-8
Ingredients:
Salad:
6 broccoli stalks, peeled and cut julienne (or shredded with a larger setting on a grater)
1 large tart sweet apple, such as honeycrisp, cut julienne (or shredded with a larger setting on a grater)
1/2 cup raisins
1/2 cup chopped almonds
Dressing:
1/2 cup almond butter
1/4 cup filtered water
1 Tbsp apple cider vinegar
2 Tbsp maple syrup
1/2 tsp sea salt
Instructions:
In a bowl, combine the broccoli stalks, apple, raisins, and almonds.
Whisk together the dressing in another bowl (if it seems too thick, since almond butter varies in thickness, add a little more water).
Toss the dressing with the salad, and serve!
(Visited 783 times, 1 visits today)