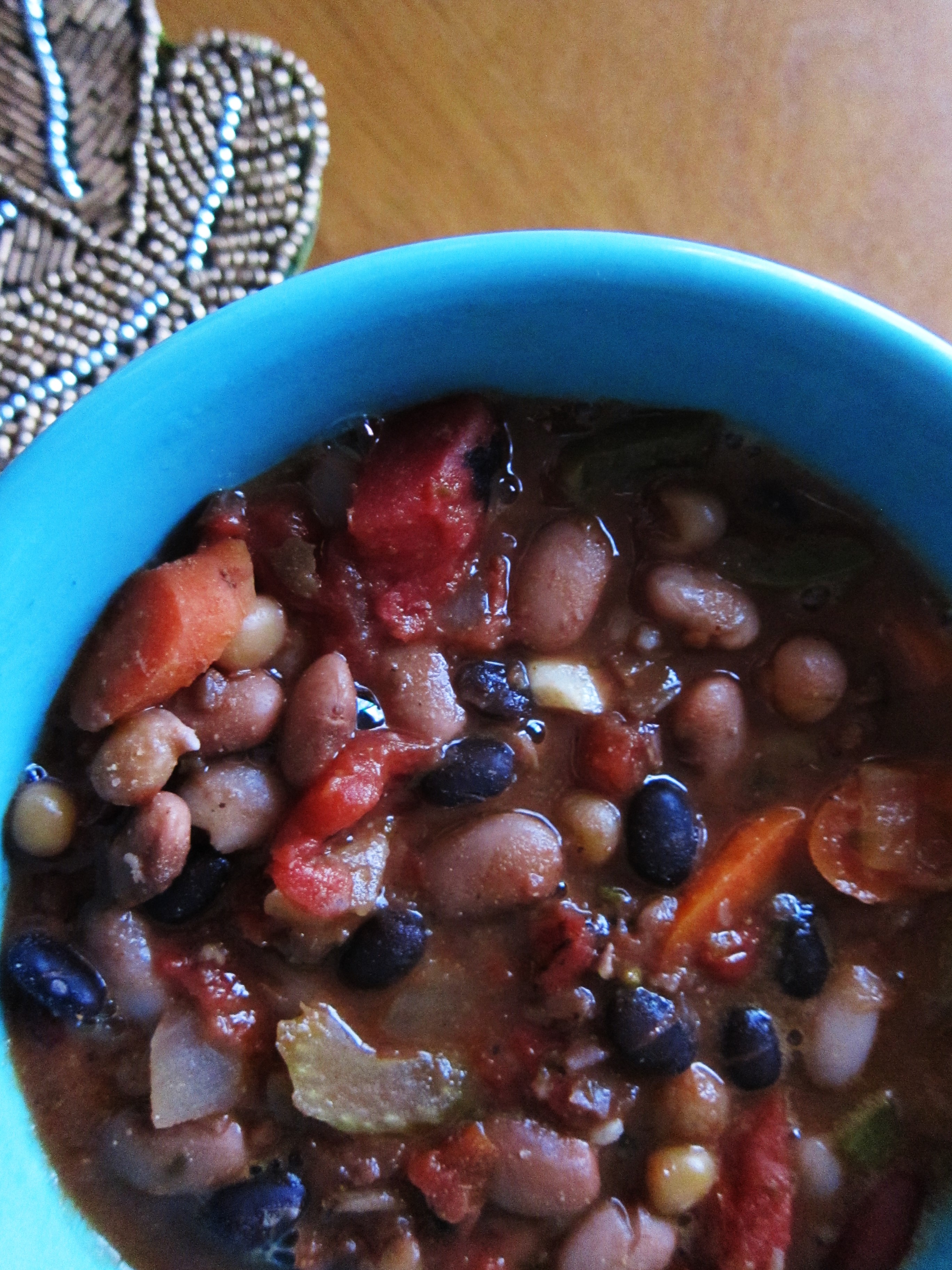 Big Batch Vegan Hearty Mixed Bean Chili
It has been pretty cold here the last few days.  Me and Eric sort of hibernated this weekend, watching netflix indoors instead of our usual outdoor exploring, and me running and walking on the treadmill instead of venturing out.  I know I can venture out, I have the warm gear for it, but I just haven't felt like being cold.  It was sort of cozy in a way, and a good excuse to make a big batch of vegan chili! So, I whipped up a huge batch to share with Eric.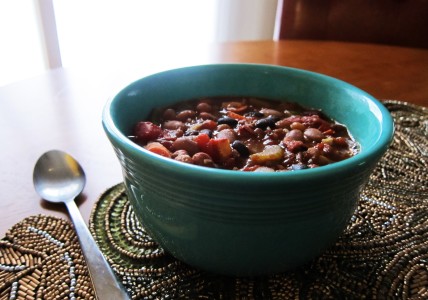 I make chili a lot at work, but I haven't made it in a while at home so it was about time.  This was sort of a work with the ingredients I had on hand sort of a thing. So I threw in a bottle of beer along with the usual ingredients instead of stock because I have seen it in chili recipes before, and I knew Eric would enjoy that. I have a huge bag of heirloom beans so I used those in the soup and it created sort of a beautiful bean mosaic in the pot. It ended up being really quite delicious and not much work which was what I was going for. There is something so wonderfully comforting about enjoying a warm bowl of soup goodness as you watch it snow outside!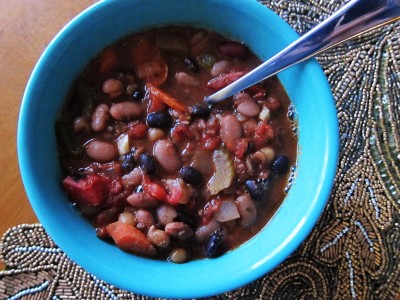 Big Batch Vegan Hearty Mixed Bean Chili
Serves 8-10
2 tsp oilve oil
1 large onion, diced
2 celery stalks, sliced
4 carrots, halved and sliced
2 garlic cloves, minced
1 Tbsp chili powder
1 Tbsp ground cumin
1 Tbsp dried oregano
1 Tbsp cacao powder (or unsweetened cocoa powder)
1 Tbsp maple syrup (optional)
1 Tbsp cider vinegar
1/2 tsp cayenne pepper (or to taste, add less if you like it less spicy)
1 28 oz can diced fire roasted tomatoes
1 12 oz bottle of beer
1 green bell pepper, diced
1 tsp sea salt, or to taste
4 1/2 cups cooked mixed beans (black beans, kidney beans, garbanzo beans, white beans...whatever you like!)
In a large pot, combine the olive oil, carrots, celery, onions, and sautee until softened, about 5 minutes. Add the garlic, spices, cacao powder, maple syrup, cider vinegar, cayenne, tomatoes, beer, bell pepper, and salt, and bring to a boil.  Lower to a simmer, and cook for about 20 minutes, until the flavors have blended.  Add the beans, and taste to see if it needs salt.  Serve warm.
(Visited 117 times, 1 visits today)