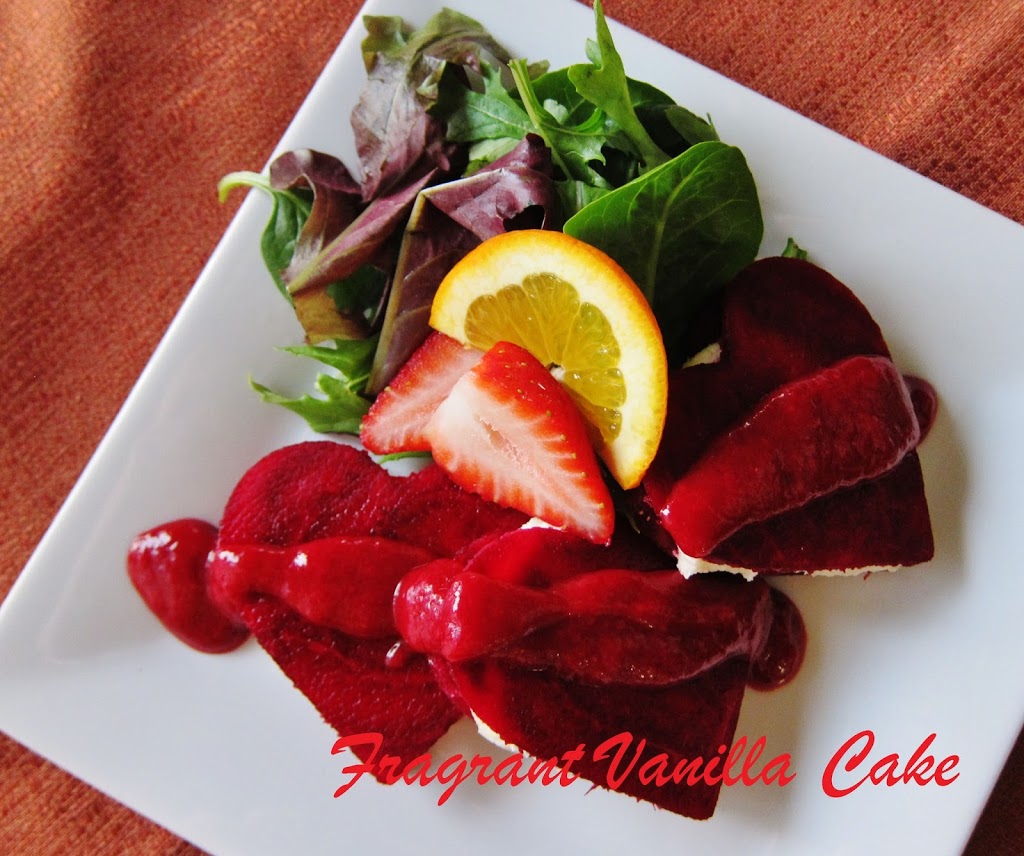 Beet Ravioli with Orange Thyme Ricotta and Orange Strawberry Sauce
I have been eating beets in a lot of salads lately, and I love them but I decided that I needed to be a little more interesting with the combination so I made beet ravioli.  I cut it into hearts to be cute, and laced the macadamia inside with some thyme and orange.
I finished it off with a strawberry orange sauce and served it with greens and it was a delicious light meal.  I can't believe it took me over 1/2 a year into being raw before I tried beet ravioli.  I will definitely have to come up with different sauces and fillings now because it was awesome!
Beet Ravioli with Orange Thyme Ricotta and Orange Strawberry Sauce
Serves 4
Macadamia Ricotta:
2 cups Macadamias, soaked for at least 4 hours, drained (or cashews if you prefer)
juice of one lemon
1 tsp sea salt
1 1/2 Tbsp orange zest
1 Tbsp fresh thyme, minced
Strawberry Orange Sauce:
1 cup fresh strawberries
1/4 cup fresh orange juice
2 soft medjool dates, pitted
a pinch of sea salt
1/4 tsp thyme
24 large thin slices of raw beet,cut into hearts if desired
greens for serving
strawberries and orange slices for serving
To make Macadamia ricotta, Combine the macadamias, lemon juice, and sea salt and orange zest and thyme in a high speed blender or food processor and process until smooth with about 3 Tbsp of filtered water (or enough to make a thick soft cheese consistency without being runny).  Wrap cheese in a double layer of cheesecloth, and place in the fridge to let sit a day or two.
For the sauce, combine all ingredients in a food processor until smooth.
To assemble, scoop about 1 Tbsp of the ricotta onto half the beet slices, then top with another beet slice to make ravioli.  Place 3 on each plate, then place a hanful of greens, some strawberries and orange slices.  Spoon some of the sauce over the ravioli on each plate and use the extra for the greens if desired.


(Visited 68 times, 1 visits today)