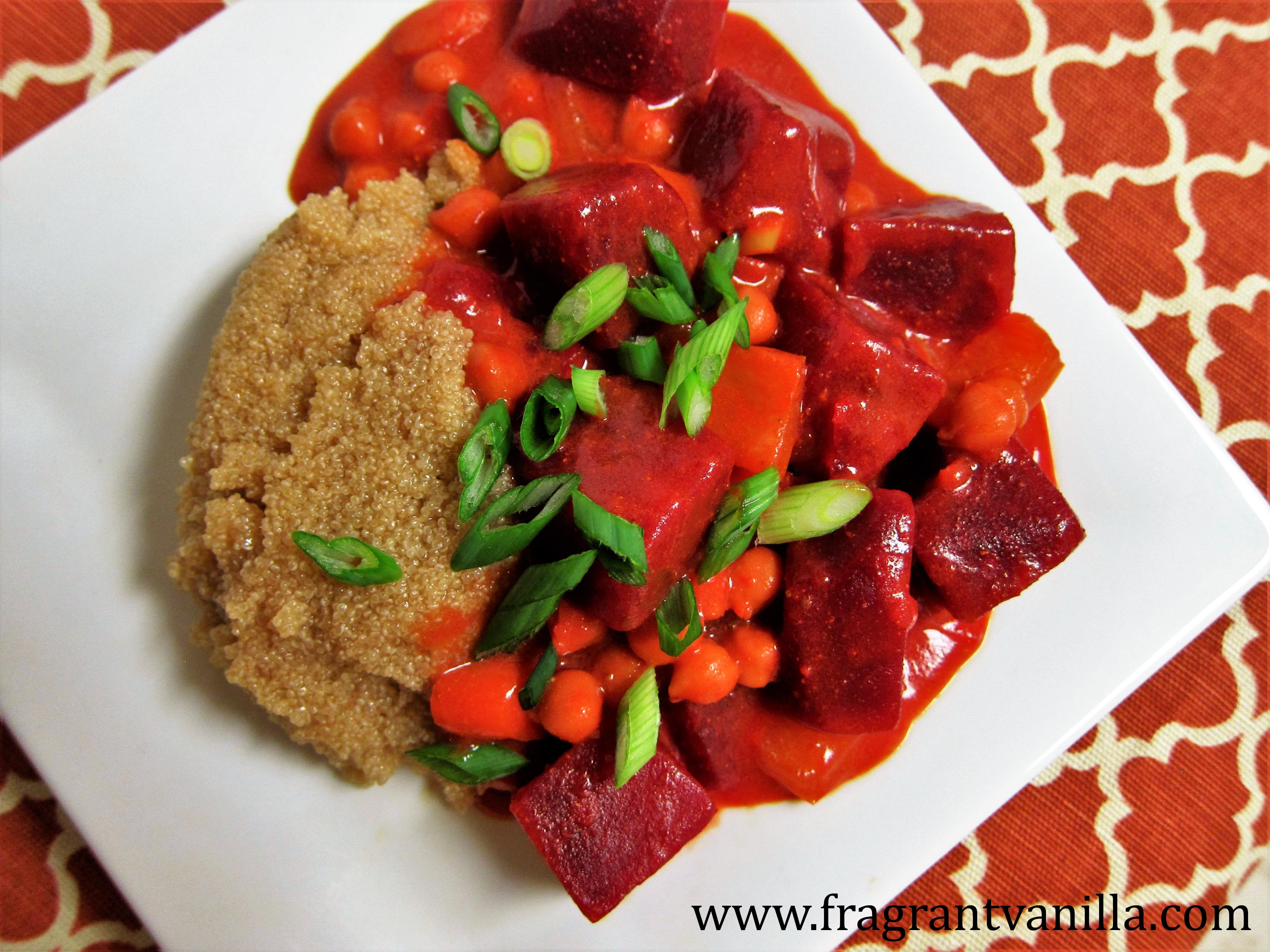 Beet and Chickpea Curry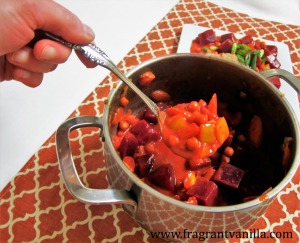 I was in the mood for curry a few nights back, but I didn't have many traditional ingredients to make one. I did however have beets.  I have never heard of a beet curry (not that I am a curry connoisseur or anything), but I decided I was going to make one.  It sounded good.  I have made a beet and curry soup in the past, and it was delicious so I knew this would be too.  I am a huge beet fan.  Not just for their color and nutritional value, but because they just taste good to me.  The best ones are nice and sweet.  I love getting the baby ones from the farmer's market in the summer that are so fresh and little you can slice them up and eat them raw.  But of course I am not going to turn down a large beet in the Winter I am going to use for cooking.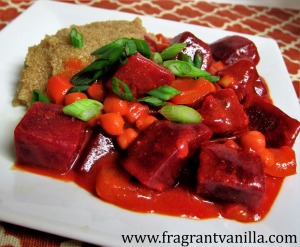 I combined the beets with a few simple ingredients, peppers, onions, carrots, and garlic for the veggies, and a simple curry for most of the flavor.  I wanted this to be a somewhat rich curry so I added coconut milk to make the most delicious sauce.  a little lime juice to make it pop and it was wonderful. I added in chickpeas at the end for protein and it was a pretty substantial meal when I paired it with some cooked amaranth on the side.  I like to have something on the side to soak up the curry, and I am not a big rice eater, so high protein amaranth that I had on hand it was. It was aromatic, comforting, and delicious.  Not to mention beautiful.  I love it when foods have vibrant colors!  This curry looked like a sunset to me.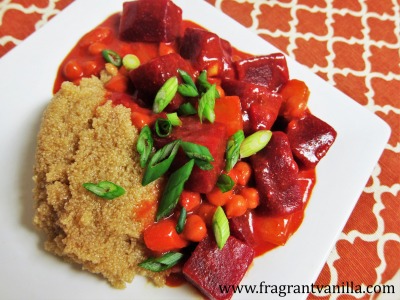 Beet and Chickpea Curry
Serves 2 generousl
1 large beet
2 tsp coconut oil
2 medium carrots, sliced
1 small onion, diced
1 garlic clove, minced
1 bell pepper, diced
1 tsp ground cumin seed
1 Tbsp mild curry powder
1/4 tsp red pepper flakes
sea salt to taste
1 3/4 cup coconut milk
1 cup cooked chickpeas
2 Tbsp lime juice
1 Tbsp arrowroot starch
Cooked amaranth or quinoa for serving (or your choice of grain)
sliced green onions for serving
Cut the beet into large dice, and place in a medium pot, covered with filtered water.  Bring to a boil, and lower to a simmer.  Simmer for about 30 minutes until the beets are tender.  Drain, and set aside.
To make the curry, heat the oil in a pan, and add the carrots and onions.  Sautee until softened, about 5 minutes.  Add the garlic, bell pepper, cumin, curry powder, red pepper, and sautee for a minute more.  Add the sea salt, coconut milk, chickpeas, and reserved beets, and bring to a boil.  Lower to a simmer, and cook for about 5 minutes.
Whisk the arrowroot starch into the lime juice, then add to the curry.  Cook a minute more until thickened.  Serve with cooked amaranth or quinoa, and sprinkled with the green onions.
(Visited 30 times, 1 visits today)