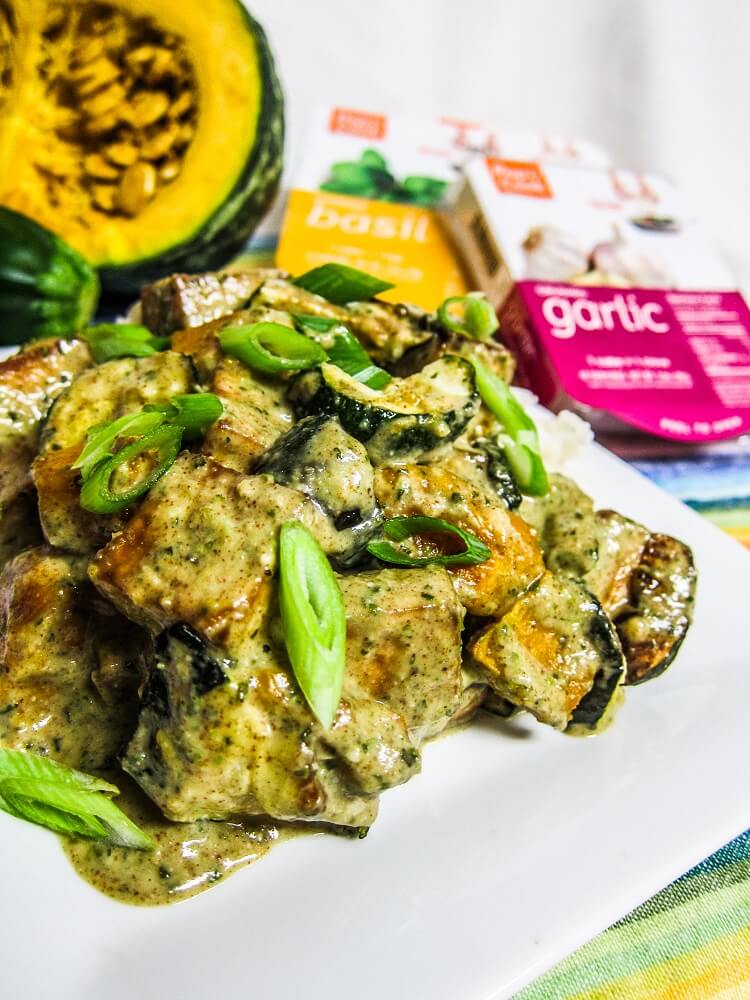 Basil Almond Roasted Tofu and Veggies and Pop and Cook: My New Favorite Cooking Secret!
There has been a big chill in the air here lately, and I am craving savory, warming vegan comfort food. A few nights back, I made delicious Basil Almond Roasted Tofu and Veggies, a new recipe experiment featuring Pop and Cook, which I discovered it at my local Walmart in the frozen vegetable section. It is an ingredient that makes prepping and preparing my meals a lot easier!  During the week, I like to make simple meals for dinner that don't involve too many ingredients, because after work I don't have a lot of time, and I want to have time to be able to relax at night.  I don't know about you, but being able to unwind after work is very important to me.  Good tasting healthy food is also very important to me. Maybe you are trying to eat healthy too in the new year, if so read on.  I like all of my meals to have plenty of veggies and protein, so a tofu dish is the perfect option!  I love a good baked tofu, it is simple and a delicious blank palate perfect for soaking up delicious sauces and goes perfect with any veggies.  Which is where the Pop and Cook comes in.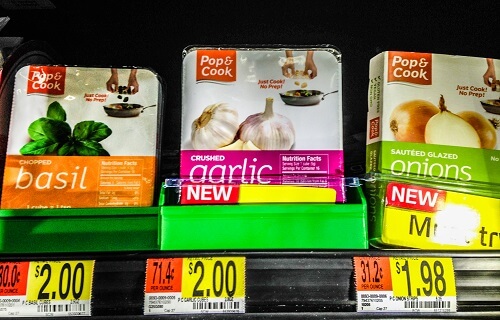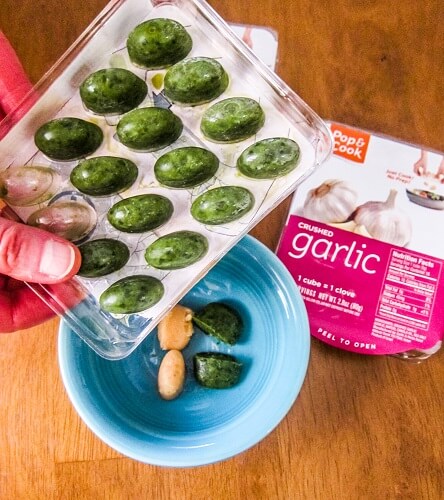 While my veggies and tofu were baking, I made a simple easy to make sauce using only 6 ingredients including salt and water.  Just almond butter, Pop and Cook basil, Pop and Cook glazed onions, and Pop and cook garlic. It may sound very plain but it was so flavorful and delicious thanks to the Pop and Cook!  If you have never heard of them, they are little frozen cubes of veggies or herbs used for flavoring, and all you need to do is pop them out into your dish that you are making.  Because they come frozen, they stay fresh until you need them.  Not only that, each little cube stays covered until you pop it out, so they stay fresh and don't get freezer burned.  I don't know about you, but I think peeling garlic and onions and chopping herbs can be a pain sometimes when I am in a hurry.  Not only that, fresh basil is not available here now, so the only option is usually dried which is just not the same.  If you use Pop and Cook, you get the same flavor as you would with fresh.  This sauce I made tasted like creamy basil pesto but better.  Who would have thought something as simple as Pop and Cook garlic, onions, and basil could make it taste so good! It was the perfect comfort food dish for a chilly Winter night.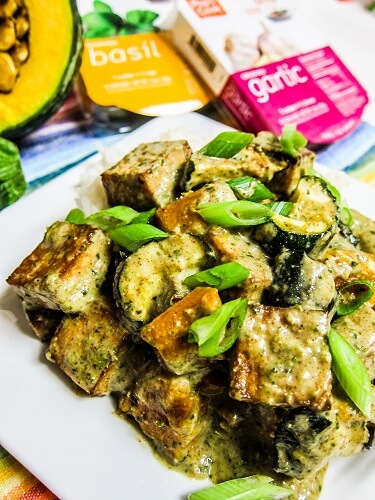 If you are busy like I am, you definitely need to check out this product.  Also, if you end up throwing away things like fresh herbs or garlic because you only need a little bit at a time for a recipe, then Pop and Cook is perfect for you.  You can use only what you need and save the rest for later.  Also, you would think that something as convenient as this would be spendy, but they are actually very affordable, and you can find them at your local Walmart in the frozen vegetable section.  So next time you are there, take a little trip down that aisle, it will make your weeknight dinner cooking so much easier.  Click HERE to find the nearest Walmart to you that carries them.  Pop and Cook doesn't just offer basil, glazed onions and garlic, they also have cilantro, and ginger.  Think of all of the delicious things you could make with those.  No chopping onions, peeling garlic and ginger and mincing herbs. So you can get to the table faster, and enjoy really delicious food without a lot of effort.  Pop and Cook, is my new favorite cooking secret.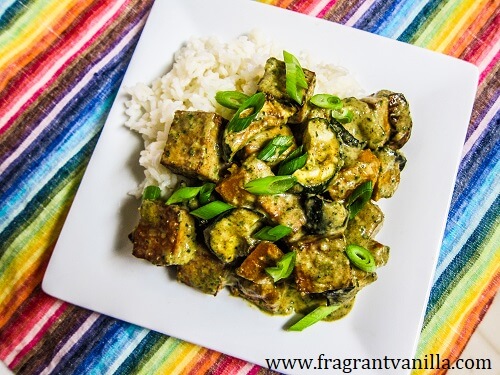 Basil Almond Roasted Tofu and Veggies
Serves 2
Ingredients:
Tofu:
16 oz organic extra firm tofu, cut into cubes
3 Tbsp sesame oil
3 Tbsp tamari
Veggies:
1 1/2 cups butternut squash, cut into 1 inch cubes
1 medium zucchini, cut in half, and sliced 3/4 inch thick on the bias
2 Tbsp sesame oil
Sauce:
For Serving:
2 cups cooked jasmine rice (optional)
green onions for garnish
Instructions:
Preheat the oven to 400F degrees.
Toss the tofu with 3 Tbsp sesame oil, and 3 Tbsp tamari in a bowl until the tofu is coated, and spread out on an oiled sheet pan.  Place in the oven, and bake until the tofu is starting to brown, and get crisp at the edges, about 45 minutes.
Meanwhile, to make the veggies, toss the butternut squash with 1 Tbsp sesame oil and spread out on an oiled sheet pan.  Place in the oven and roast for about 45 minutes or until tender and browned at the edges.
Toss the zucchini with the remaining Tbsp sesame oil, and spread out on an oiled sheet pan.  Place in the oven and roast for about 25 minutes until tender and starting to brown at the edges. Remove from the oven once finished baking, while you wait for the tofu and squash to be done.
Meanwhile while the veggies and tofu are cooking, to make the sauce, combine the almond butter, filtered water, Pop and Cook basil, and Pop and Cook garlic, and Pop and Cook onions and sea salt in a small saucepan over low heat.  Cook and stir to combine until the Pop and Cook cubes are completely mixed in and the sauce has warmed.
When the tofu and veggies are finished cooking, combine them with the sauce in the pan, and mix until they are coated in the sauce.
Serve with jasmine rice and sprinkle with green onions.
(Visited 45 times, 1 visits today)