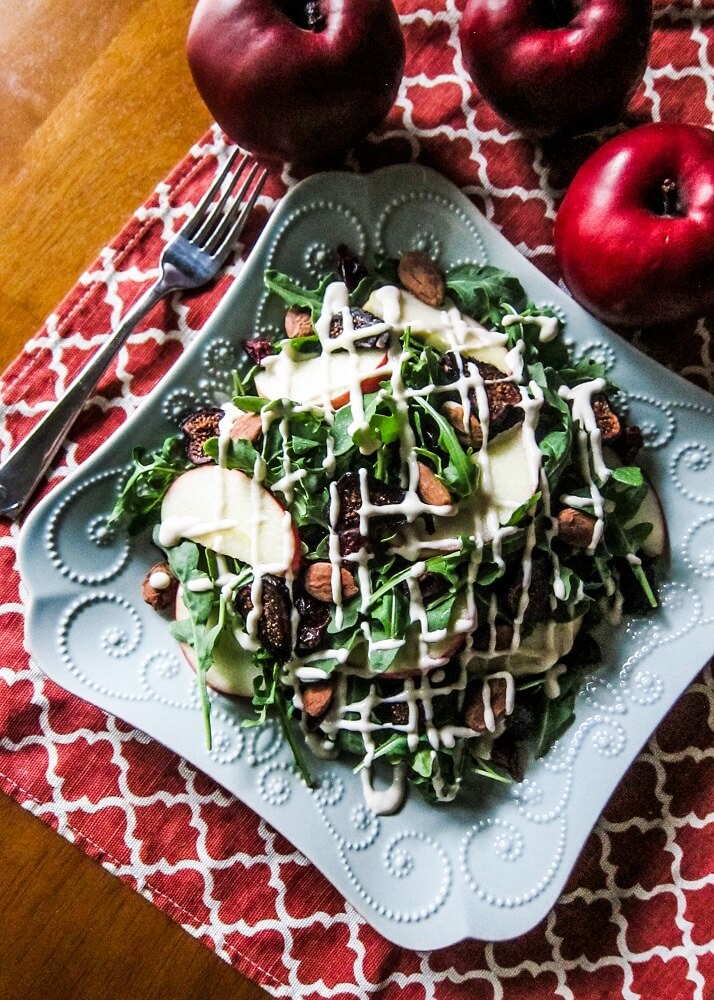 Autumn Apple Fig Salad with Lemon Maple Tahini Dressing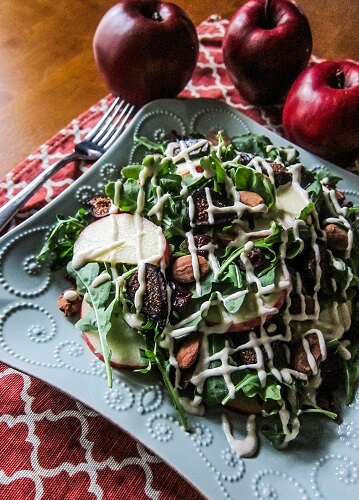 I still haven't been to an apple orchard yet this year.  Maybe next weekend.  But I have bought some amazing local apples at the grocery store.  The Honeycrisp apples are still my favorite.  The local ones are the best though, and taste slightly different than the ones that are flown in from elsewhere.  Not only do I enjoy using them in desserts like a really good apple pie, I love them in savory things like salads as well.  Since I had an abundance of apples I had bought last weekend, I decided to use one in a salad.  Now when I make salads, I like them to be substantial.  None of this just greens with a dressing stuff that doesn't fill you up.  You know, like the ones you get in a restaurant that has no vegan entrees that you have to order because it is all that you can possibly get from the menu that won't have animal products in it?  Or the ones that people who don't know much about the vegan diet think that we all eat.  I like lots of delicious add ins.  I was at a restaurant up in Duluth (MN), Canal Park Brewery  with my family last weekend, and I ordered a salad and I was pleasantly surprised.  Not only was it large, it was filled with delicious stuff.  Berries, and beets, and pecans, and cranberries, fresh greens, and some grilled portabello mushroom (that I ordered extra to top it because it sounded good). It was not a wimpy salad.  It was a meal.  Now that is how I like my salads!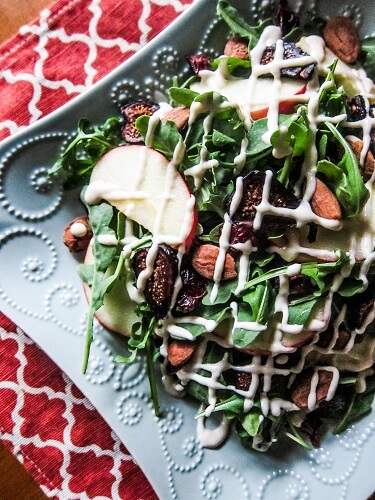 So this salad is substantial too.  I gave it an arugula base, because it is my favorite type of greens, and I have it on hand at all times. It has the apples of course, but I added figs and cranberries as well.  Yes, I know it is kind of a sweet salad, but trust me on this it is so good.  I love dried figs, they have such a satisfying chewy texture and delicious flavor.  I also added in some Sunbiotics probiotic truffle almonds that Raw Guru sent me.  That might sound odd in combination with the other ingredients, but these almonds are amazing.  Not chocolate truffle by the way, truffle as in the expensive mushrooms that give things a delicious flavor.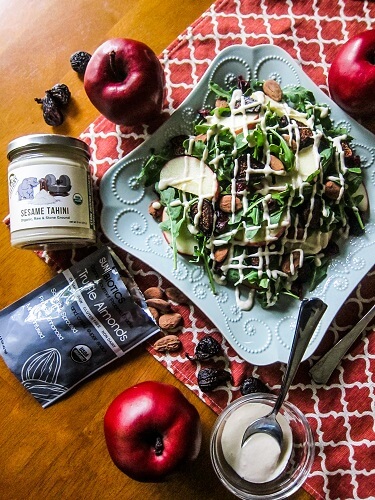 The salad needed a good dressing as well, and I get a little tired of vinaigrettes sometimes so I went for my favorite type of dressing a creamy nut/seed butter dressing. Tahini dressing has always been one of my favorites, so I used some Dastony tahini whisked together with some lemon juice and maple syrup to make a delicious dressing.  I usually make it very savory with just the lemon juice and a little cumin.  But since this salad has fruit I decided to add the sweet maple syrup instead.  I wasn't sure how it would taste, but it was so good! It was perfect with the sweet fruit and peppery arugula on the salad! If you like big salads too, and are in the mood for something with apples, give this a try!
Autumn Apple Fig Salad with Lemon Maple Tahini Dressing
Serves 2
Ingredients:
4 large handfuls arugula
1 organic sweet tart apple such as honeycrisp or pink lady
2/3 cup organic dried figs cut in half
1/4 cup organic dried cranberries
1/4 cup Dastony sesame tahini
1/4 cup lemon juice
a few Tbsp filtered water or as needed
1 Tbsp maple syrup
1/4 tsp sea salt or to taste
Instructions:
Combine the arugula, apple, figs, almonds, and cranberries in a bowl, and toss until combined.
In a small bowl, whisk together the tahini, lemon juice, maple syrup, and sea salt, along with water if needed if it seems to thick to pour (you want it thick enough to coat your salad, but not so thick that it stays in clumps).
Pour some of the dressing on the salad and toss to coat. Then divide between plates and drizzle a little more dressing on the salad.  Serve!
(Visited 126 times, 1 visits today)