Amy's Raw Tacos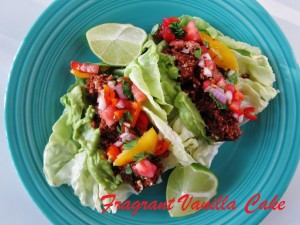 I was craving tacos last weekend but did not want to mess with making shells. Butter lettuce to the rescue! It sounded like a good idea using lettuce as the taco shells, certainly lighter than ones I had to dehydrate and a lot easier. I guess sometimes I can be impatient. That and my dehydrator was full of granola. cupcakes and tart crust so there was no room.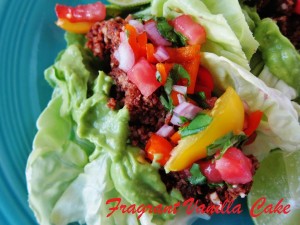 I had some sprouted red lentils in my fridge and I decided to experiment with them in the taco meat this time to add extra protein. I then topped it off with guacamole and salsa, very simple but these were seriously the best tacos I have made! I loved all the fillings in the lettuce shells too, it tasted wonderful!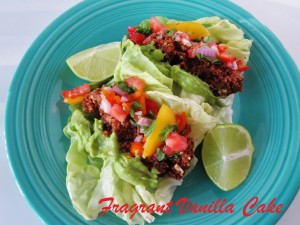 Raw Tacos
Serves 3-4
Taco Meat:
1/2 cup red lentils
6 crimini mushrooms, chopped
1 cup sundried tomatoes, soaked in water and drained well
2 tsp ground cumin
1 Tbsp chili powder
1/4 tsp chipotle powder, or to taste
1 tsp dried oregano
2 garlic cloves
salt to taste
3/4 cup raw walnuts
Salsa:
1 large red tomato, diced
about 8 yellow tear drop or cherry tomatoes, quartered
1/2 orange or yellow bell pepper, chopped
1/4 cup red onion, chopped
1 garlic clove, minced
1/2 jalapeno, minced
1/4 cup cilantro, chopped
sea salt to taste
juice of one lime
Guacamole:
2 ripe avocados
juice of one lime
garlic clove
sea salt
8-10 butter lettuce leaves
For the taco meat, you will need to start 2 days ahead. Soak the lentils in filtered water for 8 hours, then drain well and place in a sprouting jar in a well lit area (rinsing them twice a day) until tails begin to form, about 24 hours. Once they have sprouted, add them to the food processor along with the rest of the taco meat ingredients and pulse until it comes together and is chopped and looks like taco meat. Place on a lined dehydrator tray, and dry at 115F for a couple hours until it is no longer very sticky and the consistency of taco meat.
Meanwhile, make the salsa. Combine all ingredients in a bowl and mix well. Let sit for 30 minutes to let flavor develop.
Meanwhile, make the guacamole. Place all ingredients in the food processor and puree until smooth.
Once all of the ingredients of the taco are ready to assemble, place lettuce leaves out on a plate, fill with the taco meat, then spoon some of the salsa and guacamole over. Enjoy!

(Visited 53 times, 1 visits today)