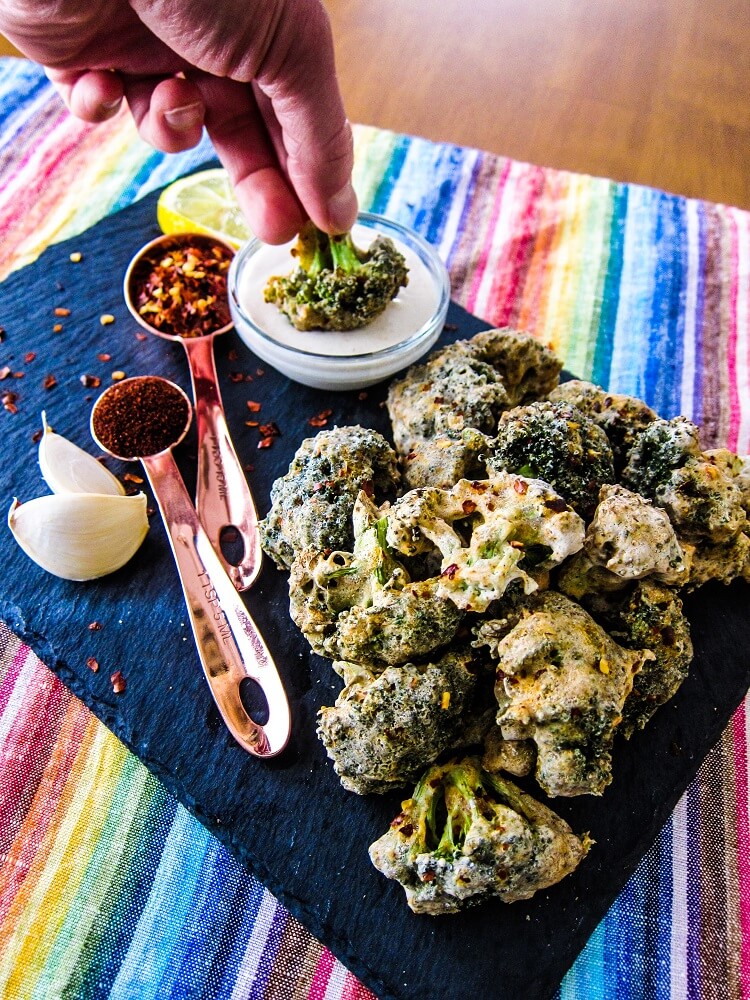 Air Fried Spicy Crispy Broccoli with Lemon Tahini Sauce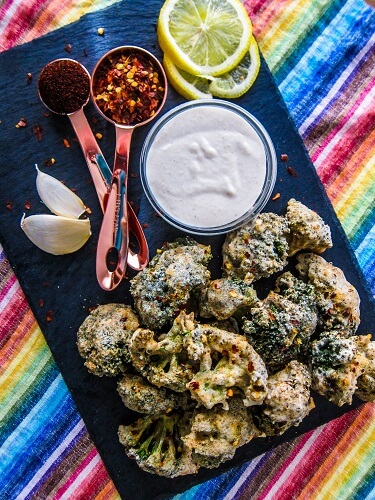 The first thing I made in my air fryer back when I got it for Christmas was crispy breaded cauliflower. I had been ordering cauliflower "wings" at a few vegan restaurants a lot before that and I wanted those amazing crispy wings at home but without the deep frying of course so the air fryer was perfect for that. They turned out amazing the first time and without any oil. They were super light and crispy with the perfect amount of breading on the outside. I was craving some last weekend but I didn't have any cauliflower on hand and didn't want to go to the store, so I made some fried broccoli instead and it was so good I decided that I needed to share it with you all!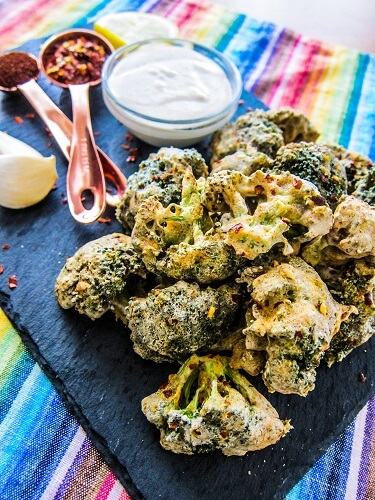 It was really easy to make, and I was able to enjoy it in less than 25 minutes thanks to the air fryer being so quick! I use that thing a lot just to roast veggies, it takes much less energy and time than the oven. For the coating I just use a simple batter made with gluten free flour and water plus some spices. I like to switch it up to change flavors but I wanted this one to be spicy so I added both chipotle powder and red pepper flakes. I actually sprinkled some of my ghost pepper flakes on these as well, which is an option if you like it even spicier but I know not everyone can get those so I didn't include that in the recipe.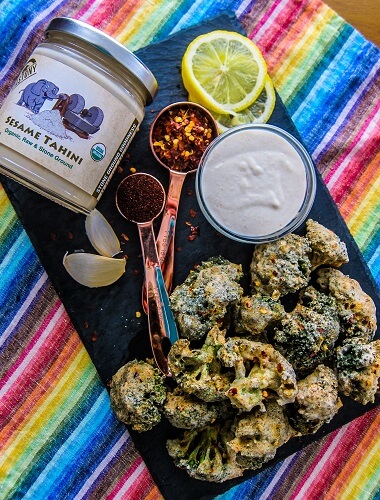 Once these are coated in batter, they only take 15 minutes to "fry". Which is more than enough time to make a dipping sauce for them. I like crispy things with something for dipping. You know like french fries and ketchup, or wings and ranch? Plus these had a little kick so a creamy dipping sauce was the perfect partner for it. This time I decided to make a lemon tahini dipping sauce with the Dastony tahini that Raw Guru recently sent me. It took about a minute to whip up and it was so good!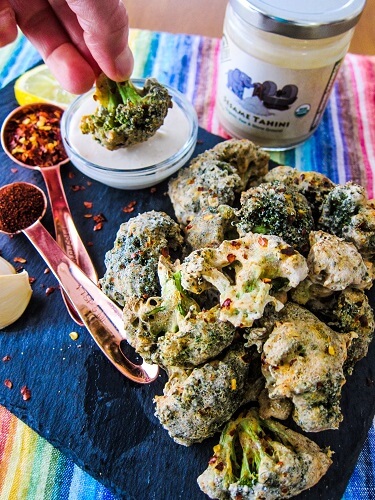 The broccoli was so tasty! It reminded me of something I would get at a restaurant as an appetizer but it was so much healthier! These are crispy on the outside with tender broccoli in the center. A little spicy, and a hint of garlic and cumin and the creamy bright tasting lemon sauce is perfect with them! If you have an air fryer (or even if you don't because I included instructions for baking them in a normal oven as well), give these a try the next time you are craving something fried but still want to eat somewhat healthy!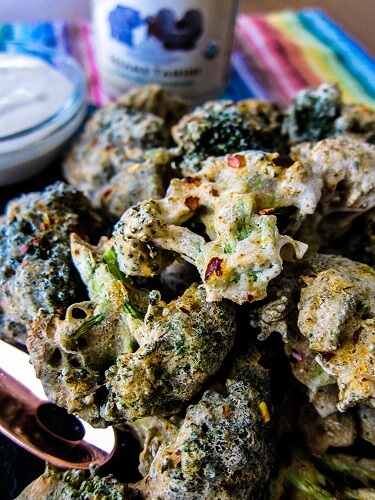 Ingredients:
Broccoli:
1 cup filtered water
1 cup Bob's Red Mill all purpose gluten free flour
1/2 tsp chipotle powder
1/2 tsp cumin
1/2 tsp garlic powder
1/2 tsp sea salt
1/2 tsp red pepper flakes
1 large head of broccoli or two smaller hears, cut into larger florettes
Dipping Sauce:
1/2 cup Dastony tahini
1/4 cup lemon juice
1/2 tsp cumin
1/4 tsp sea salt
1 clove garlic, minced
Instructions:
Whisk together the filtered water, flour, chipotle powder, cumin, garlic powder, sea salt and red pepper flakes in a large bowl until smooth.
Add the broccoli florettes the bowl, and toss with the batter until coated.
Spread out on an oiled air fryer tray so that they are not touching each other.
Bake in the air fryer for 15 minutes at 375F until crispy. (or alternatively, you can spread it out on a sheet pan and roast in the oven at 375F for about 30 minutes until crispy.)
Meanwhile, to make the tahini sauce, whisk together all ingredients until smooth.
Serve the broccoli with the dipping sauce!
(Visited 1,201 times, 1 visits today)