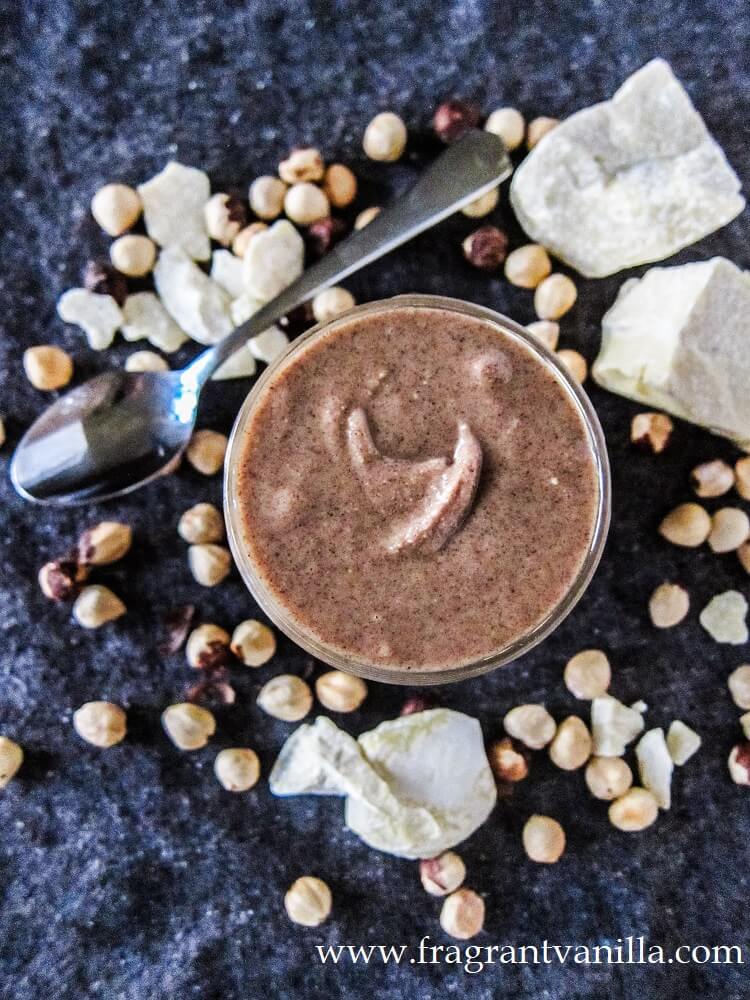 White Chocolate Hazelnut Pecan Butter
I love me some nut butters.  At any given time you will find at least 8 different kinds in my pantry.  I make about 3 a week, because I use it in recipes, and of course just straight up eat it.  I mean is there any better quick comfort food than a big spoon of peanut butter?  I would go for that over a piece of chocolate any day.  Also, I find that the richness of nut butter satisfies any cravings I would have for animal based fats like cheese or butter.  I make my creamy salad dressings with walnut butter, and you would swear it had dairy in it, and I use nut butters in place of the butter in things like cakes.  Or if I am craving something rich, I just have a couple Tbsp of nut butter for a snack and I feel satisfied.  So, I am always coming up with new delicious flavors just to enjoy by the spoonful or with fruit or stirred into my oatmeal.  I was always fascinated by all of the gourmet flavors of nut butter at the store growing up, so I was super excited as an adult when I could make my own after I bought a high speed blender.  I haven't actually bought any nut butter from the store in the past 4 years, I always just make it.  It is much cheaper that way, and I can play around with combinations of nuts or add ins.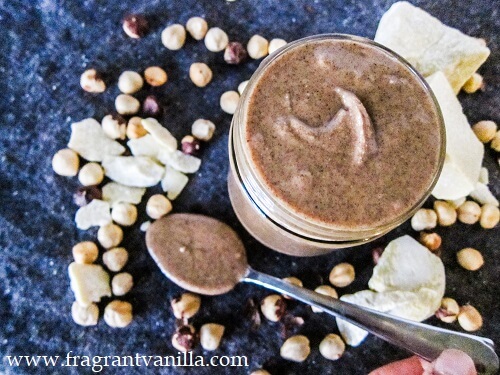 The latest flavor I made this week was a White Chocolate Hazelnut Pecan Butter.  It was simply heavenly, which is why I decided that I needed to share the recipe with you all.  It is actually really easy to make if you have a high speed blender or food processor.  I started out with a toasted hazelnut and pecan base, and added in some rich cacao butter to give it that white chocolate flavor.  I suppose I could have stirred in white chocolate chunks too, but that was not what I was going for because I wanted just the right amount of sweetness.  I thought the chunks would make it too sweet for me, and I wanted it smooth.  I am a more smooth nut butter type of girl, I do make exceptions (like I have added dark chocolate chunks) but rarely.  I added in some coconut sugar to this to sweeten it just enough, some sea salt for balance, and some vanilla bean seeds for that delicious vanilla aroma that you find in white chocolate.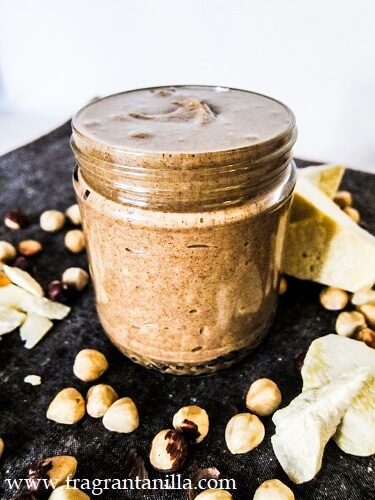 It was super delicious!  Sweet, with a white chocolate aroma, and nutty toasty flavor!  It is perfect for drizzling while warm (like when you first make it), and would be amazing on apples or pears for a healthy fall treat.  Or, when it cools down it is more firm and spreadable.  I like it both ways!  It is good to have options.  Don't you agree?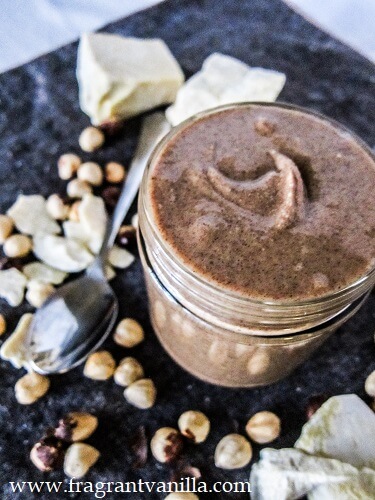 White Chocolate Hazelnut Pecan Butter
Makes about 3 cups
2 cups toasted hazelnuts
1 1/2 cups toasted pecans
1 1/2 oz cacao butter, warmed to liquid
1/4 tsp sea salt
1/4 cup raw coconut sugar
seeds of one vanilla bean
Instructions:
In a high speed blender, combine the nuts, cacao butter and sea salt and blend until smooth, using the tamper to push the mixture down into the blades.
Add the coconut sugar and vanilla beans to the blender and blend until well incorporated.
Pour into a jar.
Enjoy!  Keeps for a few months at room temperature and up to 6 when kept in the refrigerator.
(Visited 120 times, 1 visits today)