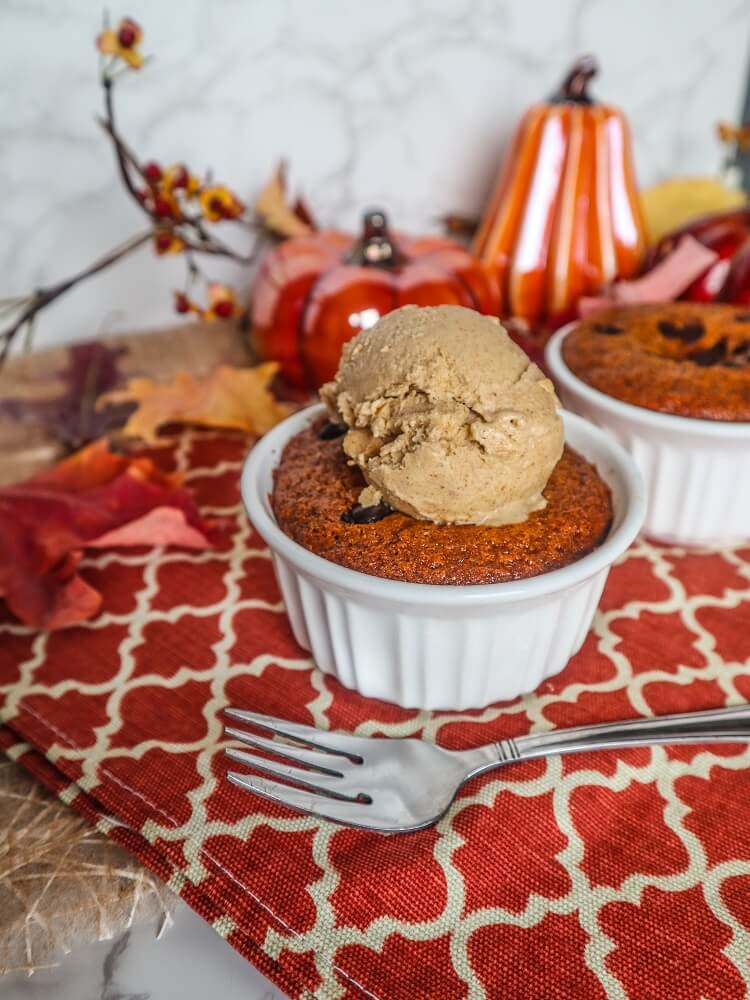 Warm Vegan Pumpkin Spice Chocolate Chip Cakes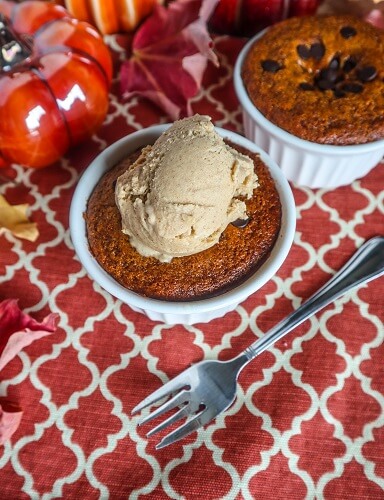 I love a good pumpkin cake, whether it be a layer cake a loaf cake or cupcakes!  There is just something so quintessentially fall about it and enjoying baking it in your kitchen while relaxing on a crisp cool day! I was craving some pumpkin cake last weekend and I wanted something simple so I decided on some individual pumpkin cakes!  Why not have your own cute little dessert after all?  I love that!  So I made Warm Pumpkin Chocolate Chip Cakes! These came together quick and easy!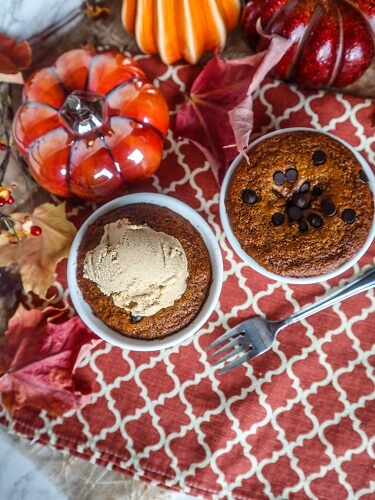 I like complicated cakes sometimes, but when I just feel like relaxing little mug cakes or ramakin cakes are perfect!  These could totally be baked in mugs but I just used ramakins this time.  I started off with a simple cake batter with pumpkin and pumpkin pie spices for flavor plus a bit of vanilla and maple.  I used brown sugar this time, but you could use maple sugar or coconut sugar to get the same caramelly flavor if you would rather use those.
For the flour I used whole wheat pastry but if you only had all purpose flour on hand that would work as well.  Or if you wanted to make these gluten free, a baking blend of gluten free flour such as Bob's Red Mill All Purpose baking flour would work too.  I have used this particular flour in cakes with success which is why I recommend it.  I used avocado oil in these cakes to give them a little richness, I enjoy it in baked goods because it has a sort of buttery flavor.  If  you wanted to use a different oil, you could use melted coconut oil as well if you have that on hand.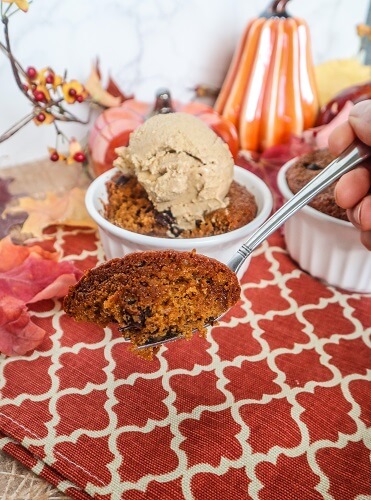 These smelled so heavenly while baking!  My kitchen filled with the heavenly aroma of sweet pumpkin spice!  The whole point of making these was to enjoy them quickly while still warm while the chocolate chips were still gooey.  These were so heavenly!  Sweet and soft with aromatic spices and vanilla, rich with gooey chocolate and perfect paired with the cinnamon ice cream I served on top of them!  If you are into all things pumpkin like me, definitely give these Warm Vegan Pumpkin Spice Chocolate Chip Cakes a try this fall!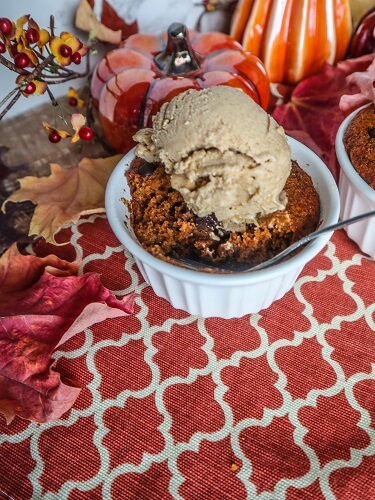 Warm Vegan Pumpkin Spice Chocolate Chip Cakes
Makes 4
Cake:
3/4 cup organic whole wheat pastry flour (or regular AP flour)
1/2 cup maple sugar, coconut sugar or brown sugar
1 tsp cinnamon
1/2 tsp ground ginger
1/4 tsp ground nutmeg
1/8 tsp cloves
3/4 tsp baking soda
1/2 tsp baking powder
1/4tsp sea salt
1/4 cup plus 2 Tbsp pureed pumpkin or squash
2 Tbsp avocado oil
1 tsp pure vanilla extract
1 tsp maple extract
1/4 cup + 1 Tbsp plant based milk
1 Tbsp apple cider vinegar
3/4 cup vegan dark chocolate chips
vegan ice cream for serving
Instructions:
Preheat the oven to 350F degrees and position rack in center of oven.
Oil 4 8 oz ramakins with nonstick spray.
Whisk flour, baking soda, spices, salt, and sugar in a large bowl to blend well. Whisk pumpkin, oil, maple extract, vanilla extract, and milk together in small bowl to blend well, then whisk into the flour mixture until well blended. Whisk in cider vinegar until pale swirls form in the batter and it is well combined.
Fold in chocolate chips.
Transfer cake batter to prepared ramakins and bake cakes until tester inserted into center comes out clean with a few crumbs attached, about 15 minutes. Remove from oven.
Cool for 15 min before serving, serve warm with ice cream.
Store any leftover cakes in the refrigerator for up to 1 week in a covered container.
(Visited 177 times, 1 visits today)