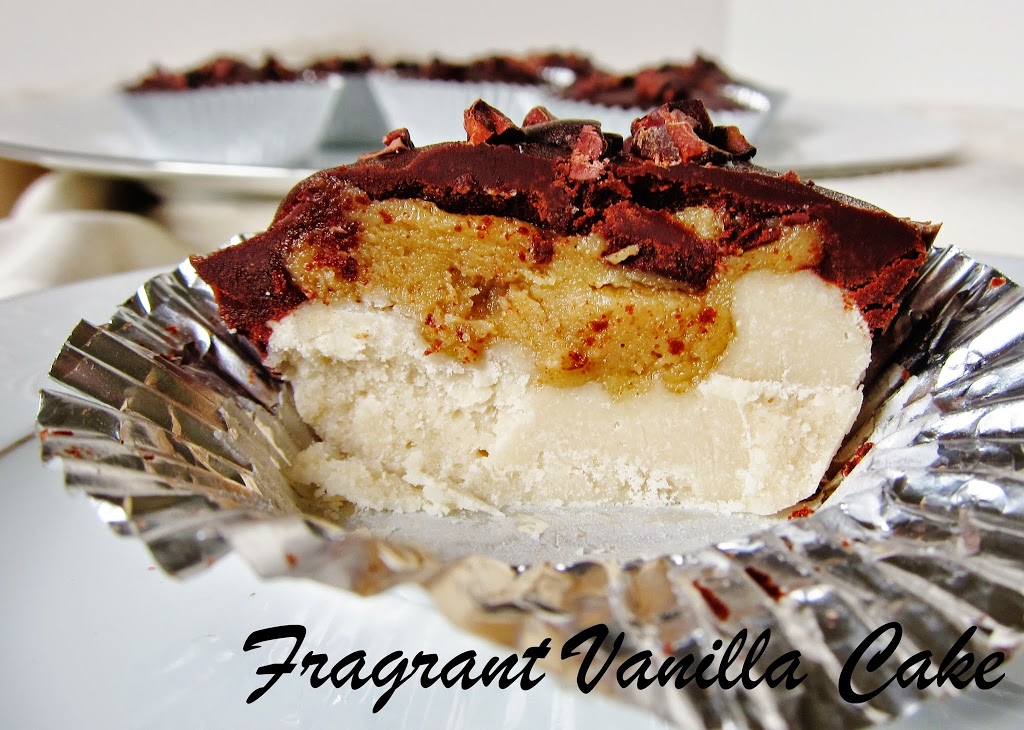 Walnut Butter Coffee Cacao Bliss Cups
I am in love with raw walnut butter. It is the nut butter I use most in my savory dishes, or just for snacking. But it is underused in my desserts...or any desserts for that matter. I mean, it is not a common nut butter to use. Almond butter gets all the glory usually, or peanut butter, but walnuts have a delicious nutty unique flavor that I love, so I thought they deserved some attention!
I make my own walnut butter with simply a little sea salt, using the same process as you would almonds (in a high speed blender) for butter. I love it plain, but I thought it would be wonderful in a nut butter cup. I thought about simply doing chocolate, but I wanted something a bit more grand. Why not add in a white vanilla layer on the bottom with coffee as well, and sprinkle cacao nibs on top?
Sounded like a dream in candy form and once I got them all put together, the combination was simply magical. Walnuts definitely need more attention in desserts! If you are skeptical, try these and I think you will soon change your mind.

Walnut Butter Coffee Cacao Bliss Cups
Makes 12
12 peanut butter cup sized foil tins
Coffee Coconut Layer:
3/4 cup raw coconut butter (not oil) warmed to liquid
1/4 cup filtered water
1 Tbsp raw coconut nectar
Tbsp raw coconut oil, warmed to liquid
1 tsp pure vanilla extract
2 tsp coffee extract
a pinch sea salt
about 1/2 cup raw walnut butter
Chocolate layer:
1/2 cup raw coconut oil, warmed to liquid
3/4 cup raw cacao powder
1/4 cup raw coconut nectar or your choice liquid raw sweetener
a pinch sea salt
Raw Cacao nibs
For the coffee layer, whisk together all ingredients until smooth and spoon into 12 foil tins. Place in the freezer to harden for about 5 minutes. Spoon about 1 tsp of walnut butter over that, and press down slightly so it will not stick out when you add the chocolate layer. Whisk together all chocolate ingredients until smooth, and spoon over the walnut butter. Sprinkle with raw cacao nibs and place in the freezer to harden, about 15 minutes. Store in the fridge.
(Visited 34 times, 1 visits today)