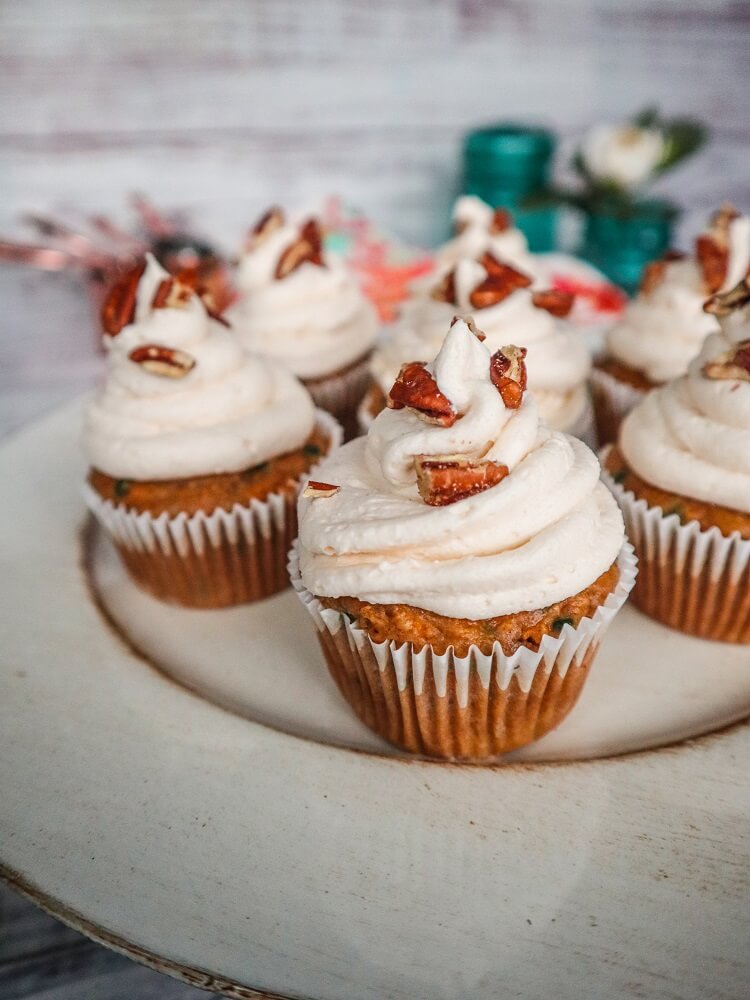 Vegan Zucchini Carrot Cupcakes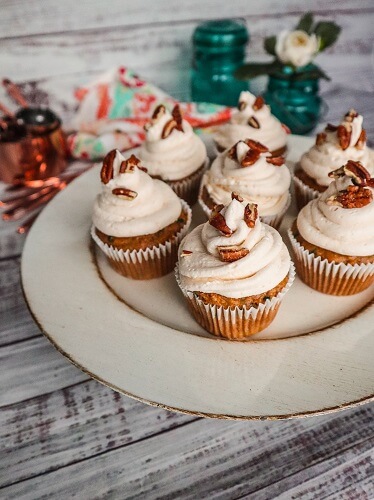 One can never get too many veggies as far as I am concerned. I try to get a large variety in my meals, so I sometimes like to add them to dessert as well, because why not?!  Especially since you usually can't taste them in there if you put them in things like carrot cake!  Ever since I was little I have always been a fan of carrot cake, I was not one of those children that needed veggies to be disguised in order to eat them, I loved veggies, and the only thing I didn't really care for was meat (no surprise I am vegan as an adult).  So there was no need to hide the fact that they contained carrots, but even if I hadn't known they were in there, from the first bite, I knew I loved carrot cake.  The sweet, lightly spiced moist but light cake, and rich cream cheese frosting were heavenly!  Cream cheese frosting was always my favorite on carrot cake, I know some people just make a white buttercream which is ok (not gonna say no either way), but I love the tang of the cream cheese, so now I make a vegan faux cream cheese when I make carrot cake. Last weekend I was craving some carrot cake, but I only had enough carrots for half a batch on hand, and a zucchini, so I decided to make Vegan Zucchini Carrot Cupcakes!  I can not resist a good spiced zucchini bread either so I figured this would be delicious.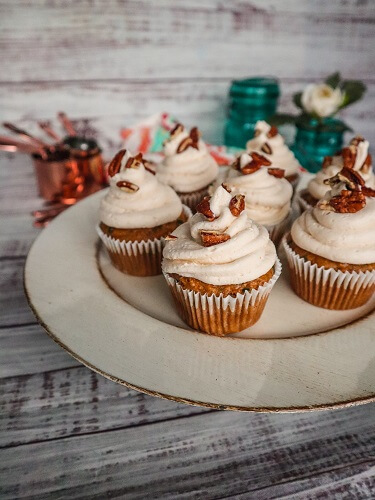 Why did I not make a layer cake instead of cupcakes?  Well, it is a bit more time consuming than I had time for.  I am sure many of you can relate! I am usually making my desserts on week nights, so that I have time to spend with family and friends on weekends (and enjoy the desserts with them), so sometimes I don't have time to frost a cake.  Plus for sharing cupcakes are more portable. I love bringing some with on a weekend when Eric and I hit up a local coffee shop to enjoy them together. For this cake base, I used a carrot cake recipe I had made before but modified it and added shredded zucchini along with the carrot.  I love how when you add shredded veggies like this to a cake, it keeps it moist and delicious so that if you still have some left by the end of the week, it is not all dry.  I can't stand dry cake.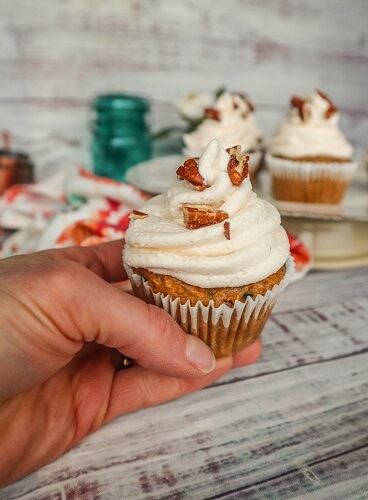 Walnuts are classic to add to carrot cake (at least in the church cookbooks from my Grandma I grew up with), but I decided to add toasted pecans to mine because that is what I had on hand and they are darn delicious.  I skipped the raisins this time though, because honestly I am not a big raisin fan so I usually do not have them in my pantry. The cakes baked up nicely and filled my kitchen with a heavenly aroma of spices!  I could not wait to try them but first they needed the frosting.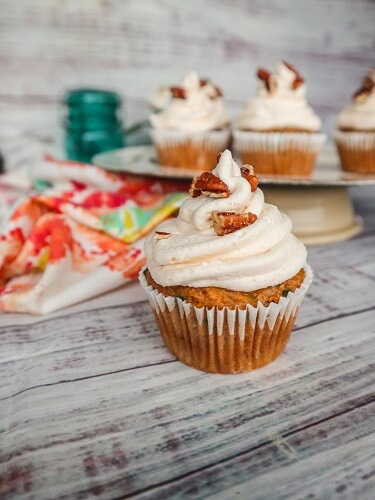 I made a faux vegan cream cheese frosting with thick coconut cream (from coconut milk), cashew butter and coconut butter.  Note that in order for this recipe to work you must use a thick coconut cream that has at least 2/3-3/4 of the can cream or it will not work for this recipe and you will get runny frosting which is no fun for anyone. Also, use coconut butter, not oil to thicken the frosting.  Coconut butter is the whole ground dried coconut flesh (like nut butter would be for whole nuts and not just the oil portion).  I want you to succeed in making cupcakes so I thought I would include these notes. The cupcakes turned out super delicious!  Soft and light, aromatic with warming spices, moist thanks to the veggies, and the creamy frosting was the perfect topper for them! If you are a carrot cake fan, definitely give these Vegan Zucchini Carrot Cupcakes a try!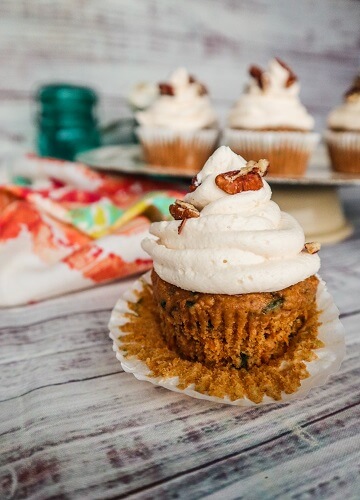 Vegan Zucchini Carrot Cupcakes
Makes 20 cupcakes
Ingredients:
Cake:
1 3/4 cups organic whole wheat pastry flour
1 1/2 tsp baking soda
1 tsp baking powder
1 tsp cinnamon
1/2 tsp ginger
1/4 tsp nutmeg
1/2 tsp sea salt
1 cup maple sugar
2 cups full fat coconut milk (the thick kind, I prefer Thai Kitchen brand) at room temperature
2 tsp pure vanilla extract
1 cup  shredded carrots
1 cup shredded zucchini
1/2 cup chopped toasted pecans
2 Tbsp cider vinegar
Frosting:
1 15 oz can full fat coconut milk (you want to use a brand that is at least 3/4 of the can thick cream or it will not work for this recipe, I like Thai Kitchen brand)
1/2 cup raw cashew butter
1/4 cup maple syrup
1 tsp pure vanilla extract
1 tsp lemon juice or cider vinegar
1/4 tsp sea salt
3/4 cup melted coconut butter (not coconut oil)
Instructions:
Preheat the oven to 350F degrees and position rack in center of oven.
Line 20 muffin tins with liners.
Whisk flour, baking soda, cinnamon, ginger, nutmeg, sea salt, and sugar in a large bowl to blend well.
Whisk coconut milk and vanilla extract together in small bowl to blend well, then whisk into the flour mixture until well blended.  Fold in the zucchini, carrots and pecans until well combined.
Whisk the cider vinegar into the batter.
Transfer the cake batter to prepared tins.
Place in the oven, and bake cupcakes until tester inserted into center comes out clean with just a few moist crumbs attached, about 20 minutes.
Remove from oven and let cool completely.
To make the frosting, combine all ingredients in a high speed blender and blend until completely smooth.  Pour into a bowl and place in the freezer until the consistency of stiffly whipped cream, whisking occasionally (about 30-45 minutes depending on how warm it has gotten).  Once it is ready place in the refrigerator until ready to frost.
Pipe or spread the frosting over the cupcakes.
Enjoy!
Cupcakes keep stored in the refrigerator, in a container for up to 1 week.
Notes:
If you would rather use coconut sugar or even just granulated sugar for this, either will work in place of the maple sugar.
These can be made gluten free by swapping out the whole wheat pastry flour for Bob's Red Mill gluten free all purpose baking flour (this is a brand I have used before and have tested it in cakes with great results).
(Visited 527 times, 1 visits today)