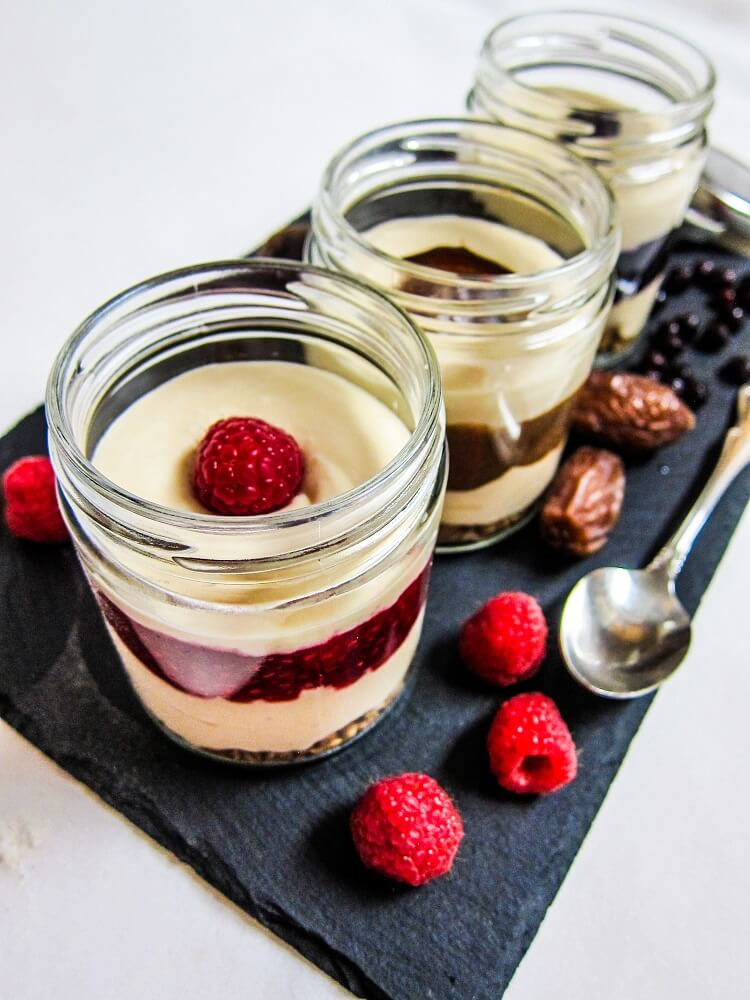 Vegan Yogurt Cheesecake in a Jar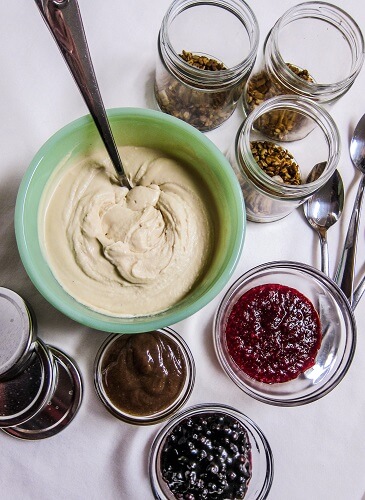 Cheesecake is my favorite dessert. It was even before I went vegan. I thought I would never enjoy it again when I had to give up dairy, but boy was I wrong! Vegan cheesecakes are even more delicious than their dairy cousins if you ask me. In fact, it was a raw cheesecake that made me decide to take the plunge and go vegan 7 years ago. I tried it and it was so good, I decided that if I could still enjoy delicious goodies like cheesecake as a vegan it would not be bad after all! I don't even miss any non-vegan items now.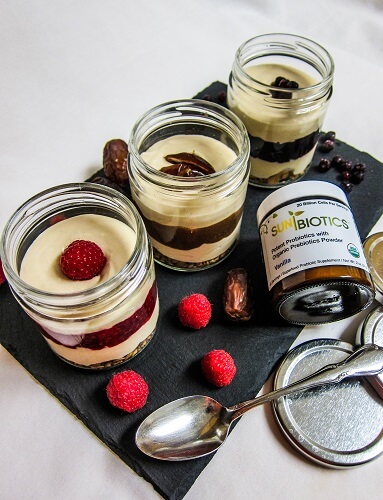 Sometimes I want cheesecake, but I don't want to make a whole big giant one just for myself and my boyfriend Eric so I make smaller ones. But last week, I had made some vanilla coconut yogurt using some vanilla Sunbiotics probiotics powder from Raw Guru and I decided that it would be amazing in some mini cheesecakes. I decided to do something I haven't done before and made cheesecakes in a jar. Why not? They are portable, so if you want to bring a treat to go with your lunch, or save it for later, just screw the top on!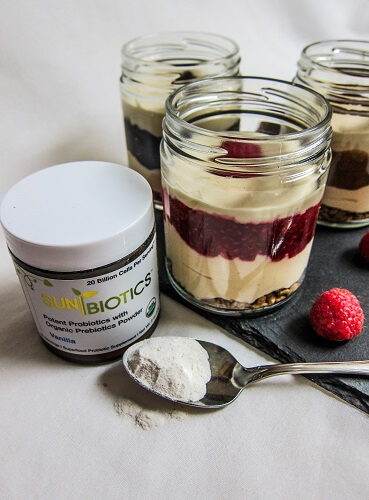 Once the coconut yogurt is made, these are really easy to whip up fast. The yogurt is an overnight process, but it really is worth it, and that probiotic powder gives it the perfect tang! I try to get in a daily dose of gut healthy probiotics so I love that I can include it in dessert. I wanted these to be simple and easy so for the crust, I used some home made vanilla granola I already had on hand. You could use store bought though if you wanted.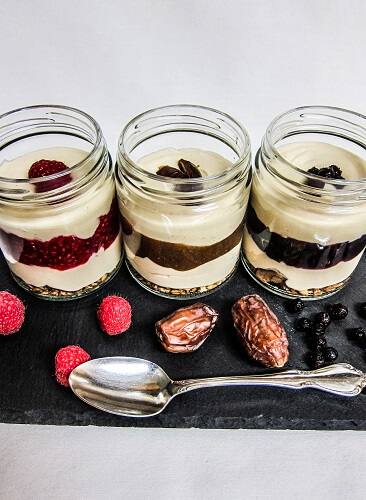 I made 3 different fillings, because variety is the spice of life! But of course you could just pick one (the filling recipes below are for 3 jars). I made strawberry, blueberry and caramel and they were all super delicious! This is not a super stiff dense cheesecake, it is more light and creamy like a cheesecake yogurt mousse which is how I wanted it. These are crave worthy! If you are a cheesecake fan, give these a try!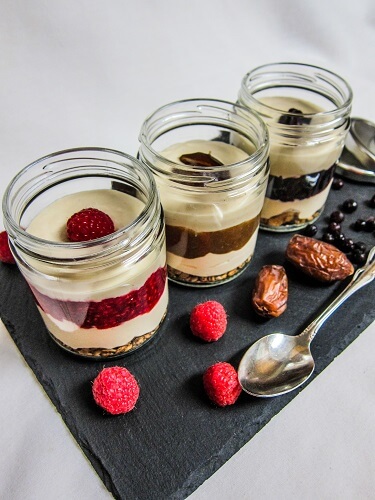 Vegan Yogurt Cheesecake in a Jar
Serves 3
Ingredients:
Vanilla Coconut Cheesecake Yogurt:
2 cups organic full fat coconut milk (use a brand that has a thick cream at the top (2/3 of the can), such as Thai Kitchen or it won't be thick enough)
1/2 cup Dastony coconut butter or home made coconut butter (not oil), warmed to liquid
1 tsp pure vanilla extract
¼ cup date paste* or maple syrup
For assembly:
Vegan Vanilla Granola
Flavor of choice (pick one):

Caramel: 1/2 cup date paste mixed with 3 Tbsp almond butter, 1 tsp vanilla and a few Tbsp filtered water to thin out (add more if too thick).
Raspberry: Mash 1 1/2 cups fresh or frozen raspberries with 2 Tbsp maple syrup
Blueberry: Mash 1 1 1/2 cup frozen (thawed) blueberries with 2 Tbsp maple syrup
To make the yogurt, combine the coconut milk and probiotic powder in a blender and blend until smooth. Pour into a bowl, cover, and let sit overnight on the counter until tangy.
The next day, blend with coconut butter, vanilla extract, and date paste until smooth, then pour into a bowl and chill until just thickened to the consistency or heavy cream.
To assemble, put 3 Tbsp granola into the bottom of 3 small jars, then top with 2/3 of the cheesecake yogurt (divided between the three).
Top with the flavor of choice (dividing evenly between the three), then the remaining yogurt.
Serve!
Keeps in the refrigerator for up to 1 week with a lid on.
*Date Paste: Blend 1 ¼ cups pitted soft medjool dates (if they are not soft, soak them in filtered water for 30 minutes and drain) and 2/3 cup filtered water in a blender until smooth. Store in a jar in the refrigerator up to 1 week. This can be used in recipes instead of other liquid sweeteners such as maple syrup or coconut nectar.
(Visited 452 times, 1 visits today)