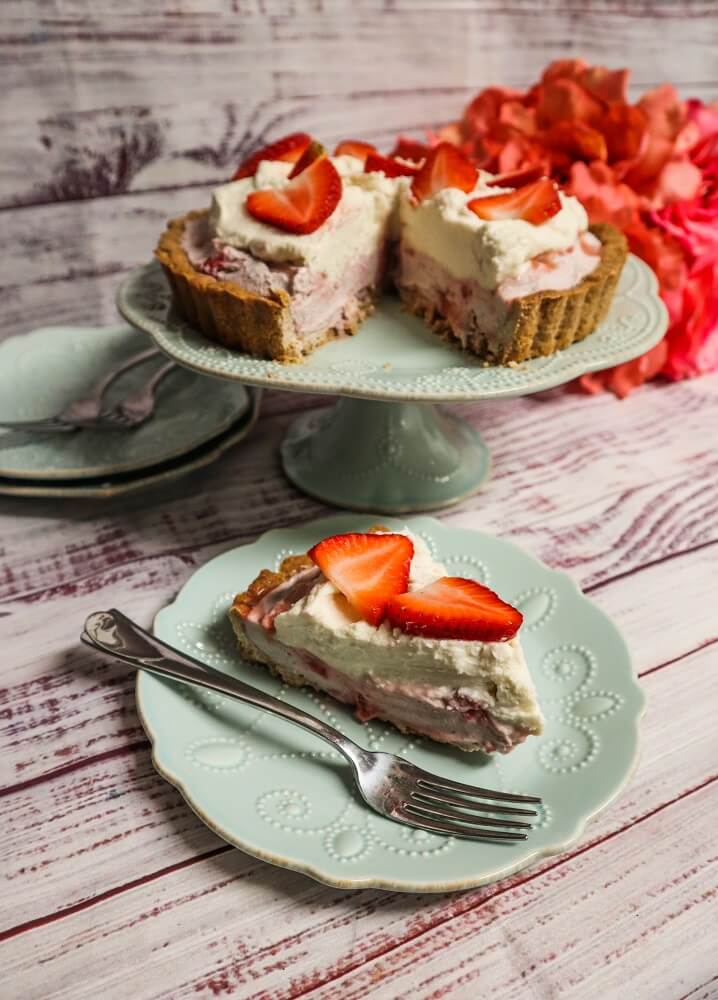 Vegan White Chocolate Strawberry Cream Pie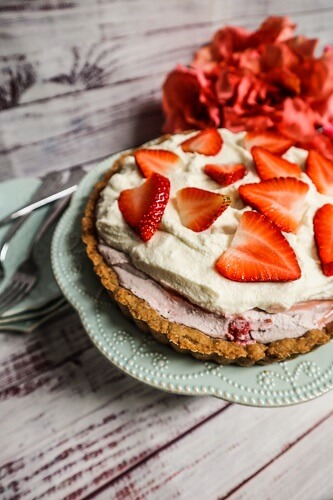 When I was little, there was this strawberry silk pie from Baker's Square that they would have around Valentine's Day that I just loved.  My Dad had gotten one a few times and it was sooo good!  It had a creamy strawberry layer, plenty of whipped cream on top, and pink white chocolate curls. I don't even know if they make it anymore, but I was thinking about how good that pie was the other day and that I should make something similar but vegan.  I am not sure what was in the filling, but I thought a strawberry white chocolate cream filling would be amazing!
So I got to work on it!  That pie had a classic pastry crust, so I made a traditional baked crust for mine.  The filling isn't cooked, so I made the crust and cooled it before filling it.  It was my classic coconut oil crust that is nice and rich with a buttery texture.  I knew it would be perfect with the sweet filling!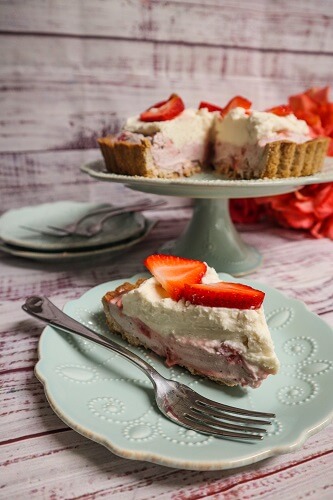 I made a strawberry white chocolate cream, starting off with coconut milk as the base and adding coconut butter and cacao butter for a white chocolate flavor and to thicken it. Plus a little vanilla and maple syrup for sweetness and plenty of berries to give it a lovely pink color and sweet flavor!  I also mixed in chopped strawberries, and swirled some strawberry jam into the pie.  You wouldn't think that berries would be very flavorful this time of year since it is Winter here, but I lucked out and got some at Aldi that were just as good as summer berries!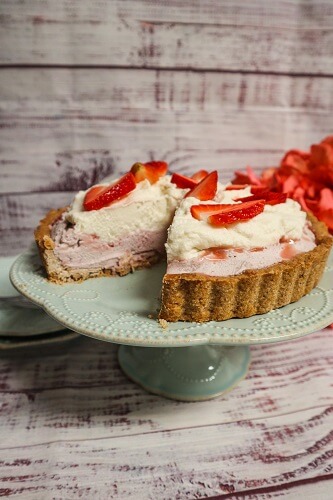 Lastly I topped it off with a coconut whipped cream and more berries.  It was so heavenly!  It was rich and creamy with plenty of strawberry flavor which was perfect with the mellow smooth white chocolate and vanilla!  I shared some with my Mom and she loved it as well!  If you are a strawberry fan, and looking for a Valentine's Day dessert, this would be perfect!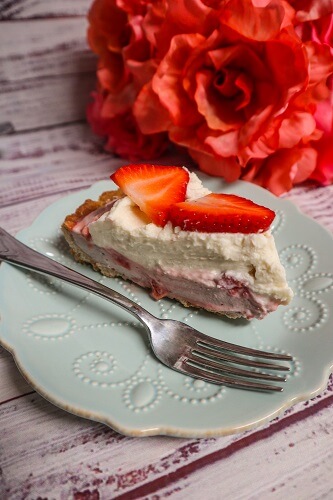 Vegan White Chocolate Strawberry Cream Pie
Makes one 9 inch pie
1 8 inch pie plate
Crust:
1 1/4 cups organic whole wheat pastry flour*
3 Tbsp maple sugar or coconut sugar
1/4 tsp sea salt
1/4 cup plus 2 Tbsp coconut oil in its solid state
about 3-6 Tbsp cold water
Filling:
1 1 15 oz can full fat organic coconut milk, chilled
1/4 cup maple syrup
1/4 tsp sea salt
1 tsp pure vanilla extract
1 1/2 cups mashed strawberries, divided
1/2 cup coconut butter warmed to liquid
1/2 cup cacao butter, warmed to liquid
1/4 cup strawberry jam
Cream Topping:
1 1 15 oz can full fat organic coconut milk, chilled
1/4 cup maple syrup
pinch sea salt
1 tsp pure vanilla extract
1/2 cup plus 2 Tbsp coconut butter, warmed to liquid
For Decoration:
Instructions:
To make the crust, in a large bowl, mix together flour, sugar, sea salt, and spices. Cut in coconut oil with a pastry blender or 2 knives until it is in pea sized pieces. Mix in  just enough water to create a smooth dough that holds together but isn't too sticky. Add more water if needed, and knead slightly until a smooth dough is created. Roll out into a 10 inch circle on a sheet of parchment paper, then use the paper to help you transfer it to a9 inch removable bottom tart pan or an 8 inch pie dish.  Flute the edges, and set aside in the refrigerator until solid.
Pre-heat the oven to 350F degrees. Place foil inside the pie crust, and weight down with pie weights or dried beans.  Place the pie in the oven and bake for 30 minutes, then remove from the oven. Let cool completely.
For the filling, combine coconut milk, maple syrup, sea salt, vanilla and 1 cup of the strawberries and blend until smooth. Add the cacao butter and coconut butter and immediately blend just until it thickens on a lower speed (don't over blend or it may clump up.  If this happens just keep blending until smooth, then chill for about 30 minutes stirring occasionally until thickened).  Fold in the rest of the berries. Pour into the crust.
Drop the jam over the filling by the Tbsp, and swirl with a knife to create marbling.  Place in the freezer to firm up (about 2 hours).
Meanwhile, for the cream topping, combine all ingredients in a blender and blend until completely smooth. Pour into a bowl and place in the freezer until it is thick like whipped cream (whisking every so often), about 45 minutes.
Once the cream is ready, spread over the top of the pie. Decorate with strawberries, and serve!
Pie keeps refrigerated for 1 week in a container.
(Visited 795 times, 1 visits today)