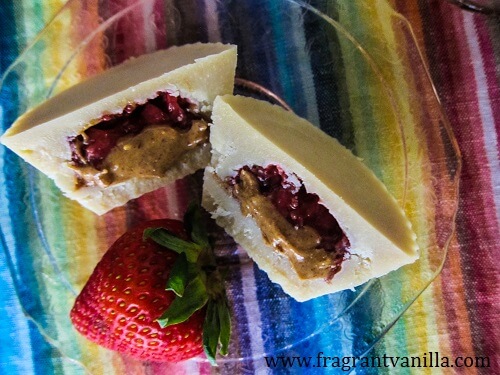 Vegan White Chocolate Strawberry Almond Butter Cups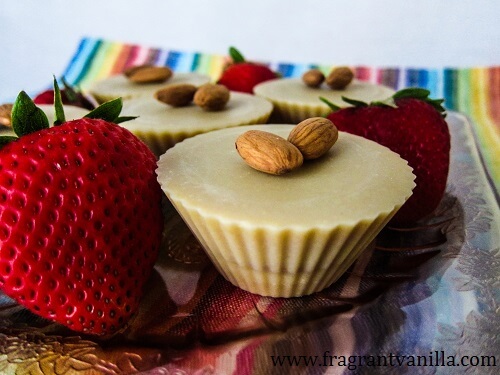 Berries and white chocolate is a simply heavenly combination!  So thank goodness I am able to make vegan white chocolate at home so I can enjoy it.  I admit, when I went vegan I thought I would not be able to enjoy it again since it has milk a lot of the time, and I don't eat refined sugars or sketchy ingredients which can be found in a lot of commercial white chocolate even the plant based ones, so it seemed impossible.  But I have found recipes that allow me to make it at home, and tailored them to my tastes and needs and come up with one that I like and don't feel yucky after eating.  I was craving white chocolate and berries together the other day, and I had just made a batch of strawberry chia jam, so the first thing that popped into my mind was strawberry white chocolate cups.  But that wasn't decadent enough, I had to add almond butter too to make it even more crave worthy.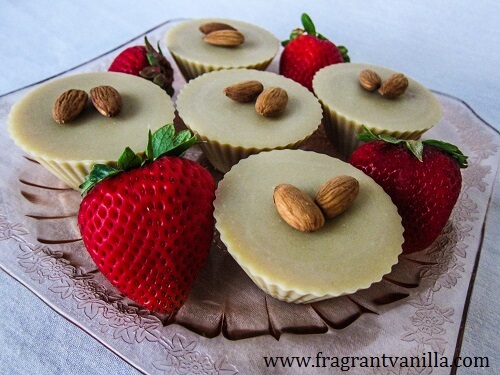 This white chocolate is so good you will want to scrape the bowl clean with your spatula to enjoy every little bit.  The base is a mixture of cacao butter, coconut butter and cashew butter and it is luscious and creamy almost once set!  I sweeten it with a little maple syrup and it is just right. For the jam, like I mentioned I used a strawberry chia jam I had made the day before.  I like it because not only is it delicious but you get the health benefits of the the chia seeds along with your sweet jam!  If you would like to make some for yourself, all you need to do is cook 3 cups strawberries, 2 Tbsp water, 2 Tbsp maple syrup, a pinch sea salt, and 1 Tbsp lemon juice over medium heat in a sauce pan for about 15 minutes until the berries have softened.  Then mash them a little with a fork and add 1/3 cup chia seeds.  Allow to cool and sit for 30 minutes until it thickens. It keeps in the refrigerator for 2 weeks.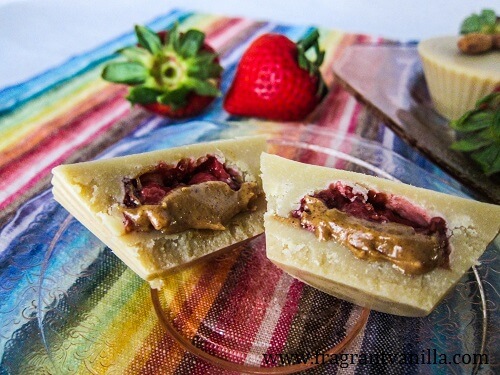 It is so good with the white chocolate and almond butter in these candies let me tell you!  These are simply heavenly. Of course if you have your own favorite strawberry jam you would like to use, (or even another flavor of jam) these would be just as delicious I am sure.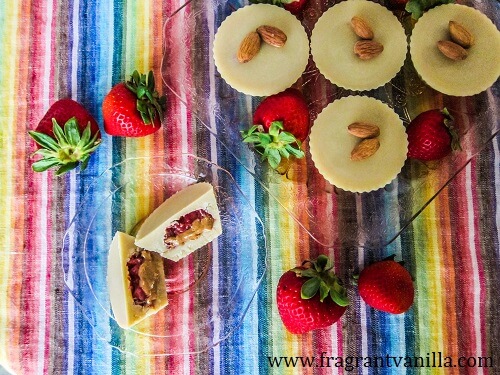 Vegan White Chocolate Strawberry Almond Butter Cups
Makes 6 large candies
Ingredients:
1/4 cup cacao butter (2 oz)
2 Tbsp raw cashew butter
1/4 cup coconut butter
1 tsp pure vanilla extract
2 Tbsp maple syrup (or to taste)
1/8 tsp sea salt
2 Tbsp strawberry jam
2 Tbsp organic almond butter
Instructions:
Combine cacao butter, cashew butter, vanilla, maple syrup,  and sea salt over a double boiler, and whisk until smooth.  Pour into the bottoms of 6 larger peanut butter cup tins (or molds), then place them in the freezer to set.
Once the bottom chocolate has set, spoon about 1 tsp of the almond butter and then the jam onto the top of the set chocolate, then pour remaining melted chocolate over that.
Place them in the freezer to set, about 15 minutes.
Store in the refrigerator.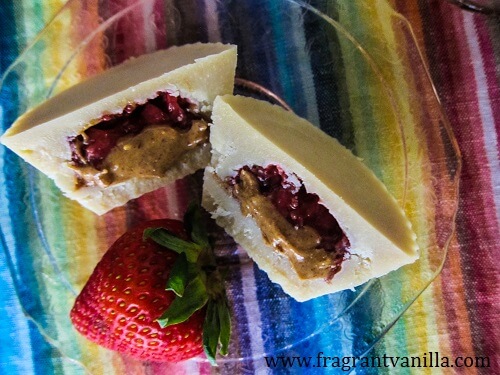 (Visited 35 times, 1 visits today)