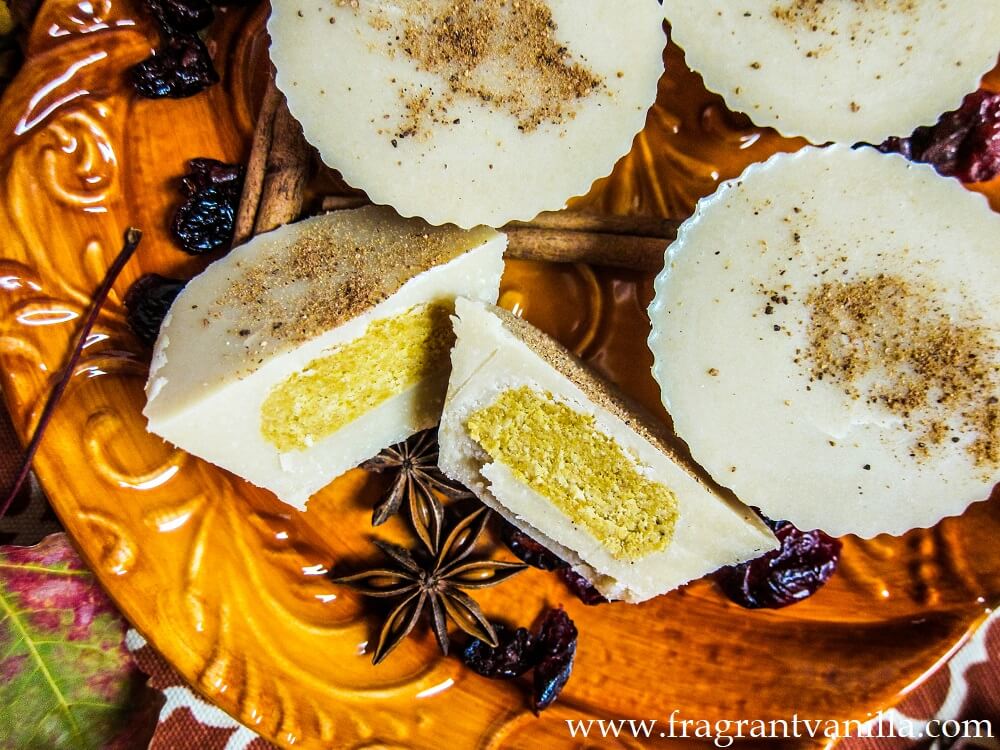 Vegan White Chocolate Pumpkin Pie Cups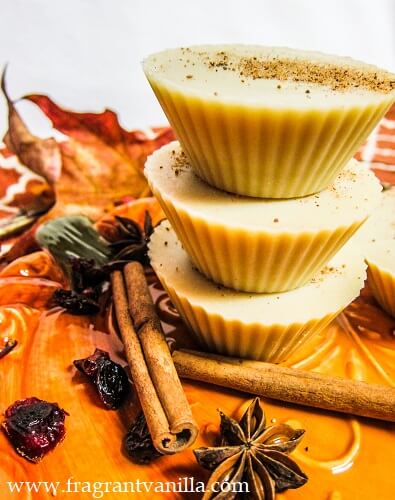 To be completely honest, pumpkin pie was not my favorite growing up.  It was just something I ate because it was tradition.  Apple and pecan won over it.  But, don't worry.  I have come to appreciate it more as an adult, mostly because my home made version is really good.  You know what makes it so good?  Topping it with something rich and creamy like coconut whipped cream, or vanilla ice cream.  That is kind of a must for me.  It cuts the pumpkin spices and makes it feel more decadent.  I decided to make some pumpkin chocolates this week, and I opted for white chocolate instead of dark for this reason. White chocolate is kind of mellow, rich and creamy melt in your mouth, the same way the whipped cream and ice cream are with pumpkin.  Plus, I had never made white chocolate pumpkin candies and it sounded like a heavenly combination.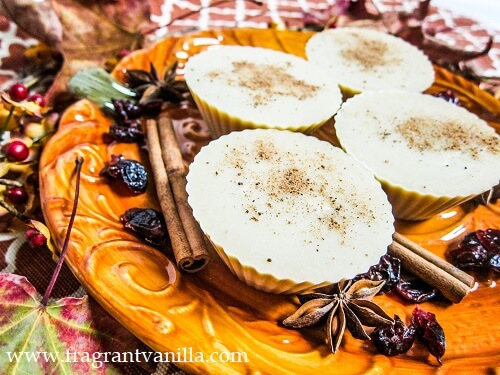 When I was growing up I actually preferred white chocolate to dark because I have always been a vanilla girl.  But now I appreciate both.  I do feel like white chocolate is a little more special sometimes.  I know you can probably buy it at the store, but I prefer to make my own.  I use a mixture of cacao butter (the essential ingredient to make it taste like regular white chocolate), cashew butter, and coconut butter as a base and it tastes wonderful.  It melts in your mouth, and is silky and creamy almost.  I add in a touch of vanilla and sweeten it with maple syrup and it is so good!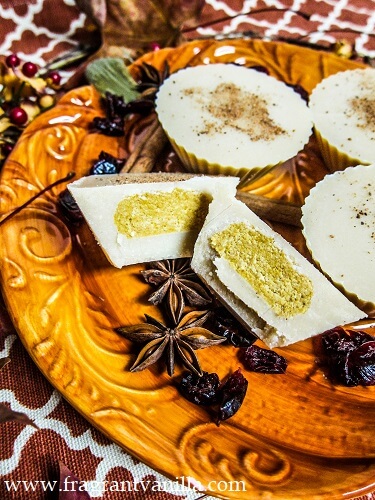 For the filling, I used the classic pumpkin pie spices with a little vanilla in some canned pumpkin puree I had left over.  This time of the year I often have little containers of it in the refrigerator or freezer leftover from other recipes because I hate to waste it.  Well, this was the perfect use for that 1/4 cup I had left!  So if you have a little left too, now you know what to make with it!  These are super delicious, the filling tastes just like the pie and it is so good with the decadent white chocolate!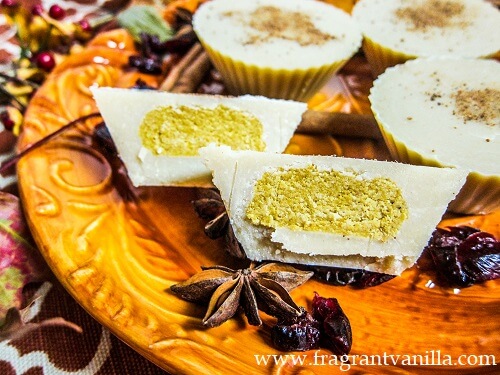 Vegan White Chocolate Pumpkin Pie Cups
Makes 6 large candies
Ingredients:
1/4 cup cacao butter (2 oz)
3 Tbsp raw cashew butter
1/3 cup coconut butter
1 tsp pure vanilla extract
3 Tbsp maple syrup (or to taste)
1/8 tsp sea salt
Filling:
1/4 cup Tbsp pumpkin puree at room temperature
2 Tbsp coconut butter, softened
1 1/2 Tbsp maple syrup
1 tsp pumpkin pie spice
1/2 tsp pure vanilla extract
Instructions:
Combine cacao butter, cashew butter, vanilla, maple syrup,  and sea salt over a double boiler, and whisk until smooth.  Pour into the bottoms of 6 larger peanut butter cup tins (or molds), then place them in the freezer to set.
Mix the pumpkin puree and 1 Tbsp coconut butter together in a small bowl, along with the maple syrup and spices.
Once the bottom chocolate has set, spoon about 1 tsp of the almond butter and then the jam onto the top of the set chocolate, then pour remaining melted chocolate over that.
Place them in the freezer to set, about 15 minutes.
Store in the refrigerator.
(Visited 132 times, 1 visits today)