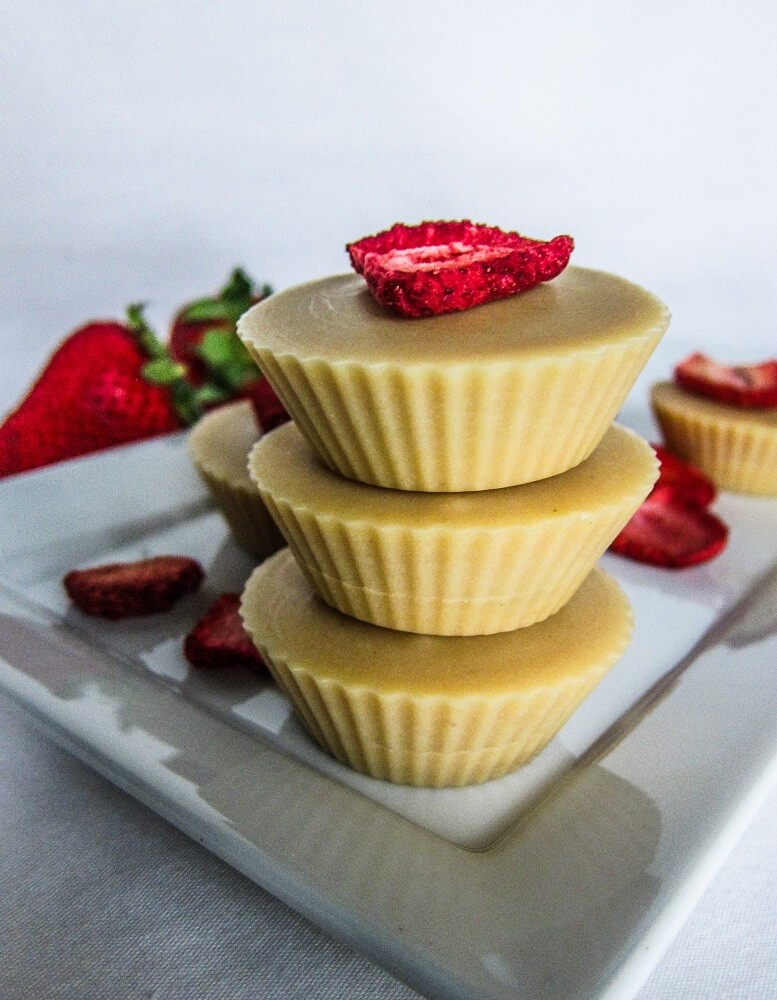 Vegan White Chocolate Peanut Butter and Jelly Cups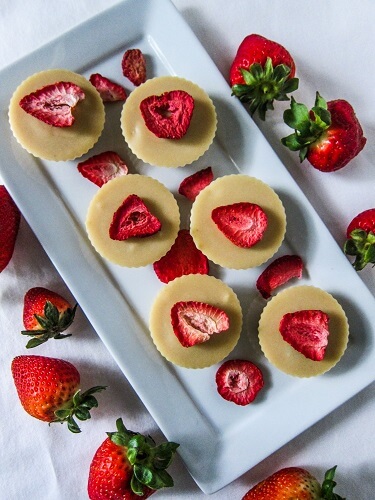 I am a bit obsessed with peanut butter and jelly lately. I made some peanut butter and jelly ice cream last weekend, I am contemplating making a PB and J cheesecake for my Birthday in a few weeks, and I decided to make some vegan white chocolate peanut butter and jelly cups too last weekend. What can I say, the flavor combination is kind of addicting. I mean, PB and J were about the only type of sandwich I would ever eat in my school lunches growing up because I hated lunch meat and the typical other sandwiches people would make. I guess I was meant to be vegan.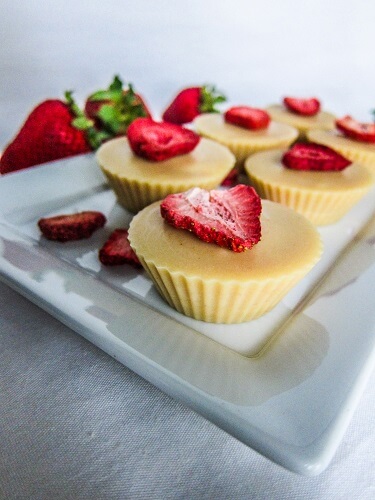 Anyways, back to those white chocolate peanut butter and jelly cups. I had some Raw Guru cacao butter on hand, so I knew I could make some amazing white chocolate with it. I didn't just make white chocolate though, I made peanut butter white chocolate. Because, why not add extra peanut butter flavor to it?! Peanut butter is one of my all time favorite things in the world after all.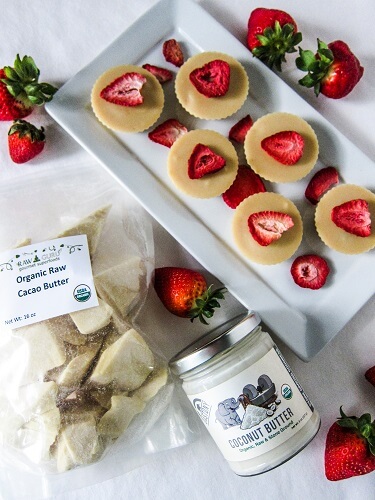 The white chocolate tasted amazing before I even poured it into the molds. I admit I had quite a few samples. For the filling, I used my home made peanut butter, and some really good strawberry jam that was made by one of my Mom's friends. I knew these were going to be good and I could not wait to try them!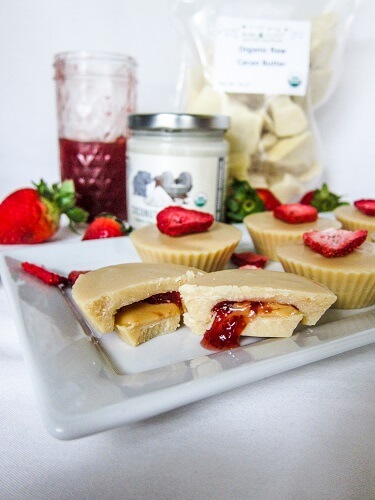 Luckily they didn't take long to set and I was able to indulge in one in no time. These are so much better than the white chocolate Reese's peanut butter cups I used to love back in the day. I don't sweeten my peanut butter filling at all because the rest of it is so sweet so there is this rich, salty peanut butter in the center that is amazing with the sweet gooey jam and sweet peanut butter white chocolate! If you are a PB and J fan, definitely give these a try!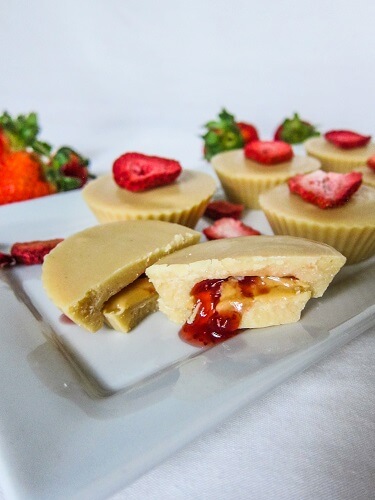 White Chocolate Peanut Butter and Jelly Cups
Makes 8
Peanut Butter White Chocolate:
1/2 cup Raw Guru cacao butter
1/3 cup Raw Guru coconut butter
1/4 cup organic smooth peanut butter
1 tsp pure vanilla extract
3 Tbsp maple syrup (or to taste)
1/8 tsp sea salt
Filling:
2 Tbsp plus 2 tsp organic peanut butter
2 Tbsp plus 2 tsp organic strawberry or raspberry jam
Instructions:
Combine cacao butter, peanut butter, coconut butter, vanilla, maple syrup, and sea salt over a double boiler, and whisk until smooth.
Pour into the bottoms of 8 large peanut butter cup molds or silicone muffin tins filling them just 1/3 full, and place in the freezer until hard, about 15 minutes.
Next, spoon a scant teaspoon of peanut butter and jam onto the center of each, then pour the remaining peanut butter white chocolate over it. Place back in the freezer and allow to harden which can take about 20-30 minutes.
Once they are all set, pop chocolate out of molds and enjoy!
Store in the refrigerator for a month or an airtight container in the freezer for up to three months.
(Visited 224 times, 1 visits today)