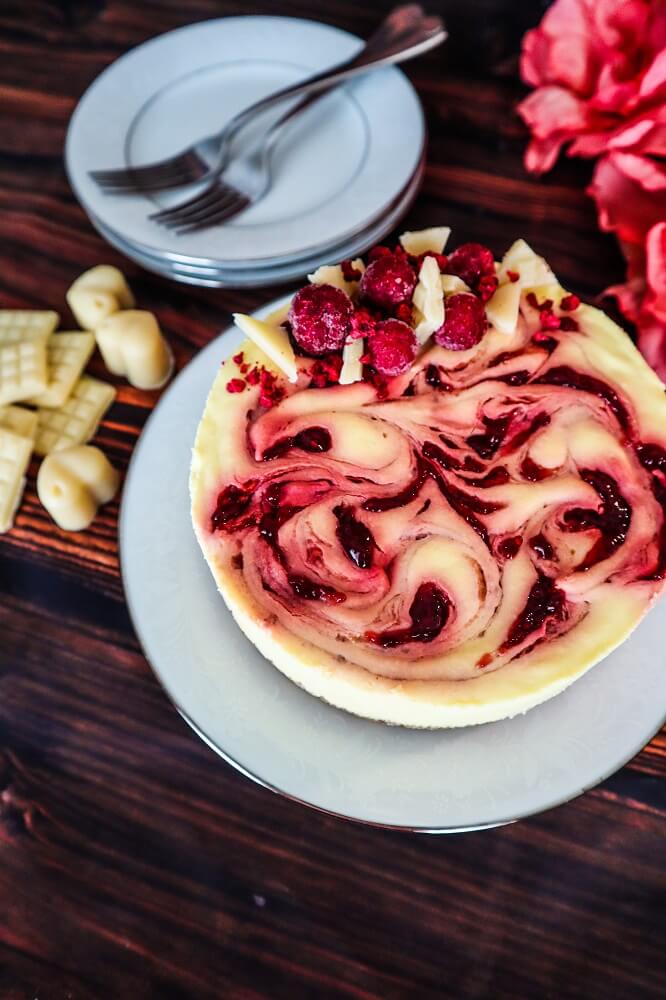 Vegan White Chocolate Mango Raspberry Cheesecake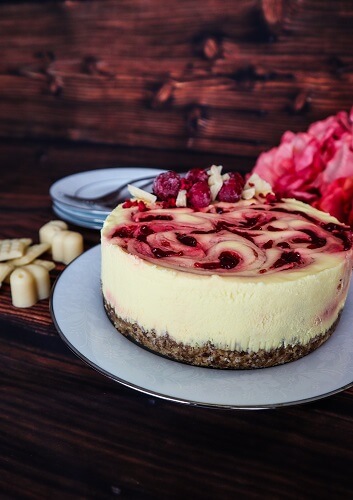 I can't believe it is already July!  Time has flown this year with all that is going on, and I feel a bit out of sorts as to what month it is lately since I am not in my usual routine.  I haven't done much cooking and baking lately because my kitchen has been in the process of being remodeled and it's been hard to use it. Luckily it is about done, and since July is here, and it is hot, I thought it would be the perfect time to make a no bake cheesecake!  Which is honestly what I usually make anyway because they are just as delicious as the baked but easier.  Since mangoes are super delicious right now, and some at the store were calling my name, I decided to make a white chocolate mango raspberry cheesecake!
For the base, I used my usual full fat coconut milk. I always have cans of it on hand, and it makes for luscious cheesecake.  I then usually add something like cashews or chickpeas to add bulk and a nice texture but this time I simply used a good amount of sweet mango since this was a mango cheesecake after all.  I also added in a bit of lime juice and vanilla for flavor plus maple syrup to sweeten it and it was heavenly!  Instead of the usual coconut butter I use to thicken my cheesecakes, I used melted cacao butter this time to give it the white chocolate flavor.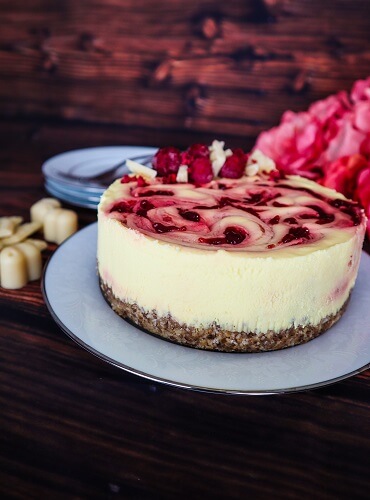 Although I could have made my raspberry swirl completely with raw raspberries, I mixed them with jam so that they would be a little less runny and more vibrant in color and it worked out perfectly.  That bright red against the pale yellow of the mango cheesecake was lovely! I could not wait to try it, but I had to wait until the next day because I was making it at night.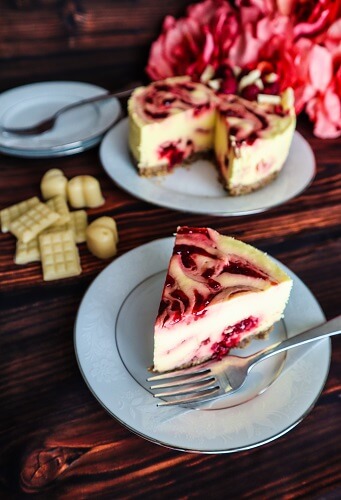 Once I finally unmolded it and got to dive in, it was heavenly!  Rich and creamy with a sweet mango flavor, a hint of lime, mellow white chocolate and jammy raspberries!  It tasted like summer, which is what I was going for, I didn't have to heat up the oven to make it and it was easy to make!  If you are in the mood for cheesecake give this a try! 
Vegan White Chocolate Mango Raspberry Cheesecake
Makes one 6 inch cake
Crust:
1/4 cup almonds (for nut free version use finely shredded unsweetened dried coconut instead)
3/4 cup organic gluten free rolled oats, or quinoa flakes
1/4 cup pitted medjool dates (if not soft, soak them in filtered water first and drain well)
1/8 tsp sea salt
Filling:
1 cup full fat coconut cream (I used the thick part of a can of Thai Kitchen organic full fat coconut milk*)
3/4 cup cubed fresh mango
1/4 cup maple syrup
1 tsp pure vanilla extract
3 Tbsp lime juice 
1/8 tsp sea salt (or to taste
3/4 cup melted cacao butter
Swirl:
2/3 cup organic raspberry jam mashed together with 1/3 cup fresh raspberries
Instructions:
Oil a 6 inch spring form pan, and line the bottom with parchment paper.
To make the crust, place all ingredients in a food processor, and process until crumbs and starting to hold together (if they are not holding together when squeezed, add a few tsp filtered water and blend). Press into the bottom of the prepared pan.
Meanwhile, to make the filling, combine all ingredients in a high speed blender or food processor and blend until smooth.
Pour half the filling over the prepared crust  then drop some of the jam over than randomly (but spaced out) by the tsp as well. Swirl with a knife a few times. Repeat with the remaining filling and jam.
Place cheesecake in the freezer until it is set for about 4 hours (or overnight in the refrigerator if you are not in a hurry).
Remove from the freezer, un-mold and enjoy!  Store any leftover cake in the refrigerator.
*I use Thai Kitchen full fat coconut milk.  If you are using a different brand, just make sure it is the thick type, 2/3 of the can at least should be very thick cream or it will not work in this recipe.
(Visited 2,974 times, 1 visits today)