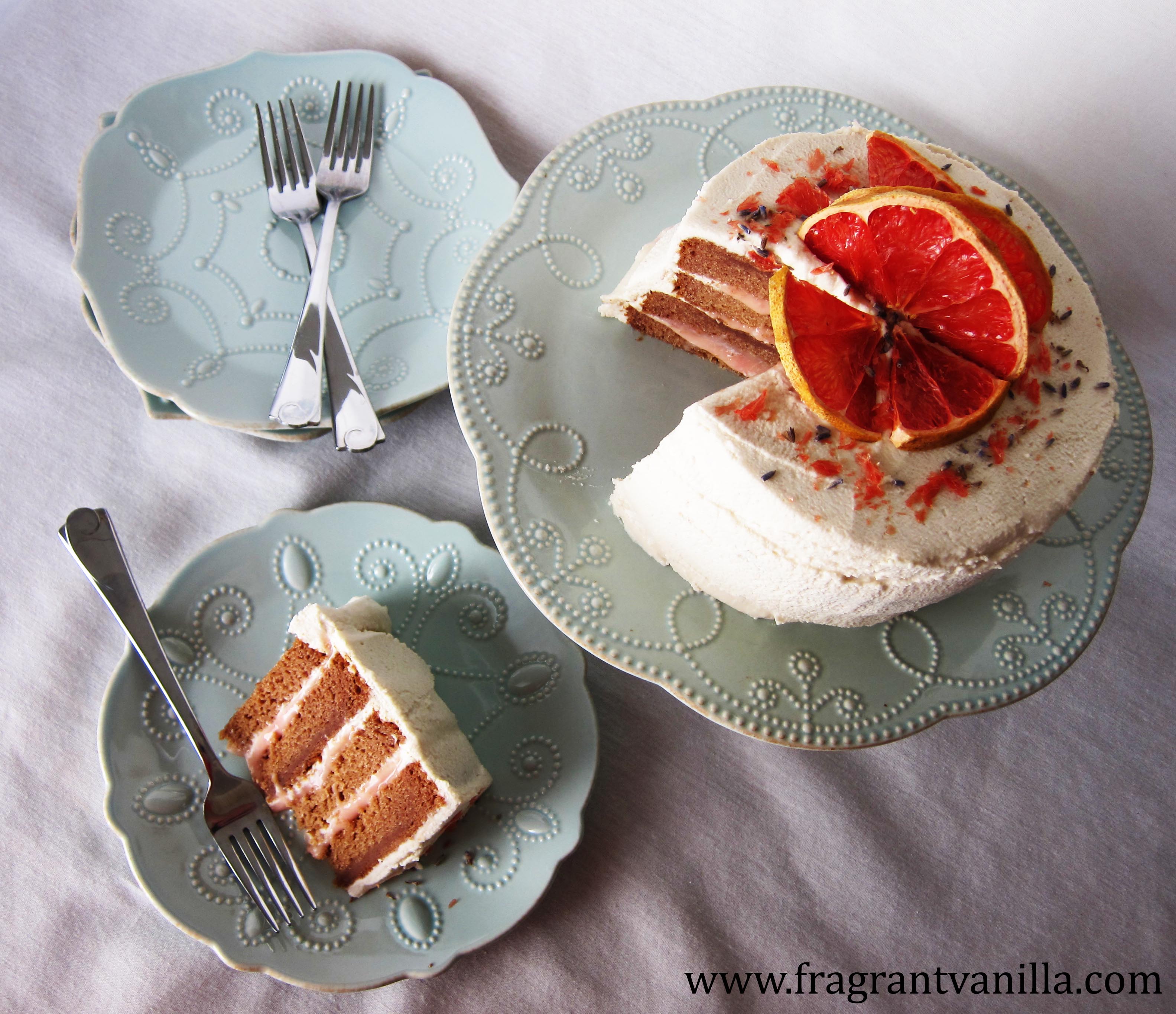 Vegan White Chocolate Grapefruit Cake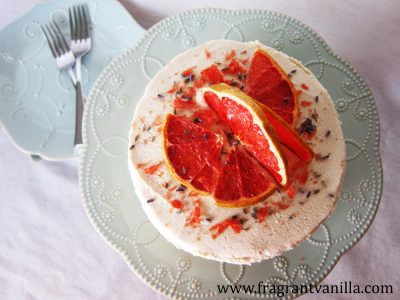 New Years Eve deserves a special cake, so I knew I wanted to make one, but I wasn't quite sure what kind.  Sometimes my brain is a crazy snow globe with all of my recipe ideas floating around in it at once, getting tangled up with the other things going on in my life.  I would bounce from one idea to another, but they all sounded so good...so I needed a little help deciding and turned to Eric.  He often helps me decide when I am stuck between recipes.  Like a coin toss, but better because he is the one I will be sharing with most of the time.  I wanted something seasonal, and citrus was on the table, and we decided on Grapefruit white chocolate.  I have made grapefruit cakes before, but they were raw, never baked, so this would be different.  The cake I had imagined had layers of moist  grapefruit scented cake, luscious white chocolate cream cheese frosting and grapefruit curd in between the layers to break up all the sweet with a hint of tart.  I admit sometimes lately I shy away from cakes with more steps that are maybe a little more complicated, but what the heck, I was off work that day so why not?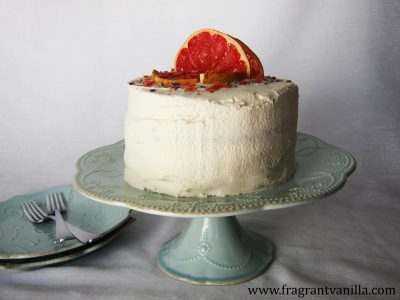 For the cake layers, I added plenty of grapefruit in the form of juice and zest.  Grapefruits are at their best this time of the year, so it is the perfect time to use them in recipes!  I sweetened my cake with dates to both keep it moist, and give it a slight caramel flavor (which I love, and goes awesome with citrus).   Also, a little almond butter for richness, which I am preferring to just oil lately in my cakes.  The cake baked up beautifully, nice and light and aromatic.  I could not wait to assemble it!  But first I had to make the grapefruit curd and frosting.  For the curd, I used my usual lemon curd recipe modified and it turned out perfect!  It was so flavorful thanks to the lovely organic Rio Star grapefruits I had picked up at work.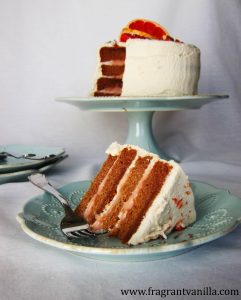 For the frosting, I used my usual vegan cream cheese frosting with a coconut cashew base with a touch of cacao butter to make it taste like white chocolate.  Man was it good.  Like eat with a spoon, or top off your piece of pie with it good.  I never miss dairy as a vegan, because there are so many good substitutes for it!  I used to make cream cheese frosting all the time when I was not vegan, so it was one of the first things I figured out how to make vegan.  Anyways, it is good stuff.  And, this cake turned out lovely!  Moist grapefruit scented cake with sweet tart grapefruit curd, and creamy rich "cream cheese" frosting with a touch of white chocolate goodness.  Definitely a New Years Eve worthy cake, and good for curing those Winter blues.  It may be cold where you live, but this cake tastes like sunshine and happiness!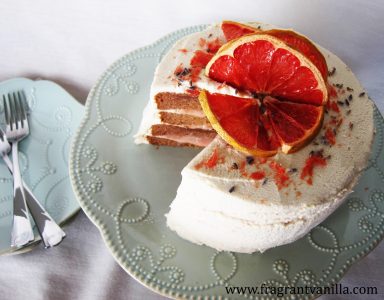 Vegan White Chocolate Grapefruit Cake
Makes one 2 layer 6 inch cake
Ingredients:
2 6 inch cake pans
Cake:
1 1/2 cups Bob's Red Mill Gluten Free All Purpose Flour
1 1/2 tsp baking soda
1 tsp baking powder
1/2 tsp sea salt
1 cup packed soft medjool dates, pitted, soaked in water for 30 minutes and 1 cup of the water reserved
1/4 cup raw almond butter
2 tsp pure vanilla extract
2 Tbsp organic grapefruit zest
1  cup grapefruit juice
2 Tbsp apple cider vinegar
Curd Filling:
1/2 cup plus 1 Tbsp fresh grapefruit juice
1/2 Tbsp organic grapefruit zest
2 Tbsp maple syrup
2 Tbsp cornstarch
pinch of sea salt
1 Tbsp full fat coconut milk
1 tsp pure vanilla extract
1 1/2 tsp coconut oil
Frosting:
1 15 oz can full fat organic coconut milk, chilled
1/2 cup raw cashew butter
1/4 cup maple syrup
1 tsp pure vanilla extract
1/4 tsp sea salt
1/4 tsp cider vinegar
1/4 cup plus 2 Tbsp melted coconut butter (warmed to liquid)
1/4 cup melted cacao butter warmed to liquid (or additional coconut butter if unavailable)
Directions:
Preheat the oven to 375F degrees and position rack in center of oven.
Oil two 6 inch round cake pan with coconut oil and line the bottom with parchment.
Whisk flour, baking powder, baking soda, sea salt in a large bowl to blend well.
Place dates, reserved water, almond butter, grapefruit juice and zest, and vanilla extract into a blender, and blend until smooth, then whisk this blended mixture into the flour mixture until well blended. Whisk in the cider vinegar until bubbles form.
Pour the cake batter into prepared pans, and place in the oven.
Bake cakes until set and a toothpick inserted into the center comes out almost clean, about 25-30 minutes.  Remove from oven, let cool completely, then unmold onto a plate.
To make the filling, combine maple syrup, cornstarch, and sea salt in a medium pot, and whisk until combined. Add the juice and zest and whisk until smooth. Heat over medium high heat whisking constantly until thickened to a curd or pudding like consistency, about 10 minutes. Remove from heat and whisk in coconut milk, coconut oil, and vanilla. Pour into a bowl, and let chill in the fridge until very cold, at least an hour.
To make the frosting, combine all ingredients in a high speed blender and blend until completely smooth.  Pour into a bowl and place in the freezer until the consistency of stiffly whipped cream (about 30-45 minutes depending on how warm it has gotten.  Once it is ready place in the refrigerator until ready to assemble.
To assemble, place one cake layer on a plate, and spread frosting 1/4 inch thick over it.  Then spread some of the curd over that.  Place the other cake layer over that, then spread more frosting, and curd over it like the last layer.  Repeat with another layer, and top off with last piece of cake.  Spread the remaining frosting on the top and down the sides of the cake.
(Visited 375 times, 1 visits today)