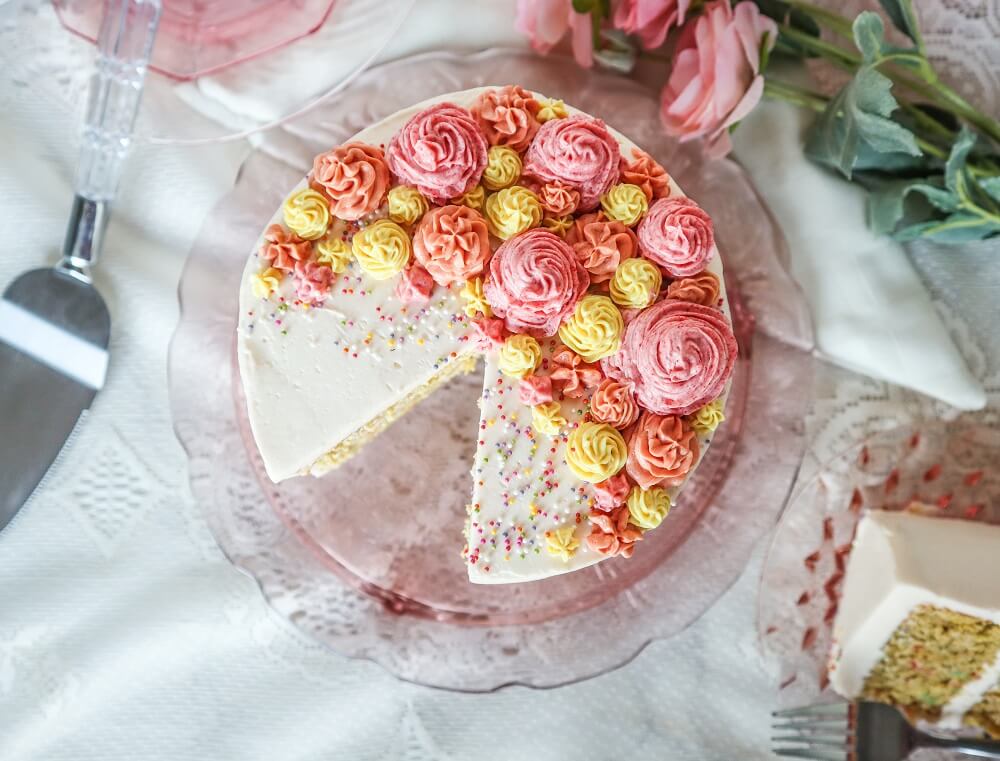 Vegan Vanilla Confetti Cake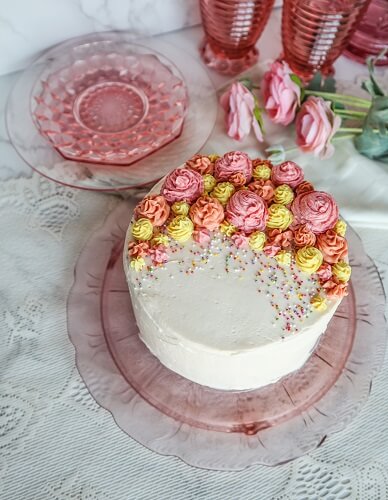 It is always a good occasion for cake as far as I am concerned. Which is why I decided to make this Vegan Vanilla Confetti Cake randomly this week.  I had 3 weeks off from working between my old job and starting a new one and I am not used to having all of this free time. So baking a cake, something I love doing seemed like the perfect thing to do!  Also, if any of you have been following me on Facebook, you might have noticed my business page got hacked and since I am unable to do anything about it (believe me I have tried everything) since my personal account was hacked then deleted too, I had to create a new page.  I am sort of bummed about it and since I am starting over, I thought why not create a new cake to spruce up the cover photo for the new page.  If you could all do me a favor though, if you happen to follow my old page, please unfollow and unlike it and report the page because I have no control over it and will no longer be posting content there and the hackers are just posting low quality videos, some of it not vegan at all (meat and planetary destruction) from Tic Toc that have nothing to do with my blog.  I really just want it deleted but Facebook is not responding to my requests so I thought maybe if a bunch of people report it they might listen.  You can follow my new page through my social links at the bottom of this blog if you like and I would really appreciate that!  Anyways, on to better things!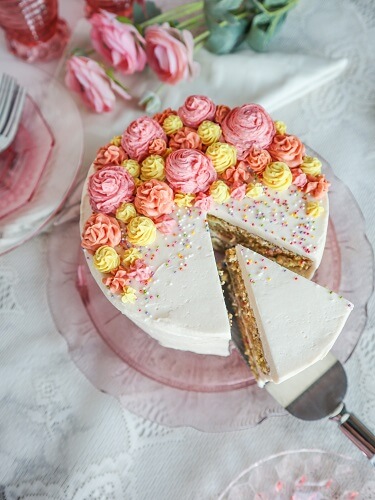 Like this cake!  I have been wanting to make it for a few months now so I am happy I finally got around to it!  Even bought some vegan sprinkles that have been sitting in my cupboard I could finally put to use!  The vanilla cake batter for this is really simple to make no special instructions, just that once all of the ingredients are added you beat it for 1 minute with a hand held mixer.  Yes, I use a hand held mixer most of the time because although I have a stand mixer it is more clean up and before I had it I always used a hand held.  I used whole wheat pastry flour but if you wanted to use regular AP flour you definitely could and the cake would be slightly lighter in color.  Also, in addition to the vanilla I added to the batter, I also added a touch of almond extract because my Grandma liked to do that with her cakes and it gives them a lovely aroma!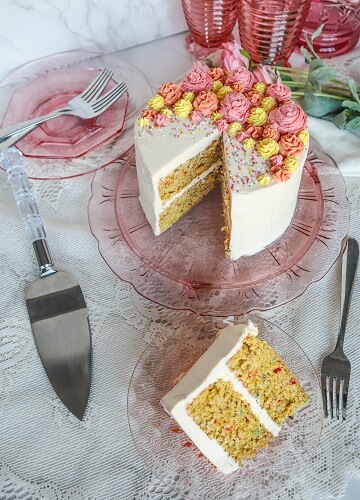 I love how the sprinkles make the batter look like it has confetti, that is why I am calling it confetti cake.  The cakes baked up beautifully and make my kitchen smell amazing!  It definitely put me in a better mood and I couldn't wait for them to be finished!  But first I made a vegan buttercream frosting scented with vanilla and a little bit of almond as well and it was so luscious and delicious!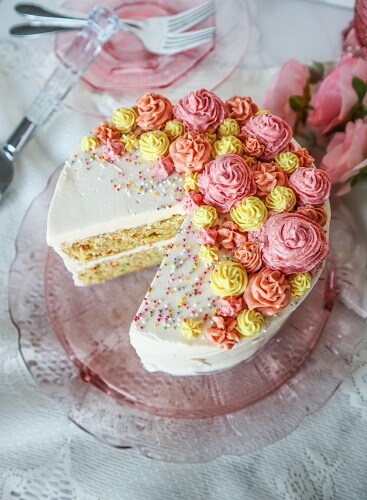 When the cake was finished and it was time to sample it I was super excited!  It is not often I make a plain vanilla cake despite the name of my blog, but it is honestly my favorite!  Who says vanilla is boring?!  It is after all the number one favorite flavor for a reason!  The cake was totally heavenly!  Soft and light, scented with vanilla and almond the rich creamy frosting the perfect accompaniment to it!  If you are a vanilla person like me, you definitely need to try this Vegan Vanilla Confetti Cake!  Don't wait until it is someone's birthday either, you should make it just because!  And if you have a small family like me, I can tell you it freezes beautifully for if you need a pick me up on another day down the line (I freeze the leftovers from all my cakes for this reason).   I hope you all have a wonderful weekend!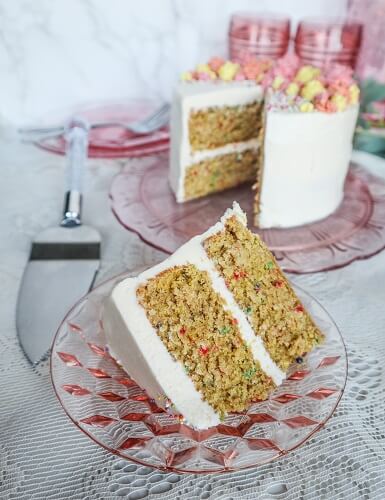 Vegan Vanilla Confetti Cake
Makes one 2 layer 6 inch cake
Ingredients:
Cake:
1 1/2 cups all purpose flour
3/4 cup plus 2 Tbsp granulated sugar
3/4 tsp baking powder (1/2 tsp plus 1/4 tsp)
1/2 tsp sea salt
2 flax eggs (2 Tbsp golden ground flax seed mixed with 1/4 cup plus 2 Tbsp filtered water, allowed to sit 15 minutes)
1/4 cup plus 2 Tbsp avocado oil or other neutral oil
1/2 cup plant based milk
1 1/2 tsp pure vanilla extract
1/2 tsp almond extract
1/2 cup vegan sprinkles
Frosting:
1 1/2 cups vegan butter, I used Earth Balance (at room temperature)
3-4 Tbsp oat milk (I used Oatly, but you can use what you prefer), add 3 then if needed add another if frosting comes out too stiff
1 tsp pure vanilla extract
1/2 tsp almond extract
4 cups powdered sugar
Instructions:
Preheat oven to 350F degrees, and line 2 6 inch round cake pans with parchment on the bottom and oil the sides.
In a large bowl, combine the flour, sugar, baking powder and sea salt and whisk to blend.
Add the flax eggs, avocado oil, oat milk, and vanilla and beat with an electric mixer for about a minute (or 3 minutes if doing it by hand with a whisk).
Whisk in the sprinkles until distributed.
Pour the cake batter into the prepared pans, dividing evenly between them.
Place the cakes in the oven and bake for about 30 minutes until the cakes are done in the center (you are able to insert a toothpick into the center and it comes out almost clean with a few moist crumbs).
Remove from the oven and let cool 20 minutes, then remove the cakes from the pans by cutting around the sides, placing a plate on top then inverting it and tapping on it.  Allow them then to cool completely once they are out of the pans.
To make the frosting, beat the butter with the milk and vanilla until fluffy.
Add the powdered sugar 1 cup at a time, and beat until completely mixed and light and fluffy (if the frosting is too stiff add that other Tbsp of milk).
When ready to frost, Place one cake layer on a plate, spread about 1/2 inch thick layer of the frosting over it.
Place the next cake layer on top.
Spread the remaining frosting on the top and down the sides of the cake evenly, then place the rest of the frosting in a pastry bag and use it to decorate the top.  This frosting recipe makes enough that you should be able to do some generous piping decorations on top, because I like a lot of frosting! If you wish to tint the frosting colors as I did, feel free to.  Sprinkle cake with more vegan sprinkles to decorate if desired.
Serve the cake and enjoy!
(Visited 708 times, 1 visits today)