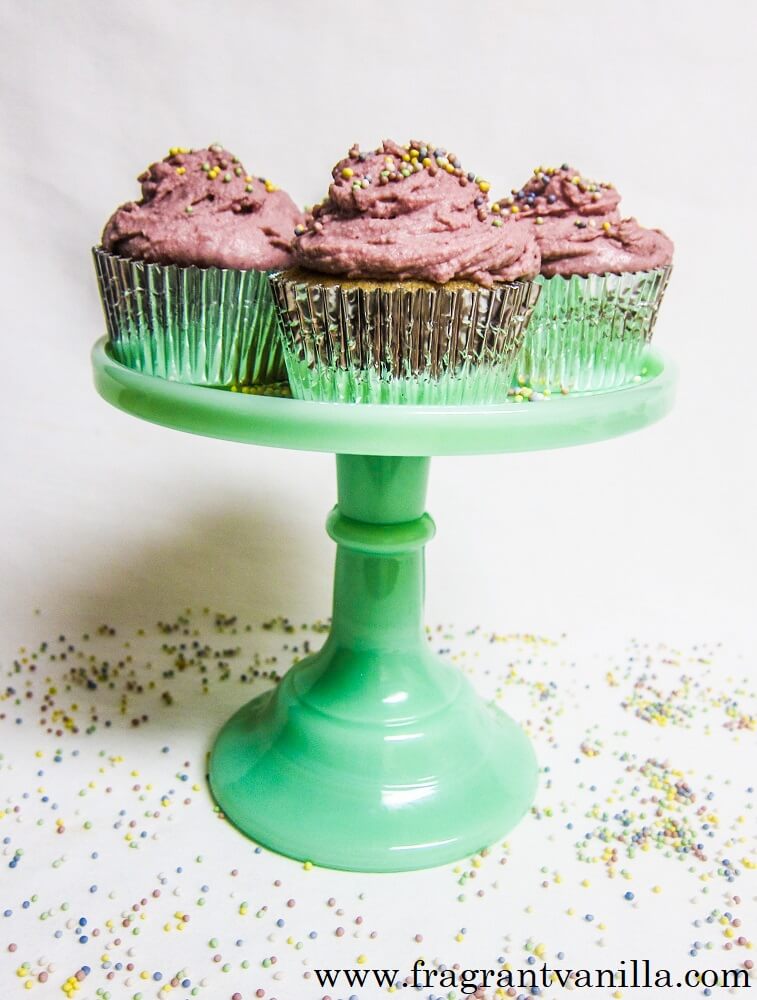 Vegan Vanilla Sprinkles Cupcakes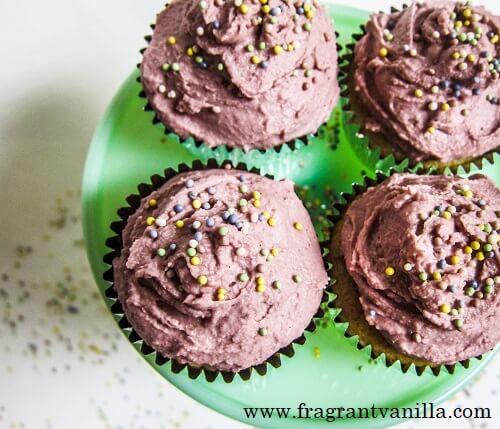 Sprinkles have always made me smile. On cupcakes, on doughnuts, on cookies...they are just so adorable and when I was little the little colored balls caught my attention every time. They were a must for most of my Birthday cakes growing up, and I remember begging my Dad to buy me and my friend a funfetti cake mix complete with sprinkles for the top of the cake to that we later baked. It didn't taste as good as it looked because it was from a box, but we had fun with it.  As an adult I haven't used them much because I don't like to use artificial color in things and I kind of missed them.  But, the other day when I was shopping after work, I was walking through the baking aisle, and some natural colored sprinkles caught my eye.  They were vegan too!  So, I had to buy them.  Yes, they have sugar in them, but I figure it is such a minor amount if you just sprinkle a small bit on top of your cake or cupcakes.  I was super excited, this called for some cupcake baking. Even though my blog is called "Fragrant Vanilla Cake", I did not have a vanilla cupcake recipe on it.  That is, until now.  I decided that it was about time I made one with the sprinkles and all to inspire me.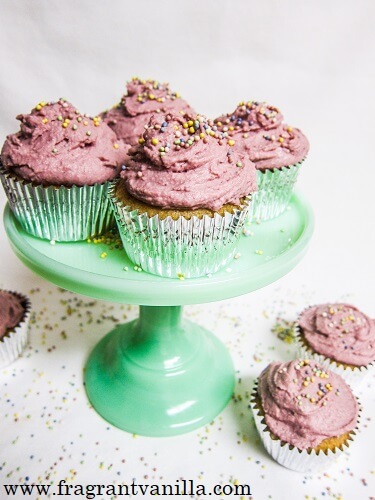 Most of the cakes I have made recently are date sweetened, but for this one I decided to use xylitol because it tastes like sugar in cakes and leaves the batter a pale color, not making it brown like say a coconut or maple sugar would.  I wanted these to taste and look as close to classic vanilla cupcakes as possible.  If you are not a fan of xylitol though, see my note at the bottom on replacements. Anyways, the vanilla batter tasted heavenly before I even baked it.  Just like the classic cake batter I remember licking from the bowl when I was little that was leftover.  They baked up nicely, and as they cooled I went to work making the frosting.  I wanted it to be luscious, fluffy and sweet, so I went with a vegan faux cream cheese frosting.  The mixture of coconut milk and cashew butter is what gives it that crave worthy flavor and texture.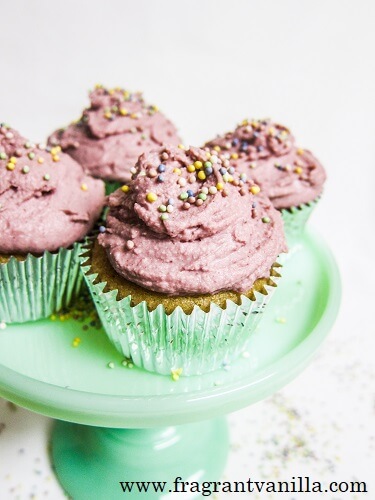 I tinted it pink, because why not make these super cute and girly?  But if you hate pink or something feel free to tint them another color.  For green you could use matcha powder, or for yellow, some turmeric (just go light on it, because you don't want to taste it). I felt kind of like a little kid decorating them.  Like when I used to decorate cookies with my Grandma and frost and sprinkle them with sugar or candy balls. They turned out delicious!  Sweet, and aromatic with vanilla, the fluffy frosting the perfect thing to top them off with!  If you are craving classic vanilla cupcakes, give these a try!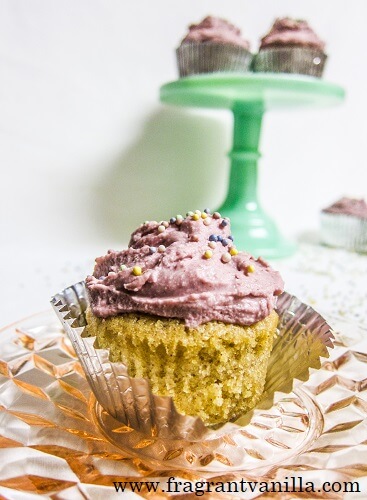 Vegan Vanilla Sprinkles Cupcakes 
Makes about 10 cupcakes
Ingredients:
Cake:
Frosting:
1 1 15 oz can full fat organic coconut milk, at room temperature
1/2 cup raw cashew butter
1/4 cup maple syrup
1/8 tsp sea salt
1 tsp pure vanilla extract
1 tsp lemon juice
1/2 cup plus 2 Tbsp raw coconut butter (NOT OIL), warmed to liquid
1 Tbsp beet powder or a few tsp natural vegan red food coloring
For Topping:
Instructions:
Preheat the oven to 375 degrees and position rack in center of oven.
Line 10 cupcake tins with paper or foil liners.
Whisk flour, baking soda, sea salt, and xylitol in a large bowl to blend well.
Whisk oil , coconut milk and vanilla extract together in small bowl to blend well, then whisk into the flour mixture until well blended.
Transfer cake batter to prepared muffin tins and until tester inserted into center comes out clean, about 12-15 minutes (but do not over-bake, or the cakes will be dry).
Remove from the oven and allow cupcakes to cool completely.
For the frosting, combine all ingredients in a blender and blend until completely smooth. Pour into a bowl and place in the freezer until it is thick like whipped cream (whisking every so often), about one hour.
Spread the frosting over the cupcakes, and sprinkle with the sprinkles.
*The reason I used xylitol for this cake was to keep it pale in color.  If you do not care for xylitol, use 1 cup coconut sugar or 1 cup maple sugar instead, just keep in  mind you will get a darker color cake.
*Do not feed this cake to dogs, xylitol is toxic to them.
*If you wish to make a non-vegan cake, regular all purpose flour will work as well, or whole wheat pastry flour.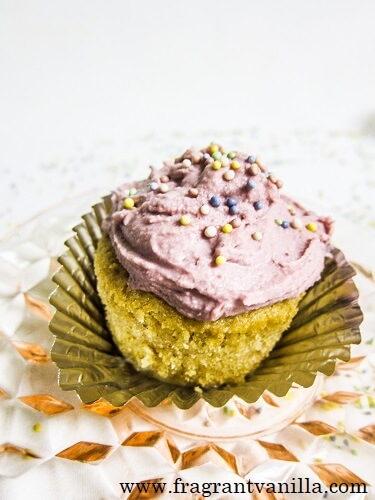 (Visited 15 times, 1 visits today)