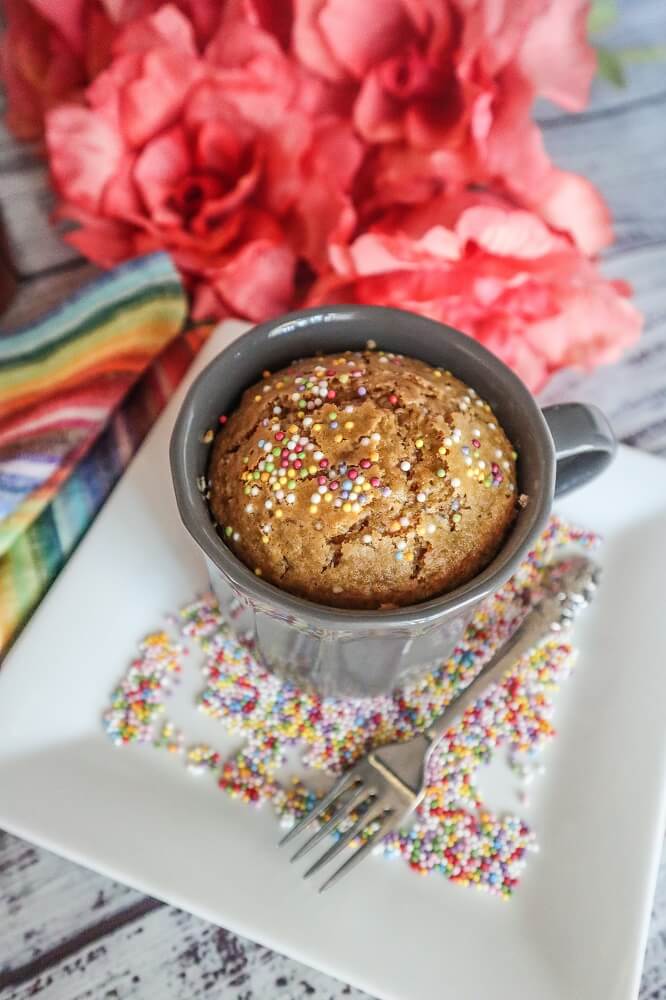 Vegan Vanilla Cake In a Mug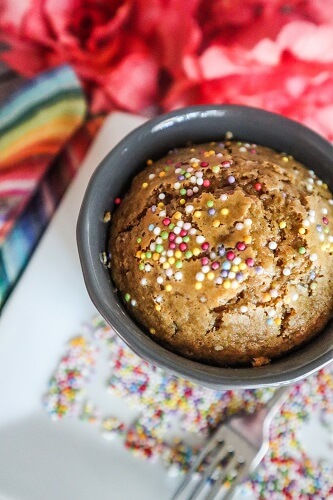 It was Friday, at the end of a long week, and I was in the mood for some cake.  But I didn't want to go through a lot of trouble to make it, because I also wanted to relax and enjoy, so I decided to make just one small cake for myself to enjoy that I could eat right away. A mug cake!  I haven't made one in ages. I don't think I have even made a vanilla mug cake like this one. I made a souffle one time in a mug that was similar back before I was vegan.  But cake sounds even better. I thought about making a chocolate one, but decided on vanilla because it brings back good memories and my birthday is next week, so I wanted something sort of birthday cake like. Not that I won't make another birthday dessert, I am all for going all out next week on something.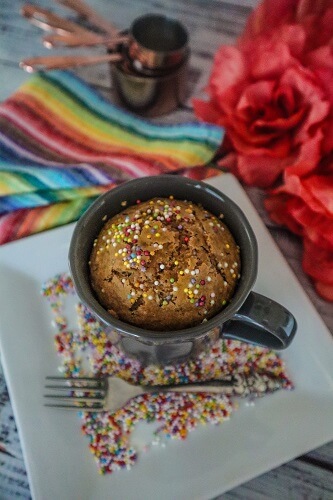 This time though I wanted to keep it simple.  I made my classic vanilla cake batter that is super easy, just whisk it all together pour it in and bake!  None of that beating of anything separately and folding it in type of business. I used to make those types of cakes back in the day and although it was fun and exciting at the time, I want something with a bit less steps at this point.
This cake batter doesn't actually have any oil, it is made with full fat coconut milk instead to give it that richness and it works out perfect. I used whole wheat pastry flour here, because it is what I prefer, but if you prefer regular AP flour, or even GF flour (I recommend Bob's Red Mill GF all purpose baking flour, because I have used it with great results) that will work as well here swapped in. I stirred in some sprinkles at the last minute because why not make it cute?!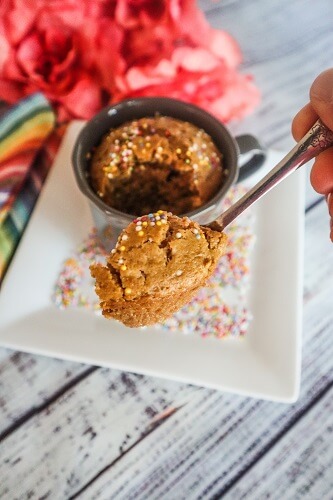 It baked up nicely and my kitchen smelled amazing. Like the name of my blog lol, like Fragrant Vanilla Cake.  It is one of my favorite smells in the world after all.  I could not wait to dive in!  Once it had cooled enough to enjoy, and I got to try it, the flavor was just what I imagined.  That classic mellow sweet vanilla with a nice soft crumb that I wanted to keep eating until it was all gone.  If you are in the mood for some classic vanilla cake, give this a try!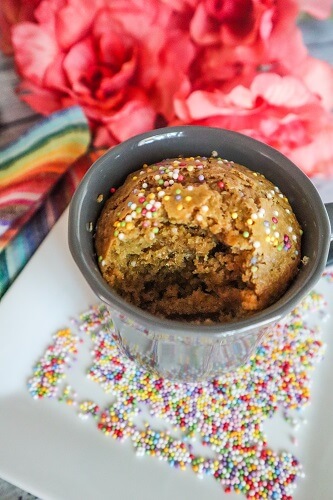 Vegan Vanilla Cake In a Mug 
Makes one larger mug cake or 2 smaller
Ingredients:
one 2 cup mug or two 1 cup mugs
Cake:
1/4 cup plus 2 Tbsp organic whole wheat pastry flour
1/4 tsp plus 1/8 tsp baking soda
1/4 tsp baking powder
1/8 tsp sea salt
1/4 cup maple sugar
1/2 cup full fat coconut milk (the thick kind, I prefer Thai Kitchen brand) at room temperature
1/2 tsp pure vanilla extract
1 1/2 tsp cider vinegar
1 Tbsp vegan sprinkles (optional)
Instructions:
Preheat the oven to 350F degrees and position rack in center of oven.
Whisk flour, baking soda, sea salt, and sugar in a large bowl to blend well.
Whisk coconut milk and vanilla extract together in small bowl to blend well, then whisk into the flour mixture until well blended.
Whisk the cider vinegar into the batter.
Transfer the cake batter to a 2 cup larger mug or 2 1 cup mugs.
Place in the oven, and bake cake until tester inserted into center comes out clean with just a few moist crumbs attached, about 25 minutes for the larger mug and about 15 for the smaller 1 cup.
Remove from the oven and let cool, at least until just warm.
Enjoy!
Notes:
If you would rather use coconut sugar or even just granulated sugar for this, either will work in place of the maple sugar.
(Visited 1,554 times, 1 visits today)