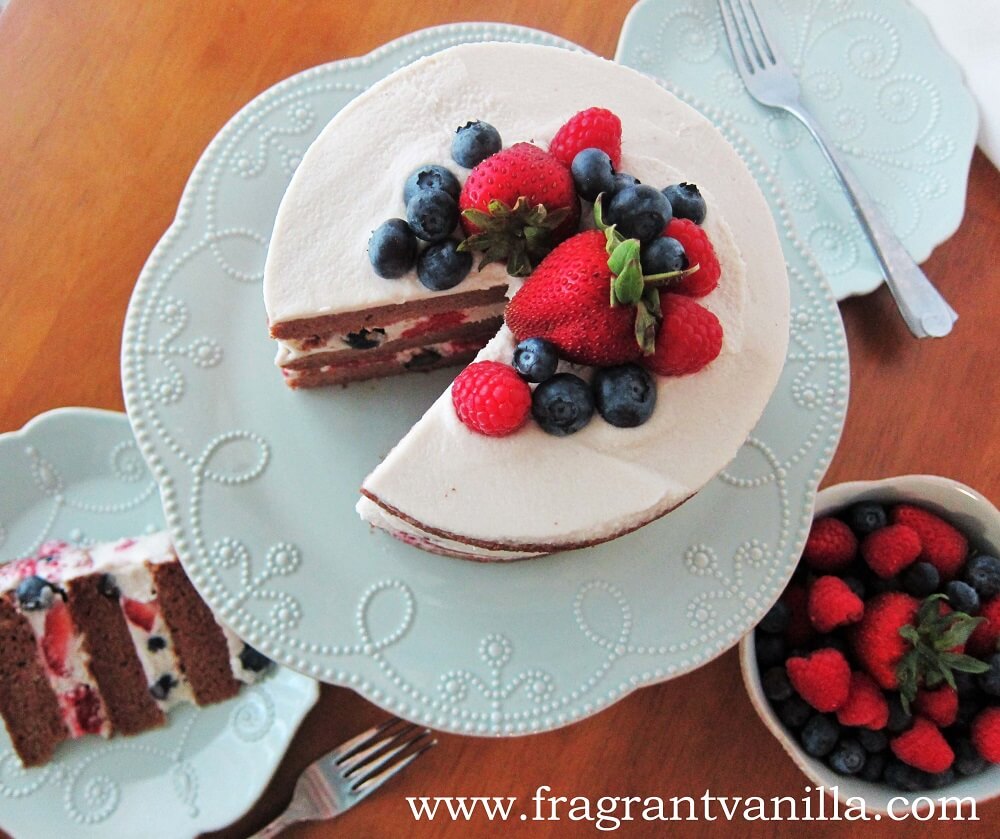 Vegan Vanilla Berry Cake with "Cream Cheese" Frosting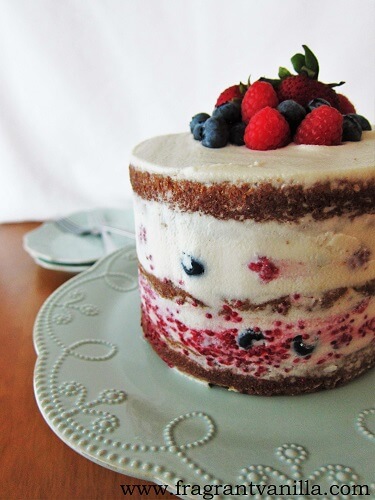 Since it is the week of the Fourth, I thought it would be appropriate to make a festive cake!  When I was little, my Mom would always make festive 4th of July desserts with fresh berries, and I guess I like to keep that tradition going.  She was a sheet pan kind of cake maker, I am a layer cake maker.  But the similar flavors were all there with the cake I made.  She used to make a cream cheese cake with berries on top, and I made a vanilla layer cake with cream cheese frosting.  Well, faux cream cheese frosting, of course since I am vegan.  I have been buying berries by the bucketfulls, so I had plenty on hand for this cake.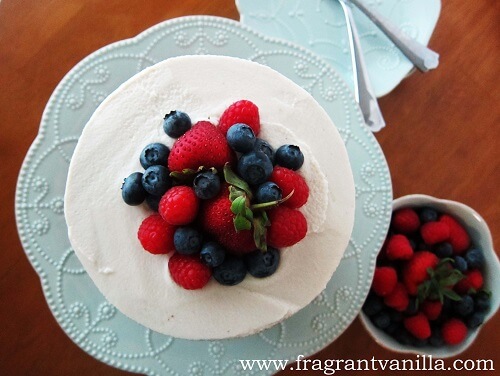 For the cake layers, I just used my favorite date sweetened vanilla cake recipe.  Why dates?  Well, they keep the cake moist and if you bake it just the right amount of time it is the perfect texture and you would swear it was a regular conventional cake and not a vegan fruit sweetened one.  I knew it would be the perfect pairing with the fresh berries and cream cheese frosting too, so that they were allowed to shine. Before I went vegan I was way into the cream cheese frosting.  It was my favorite because, it was like a way to get cheesecake and regular cake at the same time (since it reminded me of cheesecake).  So luckily I have come up with a vegan version of cream cheese frosting that I enjoy even more.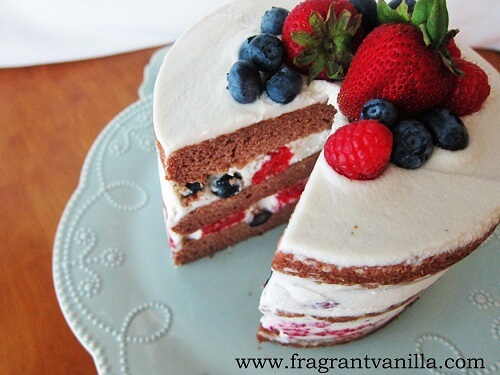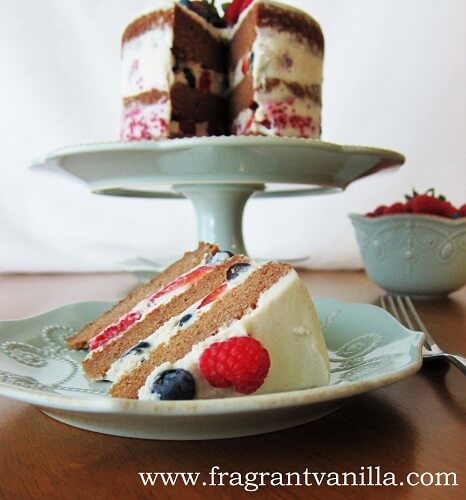 Once the cake was all assembled, it was lovely.  I had been tasting the elements as I went separately, which is one of the perks of being the baker, but I wanted to try it all together.  I shared some with Eric, and we both thought it was amazing.  I gave some to my Mom as well and she said it tasted as good as if not better than traditional cake.  I would call this a win. And it ended up looking so festive and perfect for the 4th of July!  Of course my cake is gone and it is not the 4th yet, but it was good while it lasted.  I think this cake would be perfect for any Summer celebration. I hope you are all having a wonderful holiday weekend!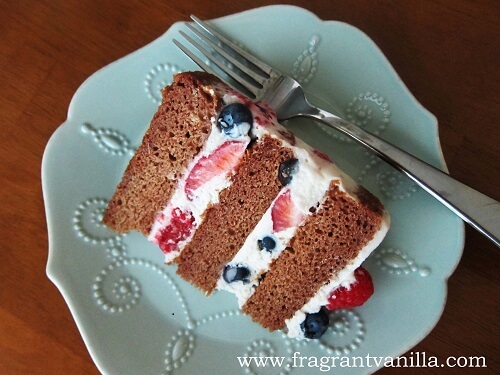 Vegan Vanilla Berry Cake with "Cream Cheese" Frosting
Makes 1 6 inch 3 layer cake
3 6 inch cake pans
Cake:
1 1/2 cups quinoa flour (or all purpose gluten free flour)
1 1/2 tsp baking soda
1 tsp baking powder
1/2 tsp sea salt
1 cup packed soft medjool dates, pitted, soaked in water for 30 minutes and 1/2 cup of the water reserved
1/4 cup raw raw almond butter
2 tsp pure vanilla extract
1 cup filtered water
2 Tbsp apple cider vinegar
Frosting:
1 15 oz can full fat organic coconut milk, chilled (be sure to use a brand that is mostly cream, 3/4 of the can or so or it will not work in this recipe.  I like Thai Kitchen Brand)
1/2 cup raw cashew butter
1/4 cup maple syrup
1 tsp pure vanilla extract
1/4 tsp sea salt
1/2 cup plus 2 Tbsp melted coconut butter (not oil, warmed to liquid)
Filling/Topping:
1 1/2 cups mixed fresh organic berries
Instructions:
Preheat the oven to 375F and position rack in center of oven. Line the bottoms of three 6-inch-diameter cake pans with 2-inch-high sides with parchment paper. Coat parchment paper and pan sides lightly with oil so that the cake doesn't stick.
Whisk flour, baking powder, baking soda, sea salt, in a large bowl to blend well. Place dates, reserved water and additional 1 cup water, almond butter and vanilla extract into a blender, and blend until smooth, then whisk this blended mixture into the flour mixture until well blended.
Whisk cider vinegar into the batter until bubbles form. Transfer cake batter to prepared pans and bake cakes until tester inserted into center comes out clean, about 25 minutes. Cool cakes completely in pan on rack, about 1 hour. Cut around sides of pan to loosen. Turn cakes out onto platter; peel off parchment paper.
To make the frosting, combine all ingredients in a high speed blender and blend until completely smooth.  Pour into a bowl and place in the freezer until the consistency of stiffly whipped cream (about 30-45 minutes depending on how warm it has gotten.  Once it is ready place in the refrigerator until ready to assemble.
To assemble, place one cake layer on a plate, and spread about 3/4 cup frosting over that and press some of the berries into it. Place  another cake layer over that, then 3/4 cup more frosting and more berries then the last cake layer. Spread the remaining frosting on the top and down the sides of the cake. Decorate the top of the cake with berries.
(Visited 361 times, 1 visits today)