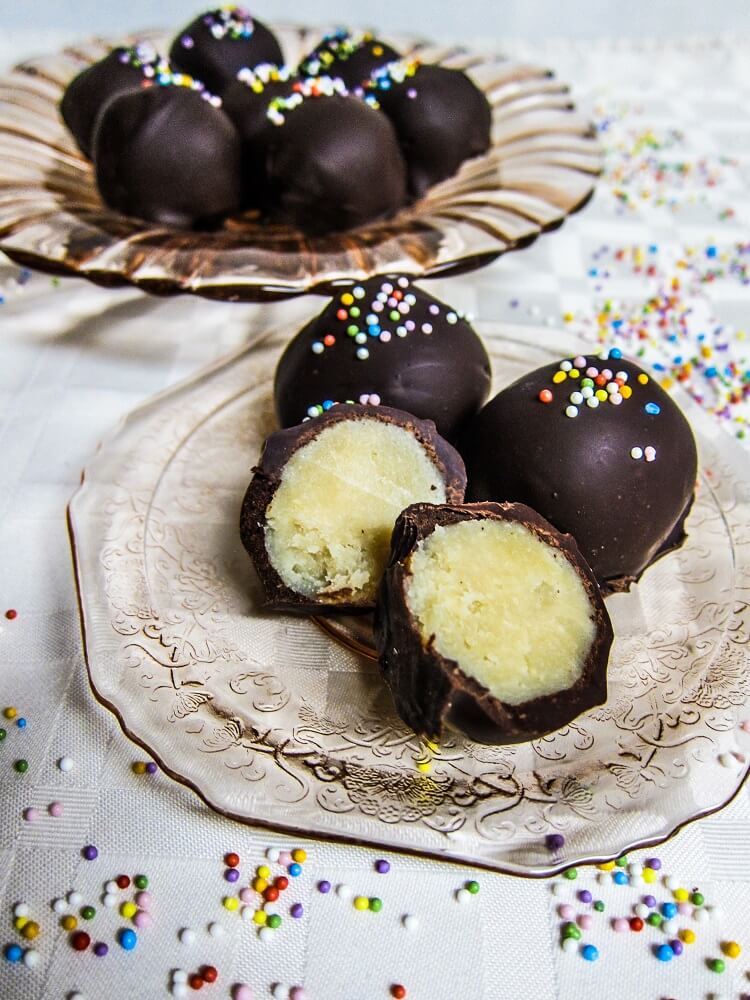 Vegan Vanilla Bean Sugar Cookie Dough Truffles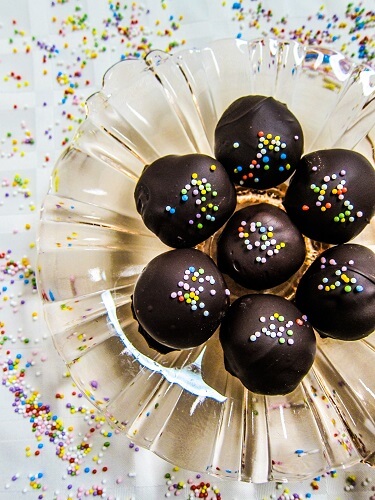 I like cookie dough better than actual cookies.  Don't get me wrong, cookies can be amazing, especially when fresh baked warm from the oven, but the dough is so good (and so addictive) to me.  I can never stop sampling it.  So of course my favorite part of baking cookies is eating the dough.  Well, sometimes I just like to make cookie dough for the purpose of eating.  But I figured I would be a little bit more fancy with it and make some cookie dough truffles!  This time of the year is the time to enjoy sugar cookies, so that is the filling I chose.  When I was little, my Grandma made the best sugar cookies.  They were rich and buttery, sweet and delicious, even better when topped off with a buttercream frosting.  I made them a lot before I went vegan too, and they were the sort of thing I liked to give people a plate of for a gift, and one of those people told me that they ended up eating them all in one day. I wanted the filling in these truffles to taste just like those. Because they were so amazing.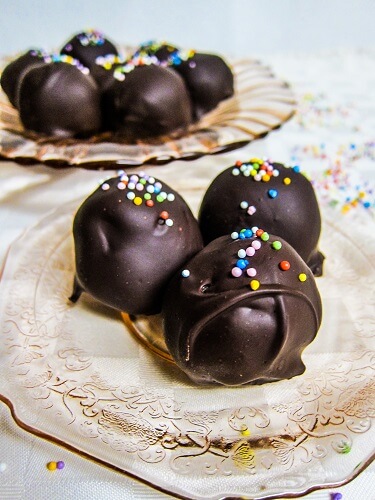 I am a vanilla girl above chocolate after all, so vanilla sugar cookie dough ranks pretty high. These are actually pretty easy to make.  For the filling, I used a combination of cashew butter and coconut butter to make them soft and rich plus vanilla extract and vanilla beans because why not?!  I consider vanilla beans kind of special so I think using them in a holiday recipe is perfect!  I could not stop sampling this filling by the way.  It is amazing it made as many truffles as it did.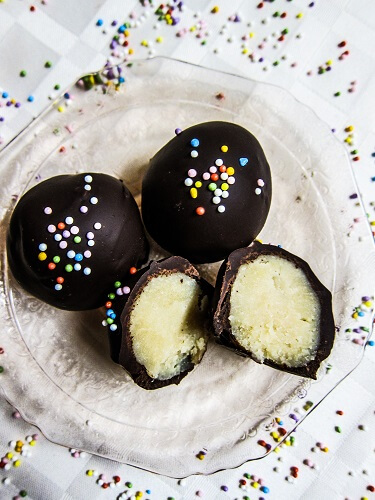 Once the filling was all shaped into pretty little balls, I dipped it in vegan dark chocolate.  I suppose you could go for white chocolate and that would be amazing too, but I figured the dark would be a nice contrast.  I sprinkled them with some vegan sprinkles I just got in the mail and they were so cute! But most importantly they tasted amazing!  The filling tasted just like a combination of those sugar cookies with their frosting, and it was so good with the dark chocolate!  If you are looking for a holiday treat to gift to someone instead of a plate of cookies, these would be perfect!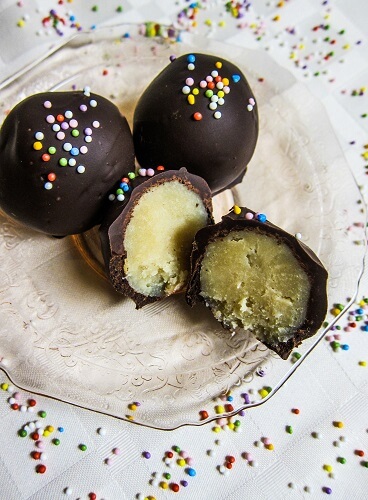 Vegan Vanilla Bean Sugar Cookie Dough Truffles 
Makes 12 truffles
Ingredients:
Filling:
3/4 cup raw cashew butter at room temperature
3/4 cup raw coconut butter, warmed to liquid
1 tsp pure vanilla extract
seeds of 1/2 1 vanilla bean
1/4 cup maple syrup
3 Tbsp filtered water
Dark Chocolate:
2 cups chopped vegan dark chocolate
Vegan Sprinkles for decoration
Directions:
Combine all of the filling ingredients in a bowl, and whisk until smooth.
Place in the freezer for about 15-20 minutes until it is firm enough to scoop. Scoop into 12 balls, rolling them with your hands.   Place on a parchment lined tray, and place back into the freezer until firm, about 30 minutes.
Meanwhile,  melt the dark chocolate in a double boiler until smooth.
Once the filling has firmed up, dip each chocolate into the dark chocolate, being sure to let the excess drain off, and place back onto the tray (I like to set mine on a fork to allow it to drain better). Then sprinkle them with sprinkles.  Once they are all dipped, set them in the freezer until hardened.
Store any leftover truffles in the refrigerator.
(Visited 1,651 times, 1 visits today)