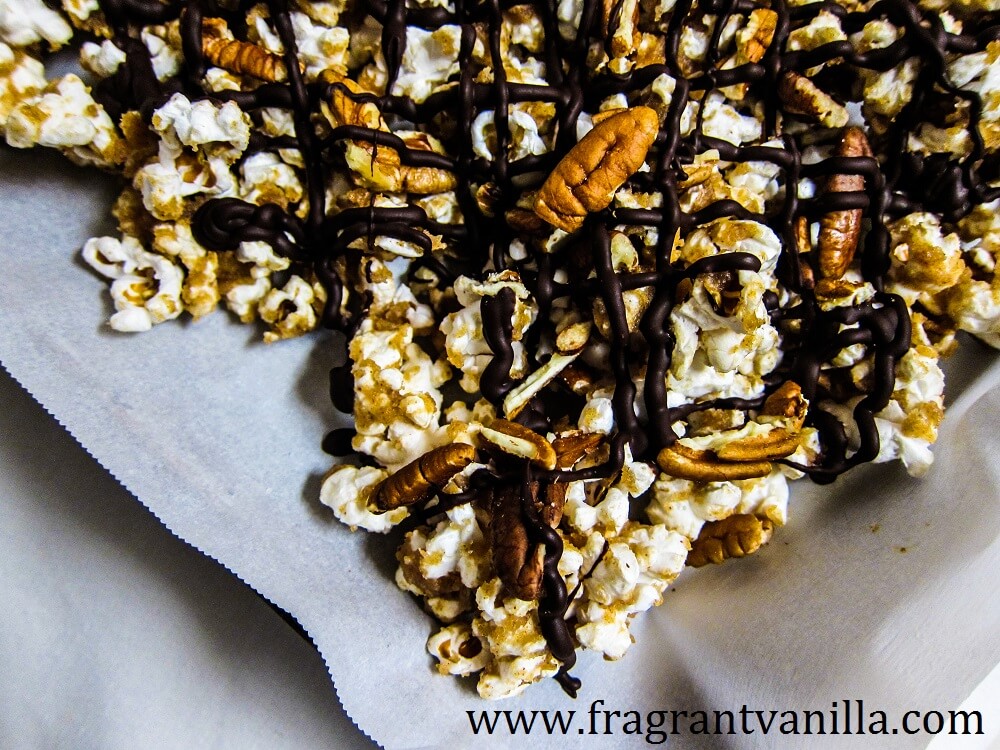 Vegan Turtle Popcorn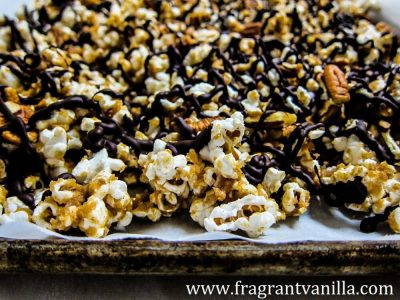 There was one day last week when everyone around me seemed like they were having a tough day.  You know, like the book "Alexander and the Terrible, Horrible, No Good, Very Bad Day" but real life and not just one person, multiple people. I feel like usually when these days happen it is me that has multiple things go wrong, but I was lucky to not be included.  It made me wonder if there was a full moon though seriously with all of the things going wrong.  Luckily, I was in a good mood so it didn't rub off on me.  I know it is easy to get sucked into negativity at times, but I try my best not to and I maintained a smile and stayed optimistic.  When I do have a bad day, I pray about it and try to learn from it, allowing it to make me stronger so that in the future I can deal with it better.  Eric was one of the people having a bad day, so I thought I would make him some really good popcorn, because it is his favorite snack.  I could have just made some plain popcorn or cheesy popcorn (with nutritional yeast), but I thought I would make some gourmet popcorn.  Turtle was the final consensus after narrowing it down to three types I could possibly make (the other two will be made at a later date).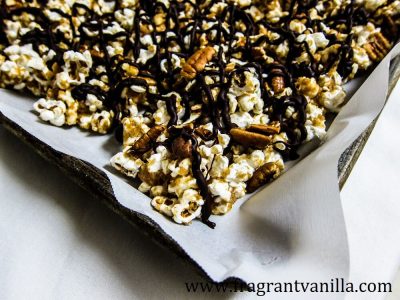 I was already getting hungry about the idea of this popcorn.  After all, turtles are delicious with their chocolate, gooey caramel and crunchy pecans.  I have loved them since I was a kid, and I knew Eric would love this popcorn because he loves chocolate and caramel.  He has been known to eat almost 3/4 of a batch of my popcorn at once.   I made my classic caramel corn, which is actually more simple to make than regular caramel corn because you just whisk together the "caramel" and then toss the popcorn with it, no cooking required for that part.  It is sweetened with maple syrup instead of the classic sugar but tastes just as good.  I tossed in some pecans, then drizzled it with dark chocolate and it was beautiful!  Once it had set, I could not wait to taste test it.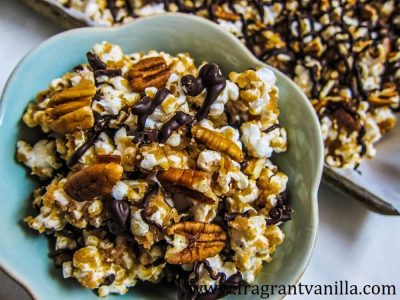 OMG was it ever good!  I could not stop sampling it.  This is WAY better than any sugary caramel corn I had as a kid.  Don't worry, I saved a large bag of it for Eric after having a bowl because he was the one I made it for in the first place.  I know delicious food doesn't make everything better, but I think a loved one making you one of your favorite foods can make you smile on a bad day.  I know it works for me!  That or Eric bringing me a bottle of good wine to share after a bad day, which he has done in the past.  Try out this popcorn the next time you are craving something salty, crunchy, sweet and chocolaty!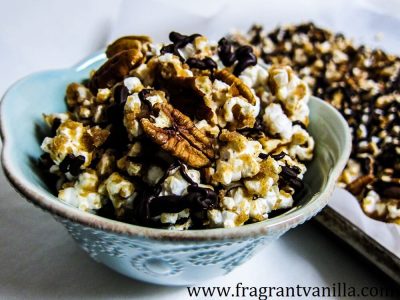 Vegan Turtle Popcorn 
Makes 8 cups
1/3 cup maple syrup
1/3 cup coconut butter, warmed to liquid
1/3 cup pecan butter (or almond butter)
1/2 tsp sea salt
1 tsp pure vanilla extract
8 cups plain organic popped corn
1 cup pecans
3/4 cup vegan dark chocolate chips
Instructions:
In a glass measuring cup (or bowl) whisk together the maple syrup, coconut butter, pecan butter, sea salt and vanilla until well blended. Pour over the popcorn in a large bowl, along with coconut and mix well. Spread out onto a lined sheet pan, and place in the freezer until it is hard.
Meanwhile, melt the chocolate chips in the top of a double boiler.  Once melted, drizzle over the popcorn.  Place back in the freezer until the chocolate has hardened.  Enjoy!
(Visited 36 times, 1 visits today)