Vegan Turtle Doughnuts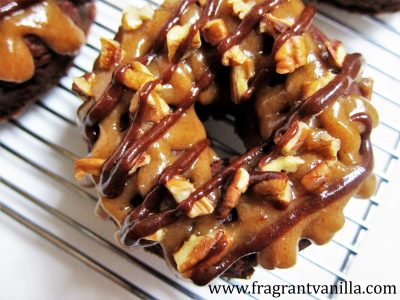 There is a café in St. Paul MN, that makes a famous turtle cake.  My Mom and I used to go there when I was little, just for the beautiful desserts, which I would admire through the glass, but I would always either buy the turtle cake or cheesecake.  It was decadent as all get out.  Layers of moist, rich chocolate cake, sandwiched together with gooey caramel fudge and pecans.  It was amazing, and I could totally understand why it was so famous.  That cake has never left my memory, and I have since made several vegan versions, one of which happens to be in my book, Just Vegan Cakes.  Me and my family enjoyed the vegan versions even more than the original version, because it is made with ingredients that won't make your tummy hurt (no refined sugars, flours, or dairy).  I really do enjoy making vegan baked goods that people love just as much as conventional ones, because it gives me hope that maybe they will think about going vegan themselves.  Because you know, vegans are totally not deprived!  We enjoy decadent treats too!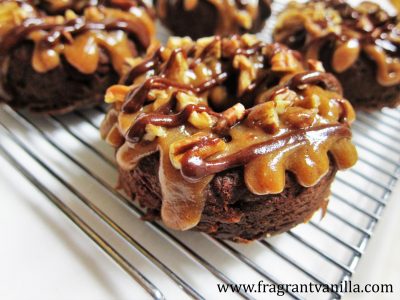 So, anyways, about this cake, I was thinking it sounded good last night, but I didn't have time to make a whole cake...so I created doughnuts with the same delicious things in them as the cake!  They bake faster than cake, and you can still frost them with the delicious gooeyness that the cake had, so it was perfect!  They came together in no time at all, and were super easy to make!  I used a batter I normally use in my chocolate cakes, because it is nice and light, and moist.  It is sweetened with dates, which give it a little bit of a caramel note.  This whole recipe is actually fruit sweetened, because I always feel good when I use them in my recipes.  They are after all about as natural as you can get when it comes to sweeteners.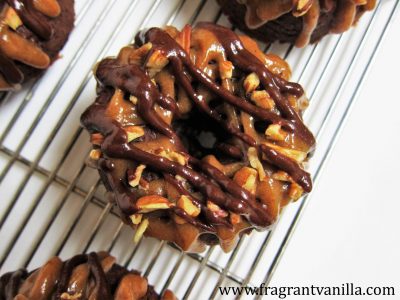 They smelled like brownies while baking, and once cooled I made a delicious date caramel and fudge to top them off.  It is the type of thing you want to eat with a spoon, but of course you have to save some for the doughnuts.  Once they were topped off with the gooey stuff, and sprinkled with pecans I was ready to indulge.  They were sooo good!  Just as good as the cake, but so much easier to make if you are in a rush.  These would make the perfect weekend treat...so get on it people!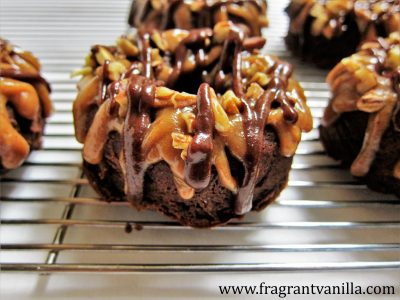 Vegan Turtle Doughnuts 
Makes 6 large doughnuts
Ingredients:
Doughnut Pan (mine is large size)
Batter:
3/4 cups quinoa flour (or all purpose gluten free flour)
1/4 cup cacao powder or unsweetened cocoa powder
3/4 tsp baking soda
1/2 tsp baking powder
1/4 tsp sea salt
1/2 cup packed soft medjool dates, pitted, soaked in water for 30 minutes and ½ cup of the soaking water reserved
2 Tbsp pecan butter or almond butter
1 ½ tsp pure vanilla extract
1/2 cup pumpkin puree or applesauce
1 Tbsp apple cider vinegar
Caramel and Fudge:
1 cup soft medjool dates, pitted (if they are not soft, soak them in water and drain well first)
2 heaping Tbsp pecan butter or almond butter
1 Tbsp coconut oil, warmed to liquid
1/8 tsp sea salt
1 tsp pure vanilla extract
1/4 cup filtered water (plus more as needed)
1 Tbsp cacao powder
Topping:
Directions:
Preheat the oven to 375F degrees and position rack in center of oven. Oil a 6 hole doughnut pan.
Whisk flour, cacao powder, baking powder, baking soda, spices and sea salt in a large bowl to blend well.  Set aside.
Place dates, reserved water, almond butter, pumpkin puree, and vanilla extract into a blender, and blend until smooth, then whisk this blended mixture into the flour mixture until well blended. Whisk in the cider vinegar until bubbles form. Transfer batter to prepared pan and bake cakes until tester inserted into center comes out clean, about 15-20 minutes (depending on your oven). Cool completely in the pan, about 1 hour. Remove from pan.
To make the caramel, combine all ingredients but the cacao powder in a blender and blend until smooth (adding a little water if necessary, it should be the consistency of pourable but still thick caramel).  Divide between 2 bowls, and whisk the cacao powder into one (if it becomes too thick add a little more water, since cacao powder thickens).
Once the doughnuts are ready, drizzle with the caramel and fudge, and sprinkle with pecans.  Serve!
(Visited 231 times, 1 visits today)