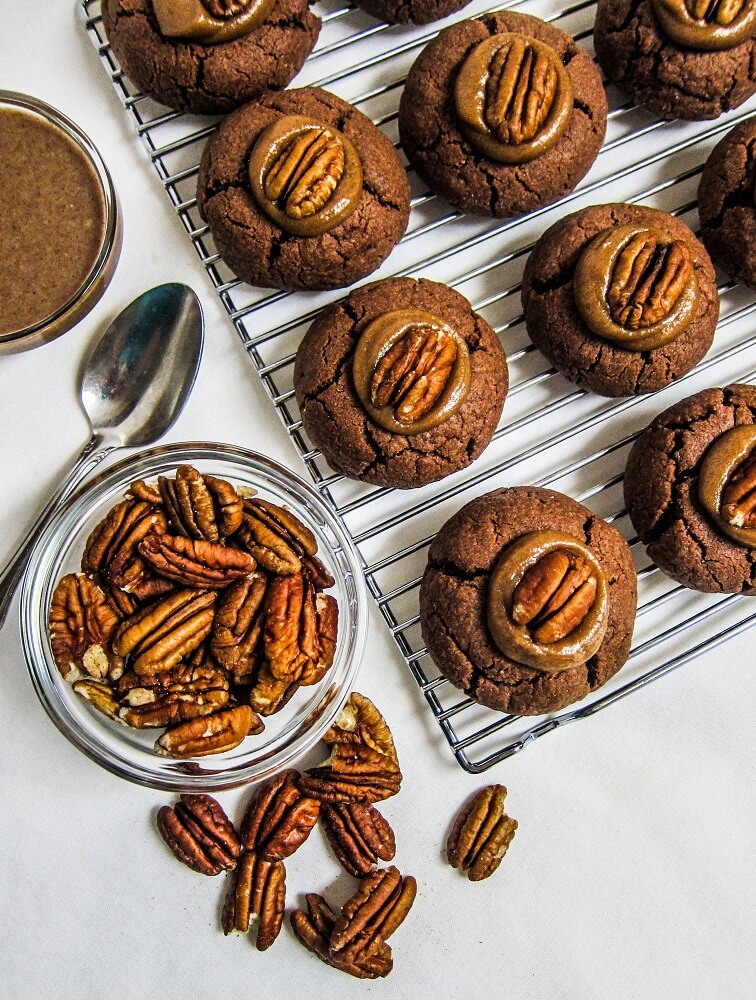 Vegan Turtle Cookies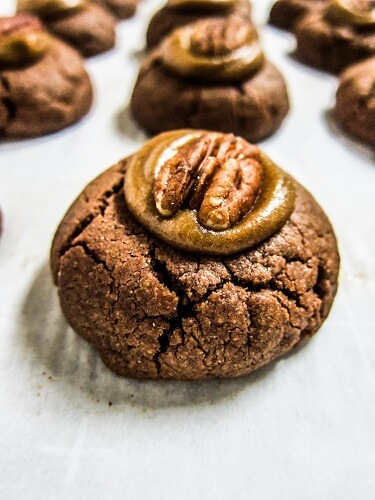 I can't believe it was below zero (F) degrees last weekend. I mean, it is March and I know it is supposed to come in like a lion and all but I can't remember it being this cold this late in the season before. I am so ready for Spring and cute colorful clothes and not having to put on layers upon layers, and not being cold when I go outside. But I made the best of it last weekend and stayed inside for the most part. Lucky I have a treadmill and indoor bike or I would probably go stir crazy. It wasn't all bad not going outside I guess even though I miss the sun. We hit up a movie and went out for Indian food, and I made some super delicious cookies. Some vegan turtle cookies.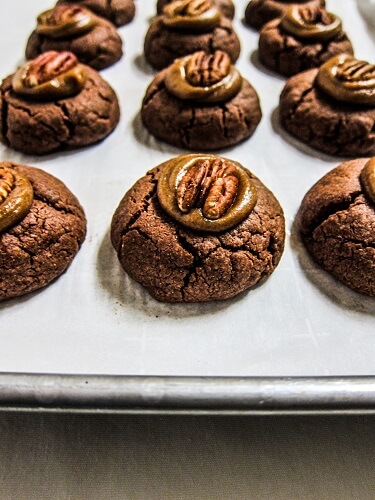 Because why not bake in the warm kitchen instead of venturing out in the below zero weather? I have been baking a lot of cookies lately in case you haven't noticed. Nothing wrong with that though! These were some of my favorites. I was just thinking something involving caramel sounded good and turtle cookies immediately came to mind. I was imagining a soft thumb print cookie with a gooey caramel center topped off with a crunchy pecan!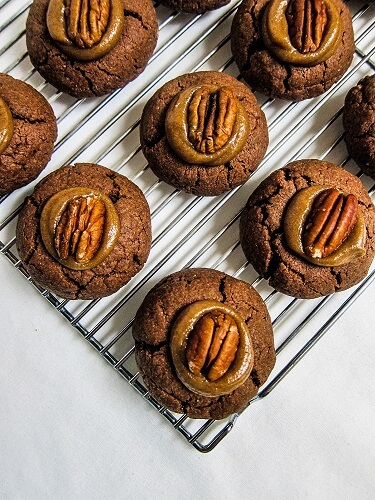 These were fairly easy to make even though they involved a few steps. First, I made a soft chocolate dough which had a mixture of pecan butter and coconut oil to make it nice and rich. It was so good I could have eaten it with a spoon. But of course that would defeat the purpose of cookies so I shaped them.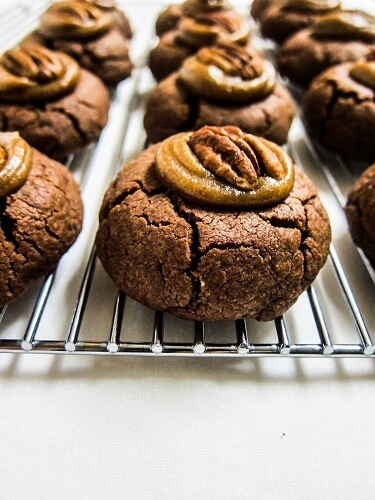 I made a gooey date caramel to fill them with, because dates are nature's caramel and I much prefer making caramel with them then to making it with just sugar. It was amazing in the cookies especially when topped off with the crunchy pecans. They were sooo good! If you are a fan of chocolate and caramel give these a try! Even if you don't live somewhere where it is super cold out, and you are not trying to forget the frigid weather like I was, I promise these will still make you smile when you eat them!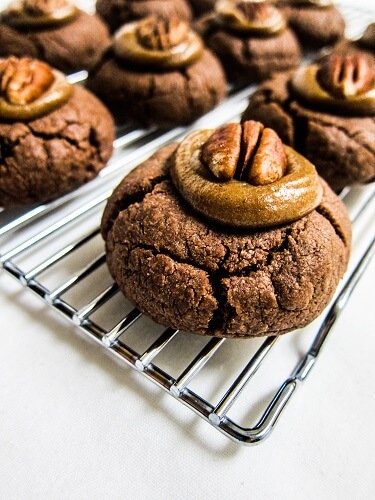 Vegan Turtle Cookies
Makes about 14 cookies
Ingredients:
3/4 cups maple sugar or coconut sugar
1/2 cup pecan butter or almond butter
1/2 cup coconut oil, melted
1 Tbsp ground flax seed, and 3 Tbsp filtered water mixed together and allowed to sit for 15 minutes before using in the recipe
1 1/4 cups Bob's Red Mill all purpose gluten free baking flour*
1/4 cup cacao powder or unsweetened cocoa powder
3/4 tsp baking soda
1/2 tsp baking powder
1 cup soft, pitted medjool dates (if they are not soft, soak them in filtered water for 30 minutes and drain before using)
1/3 cup filtered water (or as needed)
3 Tbsp pecan butter
1 Tbsp coconut oil
1 tsp pure vanilla extract
1/8 tsp sea salt
Instructions:
Preheat the oven to 375F degrees. In a large bowl, whisk together the sugar, pecan butter, and coconut oil until well combined.  Add the flax mixture, and whisk until smooth.
Stir in the flour, cacao powder, baking soda and baking powder with a spoon, until smooth. The dough will be thick and soft.
Form into 1 1/2 inch balls, and place on lined baking sheets a few inches apart.
Place in the oven and bake for about 12 minutes until set.
Remove from the oven and immediately press your thumb or the bottom of a small 1/2 tsp measuring spoon into the center of each to create an indentation (before they cool otherwise it won't work).
To make the caramel, combine the dates, water, pecan butter, coconut oil, vanilla and sea salt in a food processor or high speed blender and blend until smooth adding a little more water if needed to create a smooth caramel (you may need to press it through a fine meshed strainer if you have some chunks to get a smooth caramel).
Spoon or pipe a little of the caramel into the centers of the cookies.
Press a pecan onto the top of each cookie on top of the caramel. Enjoy!
*If you are not gluten free, you may use the same amount of whole wheat pastry flour in place of the GF flour.
(Visited 311 times, 1 visits today)