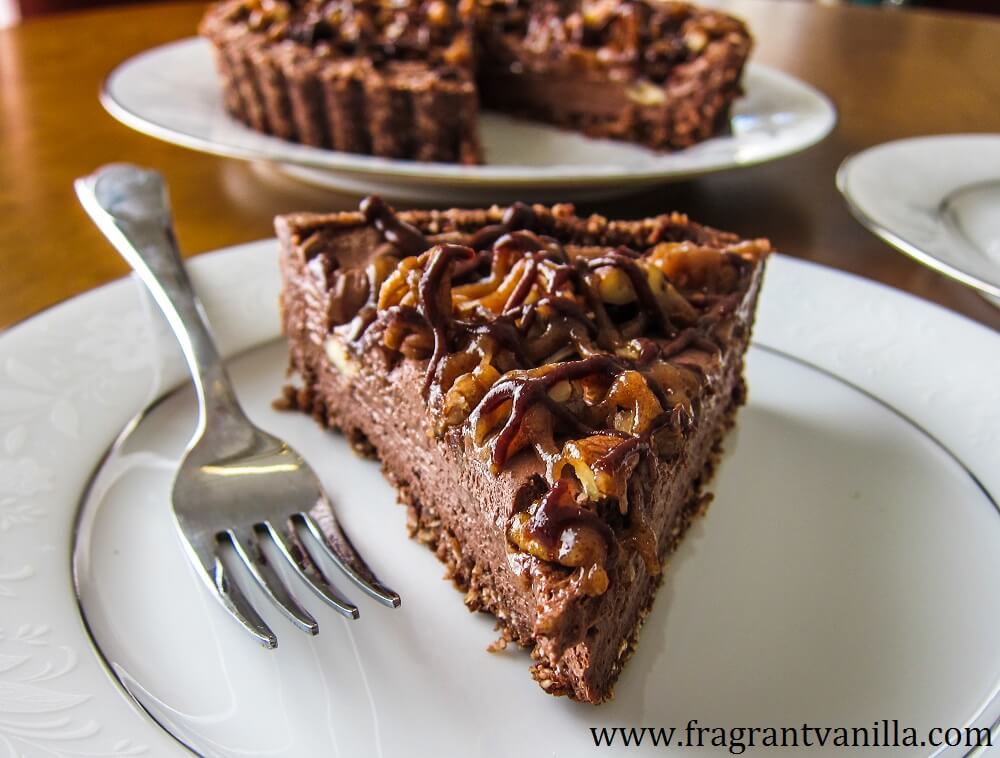 Vegan Turtle Chocolate Mousse Tart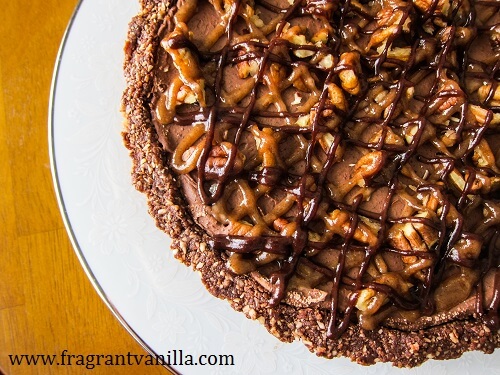 It has been absolutely gorgeous here in Minnesota lately!  The flowers are coming out full force with the lilacs and crab apple trees in bloom, and smelling heavenly, and the trees are looking full again.  I have been spending a lot of time outside, trying to soak up the sun and fresh air so I haven't been making many recipes that are too complicated. Because you have to enjoy life, you know?  I have been making a lot of no-bake desserts also because the heating up the oven every night season is coming to an end.  My latest creation, a turtle mousse tart.  My Mom recently told me I should try to recreate a favorite mousse recipe that we used to make together when I was younger, so I went for it.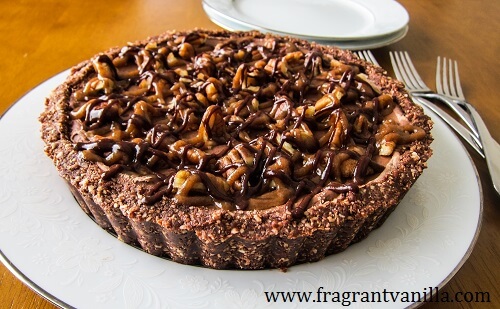 The original recipe called for heavy cream and dark chocolate and that was it.  I sometimes used to add a little bourbon to it and that was amazing.  You just whipped the chilled cream, then slowly poured the melted chocolate into it to create the most luscious tasting mousse ever.  The veganized version I came up with is just as simple.  I whipped some coconut milk and maple syrup together in the food processor until smooth, then added my favorite vegan dark chocolate melted, blended and voila!  Deliciousness.   But I thought it deserved to be served in an even more grand fashion so I didn't stop there.  I decided to make it into a tart.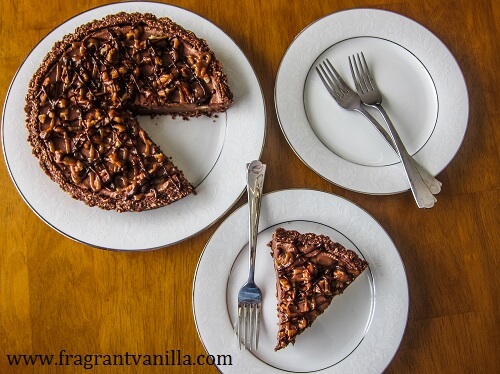 My Mom made tarts a lot when I was a kid, they were one of her favorite desserts, so I have grown to love them too.  It wasn't going to just be a plain mousse tart though, as I mentioned earlier it was a turtle mousse tart.  Meaning gooey caramel and pecans joined the party as well.  I gave it a simple chocolate crust made from things I had on hand and it was the perfect base for the sweet dessert.  This tart was sooo good!  This is the type of thing you want to serve to guests to impress them.  The filling was luscious and decadent, the gooey sweet caramel the perfect topper and the pecans gave it the perfect amount of crunch.  I think this would make a wonderful Mother's Day dessert, if your Mom is a chocolate lover!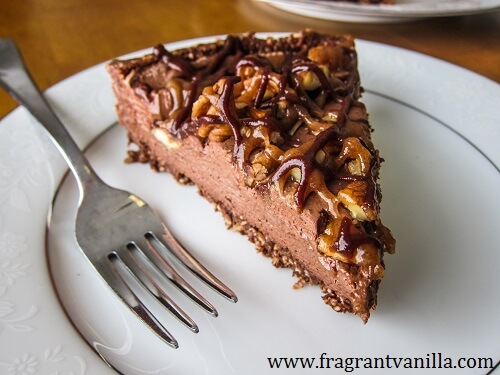 Vegan Turtle Chocolate Mousse Tart 
Makes one 8 inch tart
1 8 inch removable bottom tart pan
Crust:
3/4 cup finely shredded dried coconut
3/4 cup gluten free organic rolled oats
1/4 cup raw cacao powder or unsweetened cocoa powder
2 Tbsp organic almond butter
1 cup soft pitted medjool dates (if they are not soft, soak them 30 minutes and drain well before using)
1/4 tsp sea salt
filtered water as needed
Caramel:
1/4 cup plus 2 Tbsp raw pecan butter or almond butter*
2 Tbsp maple syrup
1 tsp pure vanilla extract
1/8 tsp sea salt
1 Tbsp raw cacao powder or unsweetened cocoa powder
1 Tbsp filtered water
Filling:
1 15 oz can full fat organic coconut milk, chilled
2 cups vegan dark chocolate chips
3 Tbsp maple syrup
For assembly:
Instructions:
For the crust, combine all ingredients in the food processor until finely chopped and starting to hold together when squeezed (if it doesn't you may need to add a little filtered water 1 Tbsp at a time).
Press the mixture into a 8 inch removable bottom tart pan greased with coconut oil.
For the caramel, combine the pecan butter, maple syrup, sea salt, and vanilla in a bowl until well blended.  Remove 2 Tbsp from the bowl to a smaller bowl, and whisk the cocoa powder and water together with that smaller bowl.  Set both aside.
For the filling, melt the chocolate in the top of a double boiler, then pour into a glass measuring cup with a spout.
Place the coconut milk and maple syrup in a food processor and blend until smooth.
Turn the food processor on, and with the motor running, slowly pour the chocolate into it and blend until uniform in color.
Pour half of the filling over the crust and spread evenly, then drop some of the plain caramel by the Tbsp over it and swirl with a knife. Pour the remaining mousse filling over that, and spread evenly to the edges, then scatter the pecans over it.  Drizzle with both the plain caramel and the chocolate caramel.  Place in the freezer to firm up (about 1-2 hours).
Enjoy!
Tart keeps refrigerated for 1 week in a container.
*Note: Nut butters may vary in texture, some are more runny.  So, if yours is a little too stiff, add a little water to the mixture to loosen it up and make it pourable.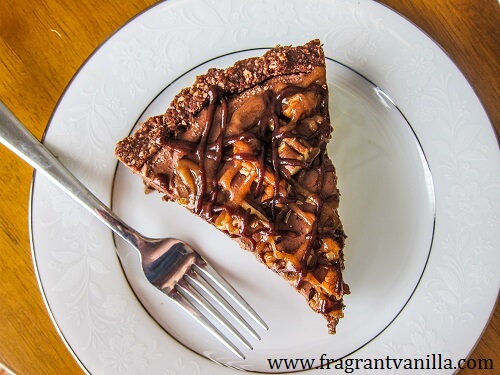 (Visited 1,124 times, 1 visits today)