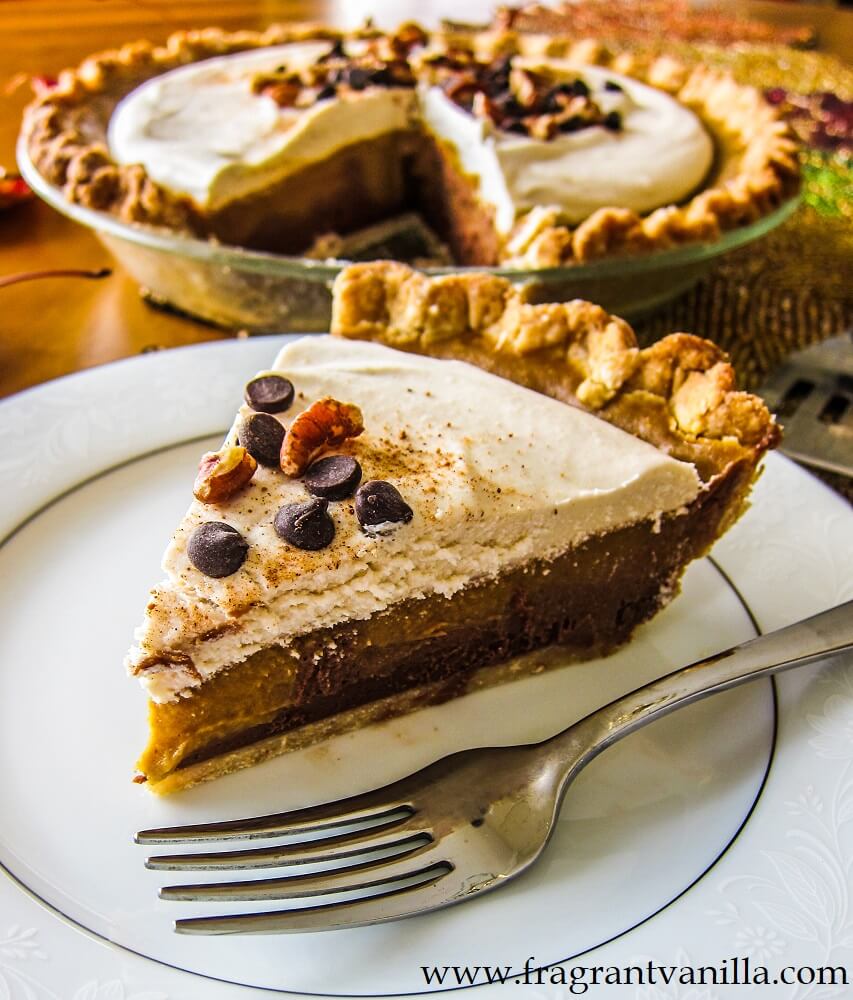 Vegan Triple Layer Chocolate Pumpkin Pie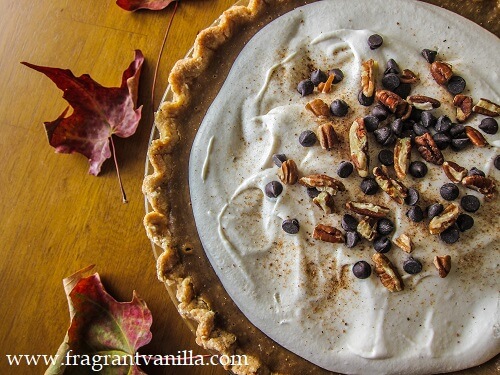 I do my best thinking on my runs.  Which is why they are so important and an essential part of my life.  If I am trying to sort out a problem, it is a good time to just be inside my own head and try and figure out a way to fix it.  Or, maybe I am just stressed out, it seems to melt it away because I feel like I am taking my frustrations out on the ground.  I am one of those types of people who likes to do a lot of thinking and weigh out the options before making a big decision.  But it isn't all serious stuff, I also come up with some of my best recipes this way.  And, how I came up with the idea to make a super decadent pumpkin pie.  I loved cream pies growing up, or things like french silk chocolate pie, so I thought, why not make a pumpkin pie in that fashion?  I dreamed up 3 layers of pumpkin deliciousness.  I am one of those people who can't just make things the way they are traditionally made all the time.  I have to tweak it and make it even more exciting.  Pumpkin pie just as is with no whipped cream or anything is kind of boring, but add in a layer of creamy chocolate filling and fluffy whipped cream too and it is exciting.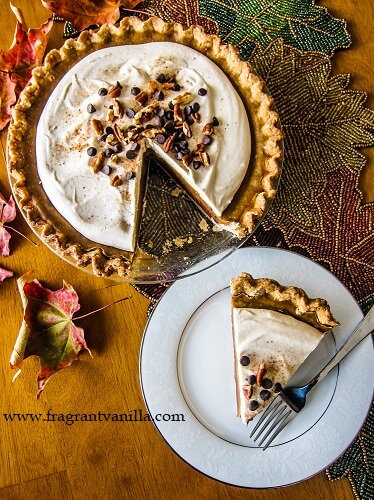 I used my usual classic coconut oil gluten free pie crust for this, because it always turns out buttery and delicious.  I  suppose I could have just made this a no bake pie, but I went for the baked version.  For the filling first, I made a chocolate silk layer.  A rich concoction of coconut milk and cashew butter with rich cacao.  It was good even before I baked it.  I used my classic pumpkin pie filling next in the pie after that, filled with just the right amount of aromatic spices. The pie smelled wonderful while baking, and I thought to myself it was a shame I had to wait until the next day to enjoy it.  Because it was evening when I made it and it had to chill.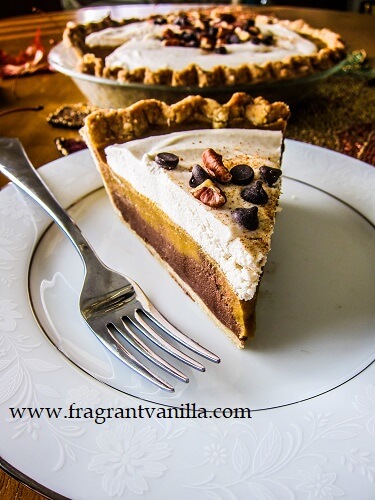 Once it had chilled I made a fluffy coconut whipped cream to top it off.  It was a beautiful sight.  I love whipped cream on a pie.  The chocolate layer reminded me of chocolate silk pie, and it paired perfectly with the spiced pumpkin for a fall twist.  The whipped cream was just enough to balance out the intensity of the chocolate and spices.  It was simply heavenly!  If you are looking for a beautiful pie to serve for Thanksgiving, consider this one!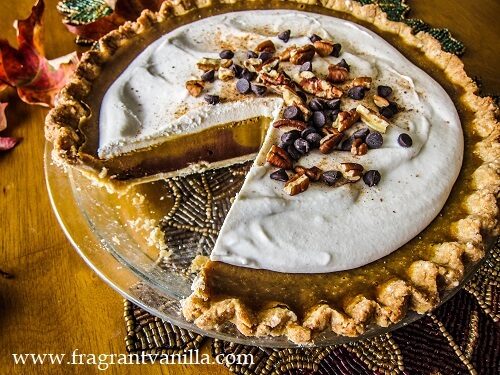 Vegan Triple Layer Chocolate Pumpkin Pie
Makes one 9 inch pie
Crust:
2 Tbsp coconut sugar or maple sugar
1/4 tsp sea salt
1/4 cup plus 2 Tbsp coconut oil in its solid state
about 3-6 Tbsp cold water
Chocolate filling:
3/4 cup thick organic coconut milk (from the top of a chilled can)
3/4 cup cashew butter
3 Tbsp maple syrup
1/8 tsp sea salt
1/4 cup cacao powder
Filling:
2 cups organic cooked pumpkin (canned is ok too), packed
1/3 cup pure maple syrup
3/4 cup full fat organic coconut milk
2 tsp coconut oil
1 1/4 teaspoon ground cinnamon
1 teaspoon ground ginger
1 /4 teaspoon ground nutmeg
1/4 tsp ground cloves
1/4 teaspoon salt
1 1/2 tablespoons cornstarch
3/4 teaspoon agar powder
Coconut Whipped Cream:
1 15 oz can full fat organic coconut milk, chilled*
3 Tbsp maple syrup
pinch sea salt
1 tsp pure vanilla extract
1/2 cup plus 2 Tbsp coconut butter, warmed to liquid
Instructions:
To make the crust, in a large bowl, mix together flour, sugar, sea salt, and spices. Cut in coconut oil with a pastry blender or 2 knives until it is in pea sized pieces. Mix in  just enough water to create a smooth dough that holds together but isn't too sticky. Add more water if needed, and knead slightly until a smooth dough is created. Roll out into a 10 inch circle on a sheet of parchment paper, then use the paper to help you transfer it to an 8 inch pie dish.  Flute the edges, and set aside in the refrigerator.
Pre-heat the oven to 375F degrees.
To make the chocolate filling, whisk together all ingredients until smooth and set aside.
To make the pumpkin filling, place all ingredients in the blender and blend until smooth.
To assemble the pie, pour the chocolate layer over the crust, then pour the filling over that.
Place in the pre-heated oven and bake for about  50 min. until the edges of the crust are lightly brown, and pie is set.  Allow to cool completely, then chill in the refrigerator for a few hours (I chilled mine in the refrigerator overnight).
For the whipped cream, combine all ingredients in the blender and blend until smooth, then pour into a bowl. Place in the freezer, and allow to chill for about 30-45 minutes until the consistency of whipped cream.
Spoon the whipped cream on top of the cake and spread almost to the sides.  Serve!  Store any leftovers in the refrigerator.
*If your coconut milk is especially runny (since some brands vary in texture), you may want to add a few Tbsp more coconut butter.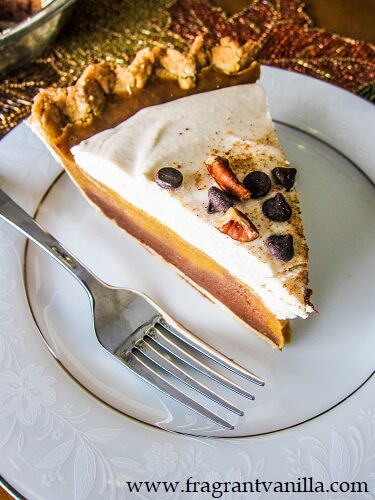 (Visited 444 times, 1 visits today)