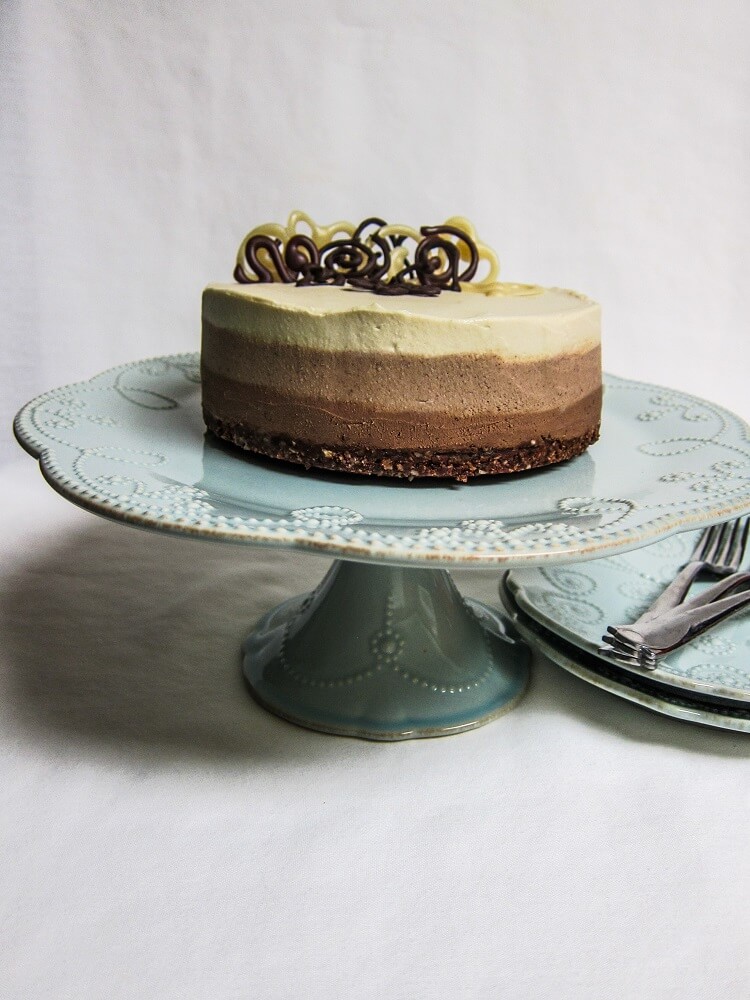 Vegan Triple Chocolate Cheesecake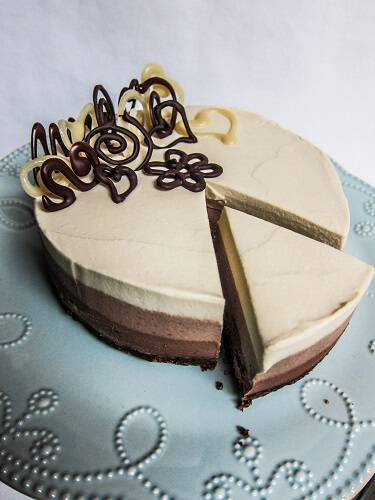 It's my 9 year blogaversary! 10 years ago, I randomly decided to start a blog to share recipes with friends and family since I was always posting them on Facebook anyhow. Little did I know that I would still be doing it 10 years later, or be reaching this many people! I have had fun with it though, and it's been a pleasure sharing with you all! So here's to another year of new recipes! I figured I would make something good to celebrate my blogaversary, and I decided on something chocolate despite the name of my blog.
I am in a chocolate sort of mood lately. I made some raspberry almond butter cups earlier this week, and some turmeric white chocolates, and some peanut butter cups, and I really enjoyed them all, but I wanted something a little more decadent and bigger like a cake for the weekend. I didn't feel like baking though, so I went for a no bake cheesecake! To be honest, I have never baked a vegan cheesecake because all of the ones I make are no bake and it is so much easier! They turn out all perfect and creamy without the use of the oven. This one was going to be all chocolate.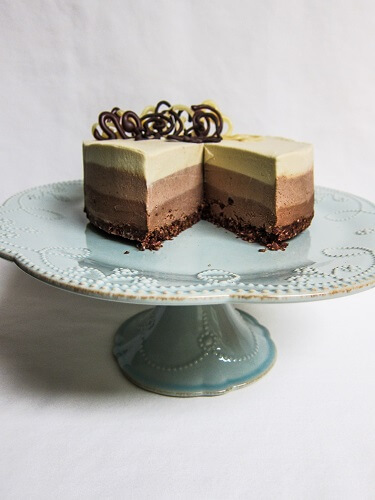 Not just dark chocolate though, even though it is my favorite when it comes to chocolate bars. I was envisioning 3 different layers of chocolate in the cake. I was recently asked if I could make a French silk cheesecake, and this was kind of that, only better because that would have only had 2 layers only one of which would have been chocolate. This one would have white chocolate, milk chocolate and dark chocolate layers.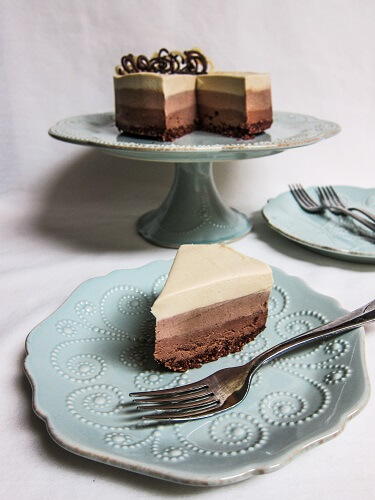 For the base of the whole thing, I used a combination of full fat coconut cream and chickpeas. Now you may be thinking that it sounds odd to put chickpeas in a cheesecake, but they are my equal swap for cashews (which are standard in a lot of vegan cheesecakes). The cake is already pretty rich thanks to the coconut milk, so the chickpeas taste the same as cashews in the cake when combined with it. Also, this makes the cake nut free for those who have allergies. I added in some melted cacao butter to give it a white chocolate flavor along with the coconut butter to thicken the cake and it was a heavenly cheesecake base. Just a touch of vanilla as well to give it that amazing white chocolate scent.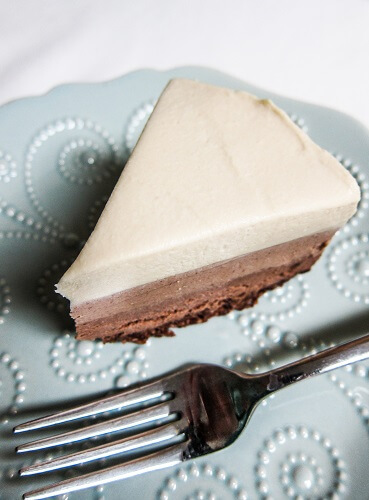 For the chocolate layers I added in some cacao powder and dark chocolate chips, and they were amazing as well. I knew this was going to be good! It turned out beautiful! But it needed some decoration on top so I had some fun with some vegan dark chocolate I had on hand and made some shapes. OMG was the cheesecake ever good! It was silky smooth! The dark chocolate layer really rich and intense, the milk one more mellow, and the white chocolate more sweet with the aroma of vanilla! All together a heavenly combination! If you are in the mood for something of the chocolate variety, give this a try! It would be perfect for upcoming Valentine's Day!
Vegan Triple Chocolate Cheesecake
Makes one 6 inch cake
Crust:
1/4 cup finely shredded coconut
1/2 cup organic gluten free rolled oats, or quinoa flakes
1/4 cup pitted medjool dates (if not soft, soak them in filtered water first and drain well)
1/8 tsp sea salt
Filling:
1 1/2 cups full fat coconut cream (I used the thick part of a can of Thai Kitchen coconut cream, but their full organic full fat coconut milk will also work*)
1 cup plus 2 Tbsp cooked chickpeas
1/4 cup plus 2 Tbsp maple syrup
1 1/2 tsp pure vanilla extract
1/8 tsp sea salt (or to taste)
1/2 cup plus 1 Tbp coconut butter (NOT OIL), warmed to liquid
1/4 cup plus 2 Tbsp cacao butter warmed to liquid (or additional coconut butter if unavailable)
4 Tbsp cacao powder or unsweetened cocoa powder (divided)
2 Tbsp vegan dark chocolate chips or chocolate chunks
Instructions:
Oil a 6 inch spring form pan, and line the bottom with parchment paper.
To make the crust, place all ingredients in a food processor, and process until crumbs and starting to hold together (if they are not holding together when squeezed, add a few tsp filtered water and blend). Press into the bottom of the prepared pan.
Meanwhile, to make the filling, combine all ingredients but the cacao powder and chocolate chips in a high speed blender or food processor and blend until smooth.
Divide the filling mixture between 3 bowls. Pour one back into the blender along with 1 Tbsp cacao powder and blend until smooth. Pour back into the bowl and set aside.
Pour the next bowl into the blender and add the remaining 3 Tbsp cacao powder and the chocolate chips and blend until smooth. Pour this layer over the crust in the pan, and put in the freezer for 10 minutes to set the layer.
Pour the second layer (the one with 1 Tbsp cacao powder) over the first layer in the pan, then set in the freezer for 10 minutes.
Pour the remaining vanilla filling over the other layers in the pan, then place bac
Place back in the freezer to set for about 4 hours (or overnight in the refrigerator if you are not in a hurry).
Remove from the freezer, un-mold and enjoy! Store any leftover cake in the refrigerator.
*I use Thai Kitchen full fat coconut milk. If you are using a different brand, just make sure it is the thick type, 2/3 of the can at least should be very thick when chilled.
(Visited 3,038 times, 1 visits today)