Vegan Triple Chocolate Brownies
Brownies remind me of good times and happy memories.  They remind me of cross country banquets in high school that I used to bake them for, or late night baking with my friend up at camp, or that one time my Mom baked them and the cat decided that she wanted some too and licked all of the caramel off.  Good times.  I have always loved brownies, but I am picky about them.  They have to be the fudgy kind, not over-baked so that they get dry, but super moist, and gooey.  I am not much of a cakey brownie person, if I want cake I make a cake.  My Mom used to make the most delicious brownies, but they were from a box.  She rarely made things from boxes, but that was the one exception.  They were the kind with a chocolate fudge that you would marble throughout the brownies to make them extra delicious.  Probably the last time I had them I was in high school, but I remember them well and I always got excited about them.  So, it is kind of surprising I had not come up with my own healthier version until now.
I decided to veganize them on my day off last week, and I was super excited as was Eric because he loves anything chocolate.  I made my classic brownie base, because I know it always comes out fudgy and good.  For the fudge I used a date base, because I knew it would stay somewhat gooey once baked which was important for these.  It was so good I could have eaten it with a spoon but then the brownies would not be as tasty!  I added in chocolate chips as well, because why not?!  A little extra chocolate goodness never hurts.
These smelled amazing while baking.  That is one of the best parts about baking brownies besides licking the bowl. The sweet aroma that fills your home.  It makes me happy. You can not be unhappy while baking brownies.  Bummer I had to let them cool before diving in, but it made me even more excited to try the finished product.  They were moist, fudgy, gooey, and rich just as brownies should be.  Never mind that they happened to be vegan and gluten free.  You could serve these to omnivores and not tell them they are vegan until after they try them and they would be super impressed.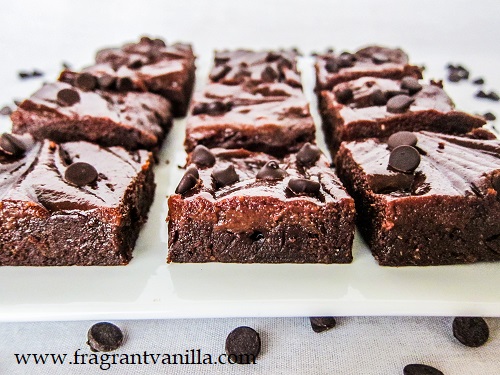 Vegan Triple Chocolate Brownies
Makes 16
Fudge:
1 cup soft medjool dates, pitted (if they are not soft, soak them in water and drain well first)
2 Tbsp maple syrup
3 Tbsp cacao powder or cocoa powder
1/4 tsp sea salt
1/2 cup filtered water (or as needed)
Brownies:
1/2 cup avocado oil
1/4 cup raw almond butter
1 cup coconut sugar
2 flax eggs (2 Tbsp ground flax seed mixed with 1/4 cup plus 2 Tbsp filtered water)
1/2 cup cacao powder or unsweetened cocoa powder
1/4 teaspoon sea salt
1 cup vegan dark chocolate chips plus more for sprinkling top
Directions:
Preheat the oven to 350F degrees.
To make the fudge, combine all ingredients in a blender and blend until smooth (adding a little water if necessary, it should be the consistency of pour-able but still thick fudge). Pour into a bowl and set aside.
Whisk together the sugar, oil and almond butter until well combined and the sugar is starting to break down. Add the flax eggs and beat until smooth. Add the flour, cacao powder and sea salt and beat until smooth.  Stir in chocolate chips.
Scrape the batter into a greased 8x8 inch pan, then drop the fudge over it in 2 Tbsp amounts, and swirl it with a knife.
Place in the oven, and Bake for about 30-35 minutes or until set (but do not over bake).
Let cool before cutting into bars.
(Visited 238 times, 1 visits today)