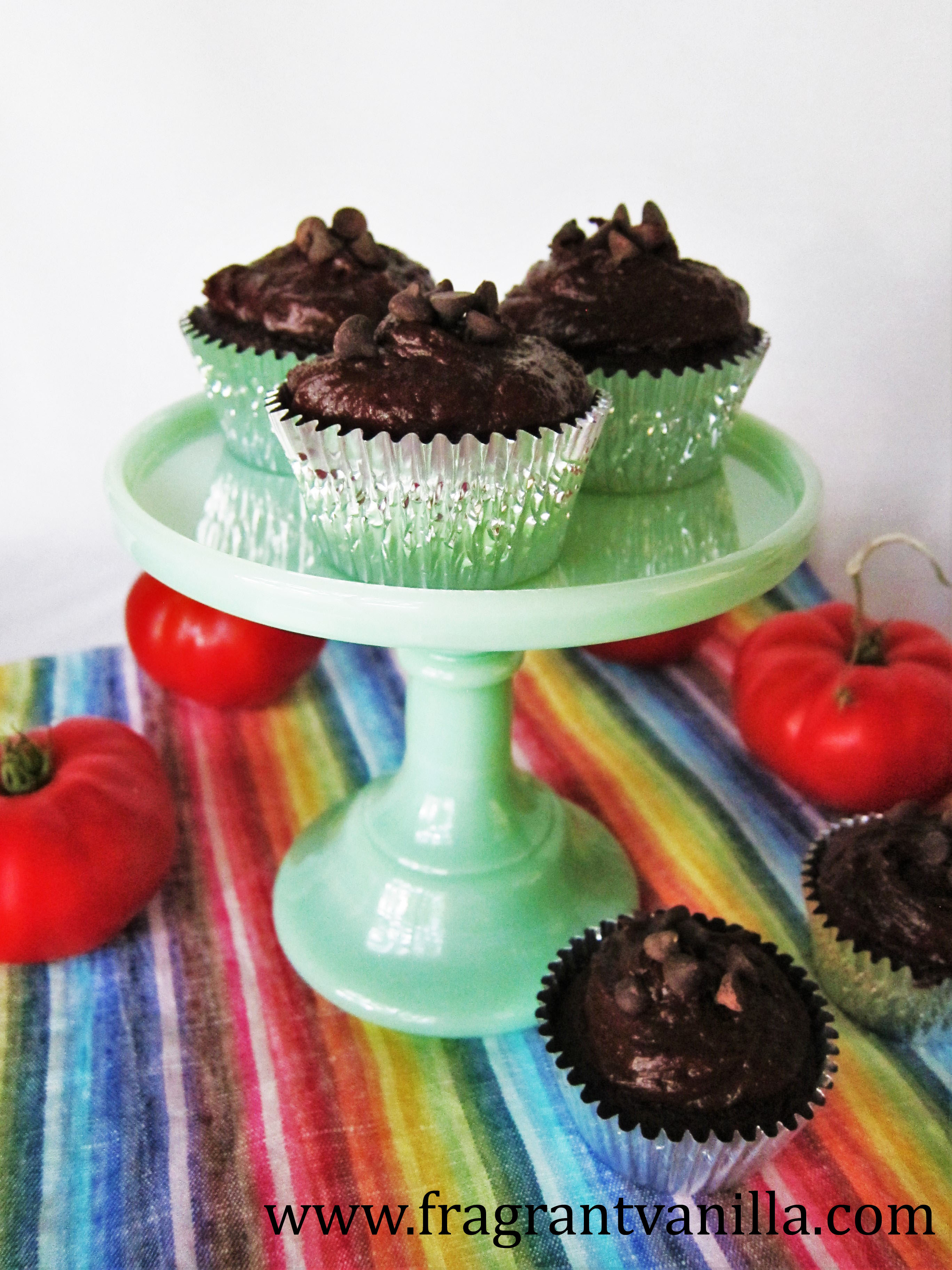 Vegan Tomato Chocolate Cupcakes
Eric needed some cheering up, and it was a rainy day so I decided to bake him some cupcakes.  Because cupcakes make everything better (at least for the moment) right?  His favorite thing is chocolate (anything chocolate), so that is what I made.  But these were special chocolate cupcakes, they had a secret unexpected ingredient.  Tomatoes.  I have them coming out of my ears right now, my counter is overflowing with them. This is a good thing though!  I love fresh tomatoes!  I have been using them in savory things, but did you know that they help to keep chocolate cake moist when baked into the batter?  Tomato soup cake was popular back in the day, and I remember seeing it in quite a few of my Grandma's church cookbooks.  Tomatoes are technically a fruit after all, so it makes just as much sense to add them to cake as it does zucchini.
These were super quick and simple to make.  I didn't have a lot of time so that is what I was aiming for.  They took less than an hour to make (I sped up the cooling process by placing them in the fridge for a short time).  Nothing fussy here, just whisk together the ingredients and bake.  Back when I used to make non-vegan cupcakes I felt like they were more fussy.  With creaming the butter and sugar and whatnot, but these are really hard to mess up.  For the frosting I wanted to make something fudgy and decadent.  So I turned to pecan butter.  Nut butters always make things good as far as I am concerned.  I whisked in some cacao powder, and maple syrup and it was so good.  Like rich decadent fudge, something you would want to eat with a spoon.  And I did enjoy some...hey that is a perk of being the baker.  But I saved enough for the cupcakes too.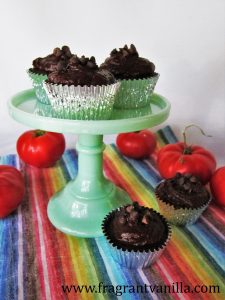 Once assembled, these were so good. Perfectly moist, sweet chocolate cake, gooey rich frosting, heaven in a cupcake tin.  You can not tell that they have tomatoes in them.  So *shhhh* don't tell anyone.  I didn't tell Eric, I just said that they were fabulous chocolate cupcakes.  So, the next time you have lots of tomatoes from your garden, or you need some mood boosting (because chocolate and cupcakes can do that), try these babies out!  Nothing to be intimidated about here, just easy to make deliciousness!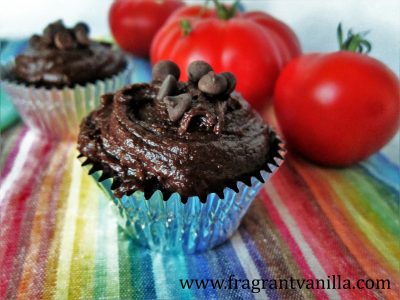 Vegan Tomato Chocolate Cupcakes
Makes 10 cupcakes
Ingredients:
Cake:
3/4 cup gluten free all purpose flour
1/2 cup coconut sugar
1/4 cup cacao powder or unsweetened cocoa powder
1/2 tsp plus 1/4 tsp baking soda
1/2 tsp baking powder
1/2 tsp sea salt
1/4 cup plus 2 Tbsp pureed tomatoes
2 Tbsp raw pecan butter or almond butter
1 tsp pure vanilla extract
1/4 cup + 1 Tbsp filtered water
1 Tbsp apple cider vinegar
Frosting:
3/4 cup pecan butter or almond butter
1/3 cup cacao powder or unsweetened cocoa powder
1/4 cup plus 2 Tbsp filtered water
1/4 cup maple syrup
pinch sea salt
Preheat the oven to 375 degrees and position rack in center of oven.
Whisk flour, cacao powder baking soda, salt, and sugar in a large bowl to blend well. Whisk tomato puree, pecan butter, vanilla extract, and water together in small bowl to blend well, then whisk into the flour mixture until well blended. Whisk in cider vinegar until pale swirls form in the batter and it is well combined. Transfer cake batter to standard sized muffin tins placed in a muffin pan to make them stable. Place in the oven and bake until tester inserted into center comes out clean, about 12-15 minutes. Cool completely.
Meanwhile, to make the frosting, whisk together all ingredients until smooth (since nut butters vary in texture, if it is too thin, add a little more cacao powder, too thick, a little more water). Spread or pipe the frosting over the tops of the cooled cupcakes.
(Visited 263 times, 1 visits today)