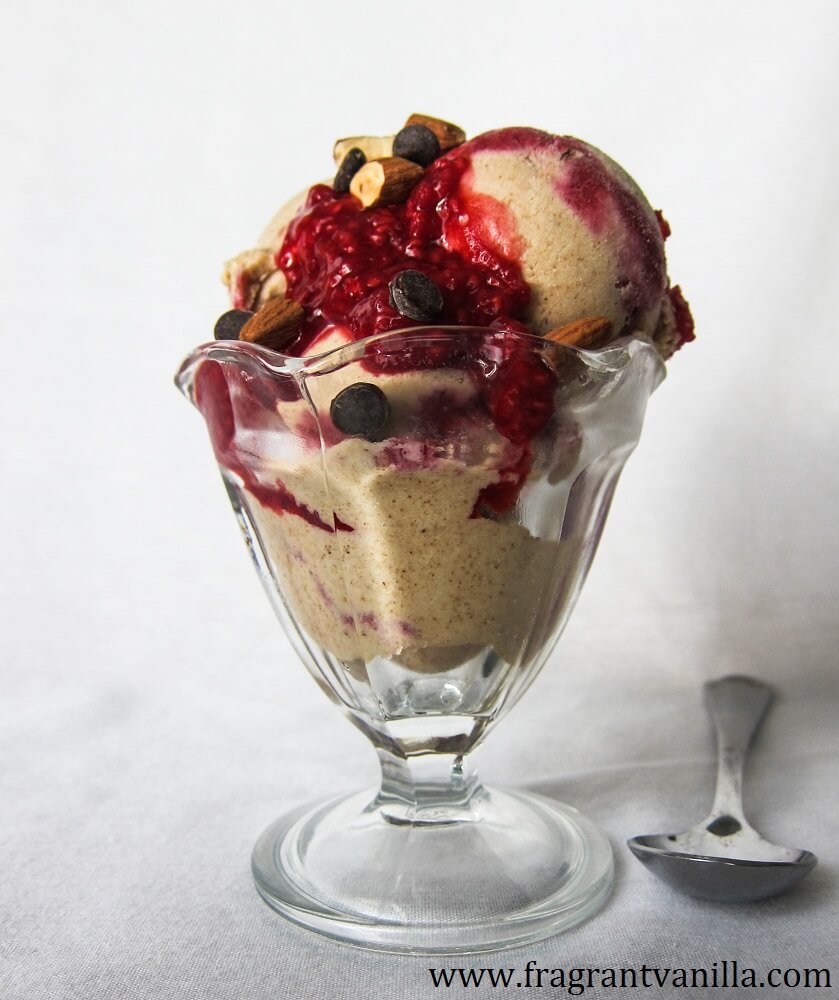 Vegan Toasted Almond Raspberry Ripple Chocolate Chip Ice Cream
When I was little, I always loved going to ice cream places with many flavors.  You know, the shops that sold purely ice cream, and had at least 20-30 flavors at a time to choose from.  It was always exciting to eyeball all of them, and imagine what they would taste like.  Maybe asking for a few samples before buying if I wasn't feeling too shy that day. One of my favorite places was up in northern Minnesota in a small town, and they had some super delicious flavors like blueberry cheesecake, blue moon, and turtle.  Which maybe don't sound all that unusual now, but they were back in the 90s to my 10 year old self!  I had never heard of half the flavors let alone tried them.  Probably the most unusual ice cream I have ever had though was at Sebastian Joe's ice cream in Minneapolis about 6 years ago before I went vegan, it was roasted garlic, and it was actually good.  Now, I like to dream up my own combinations of flavors to make.  I now have made at least 100 different kinds.  No roasted garlic, but I have made sweet corn, tomato, and habanero pineapple. Every now and then I just like some good home made ice cream.  The best part is you can make exactly what you are craving as long as you have the ingredients on hand.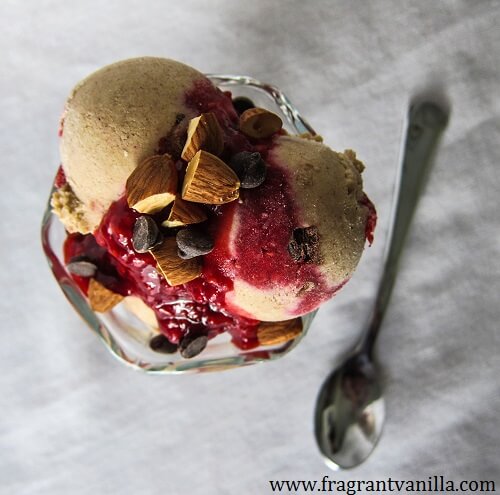 This week, it was Toasted Almond Raspberry Ripple Chocolate Chip.  I love adding nut butter to ice cream bases, it makes them so silky smooth.  What inspired this ice cream actually was one I used to enjoy with my Mom when I was little, a raspberry ripple chocolate chunk.  I just decided to pair the almonds with it because almonds go so good with raspberries and chocolate chips.  The base was super delicious, and I knew it would be wonderful once frozen and the add ins were incorporated.  Yes, it is good to have simple ice cream with no add ins sometimes, like if you are serving it with pie, but I like goodies in my ice cream if I am going to be eating it plain.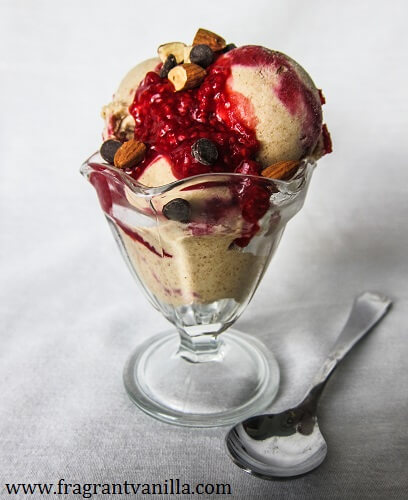 This ice cream was simply heavenly!  The base was smooth, sweet and creamy a perfect balance with the slightly tart jammy raspberries and intense dark chocolate.  I added in some crunchy almonds as well for texture.  This is sort of like a sundae, but you don't need to top if if you don't want to because it is all there!  If you are in the mood for some ice cream, give this a try!  If you don't have an ice cream maker, not to worry, I have included instructions to make this without one.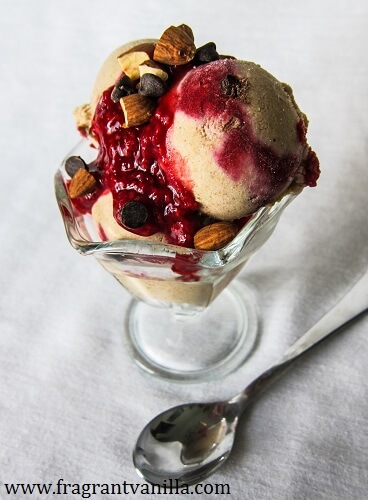 Vegan Toasted Almond Raspberry Ripple Chocolate Chip Ice Cream
Makes about 3 1/2 cups
Ingredients:
Ice Cream Base:
1 15 oz can full fat organic coconut milk
1/2 cup roasted almond butter
1/3 cup soft, pitted medjool dates (if they are not soft, soak them in filtered water for 30 minutes before using)
1/4 tsp sea salt
1 tsp pure vanilla extract
Raspberry Swirl:
2 cups organic raspberries
3 Tbsp maple syrup
pinch sea salt
For assembly:
3/4 cup chopped or sliced toasted almonds
3/4 cup vegan chocolate chips
Directions:
Combine coconut milk, almond butter, dates, and sea salt in a blender and blend until smooth. Pour into an ice cream maker and process according to directions. Alternatively, if you do not have an ice cream maker, pour it into a bowl, and whisk every half hour until it is to the consistency of a thick malt.
Meanwhile, mash the raspberries in a glass measuring cup with a fork, along with the maple syrup and sea salt until they are the consistency of jam.
Pour 1/3 of the ice cream base into a freezer safe container with a lid then drop some of the swirl over it and sprinkle with the toasted almonds and chocolate chips.  Repeat with another layer of ice cream, swirl and almonds, then another.  Swirl with a knife to marble the fudge (just a few times, not too much).  Place in the freezer with the lid on, and continue to freeze until firm enough to scoop (at least 4 hours or overnight). If it becomes too firm, simply let it sit out for 15 minutes before serving.
(Visited 9 times, 1 visits today)