Vegan Tiramisu Cheesecake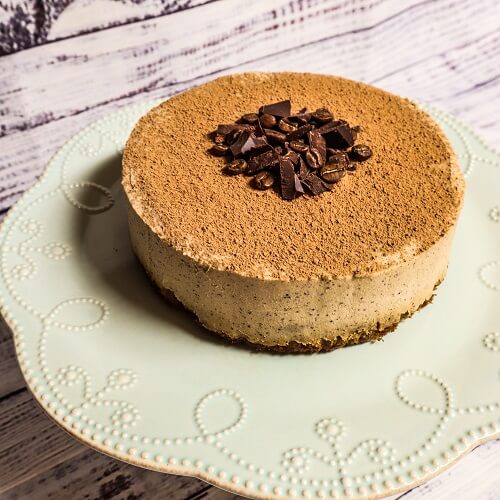 The first time I ever tried tiramisu was at an Italian restaurant with my Mom when we were on a family vacation. I wasn't a huge fan of coffee at the time, but it still sounded interesting so I ordered some.  It was fabulous!  Layers of soft cakey lady fingers with a hint of coffee, lots of cream and a touch of chocolate.  We decided that we wanted to try to make some at home, and we made the traditional type with the ladyfingers, zabagliogne made with egg yolks and heavy cream and all.  It was a process but it turned out so good!  I still love tiramisu but I make much easier veganized versions of it now that taste just as good.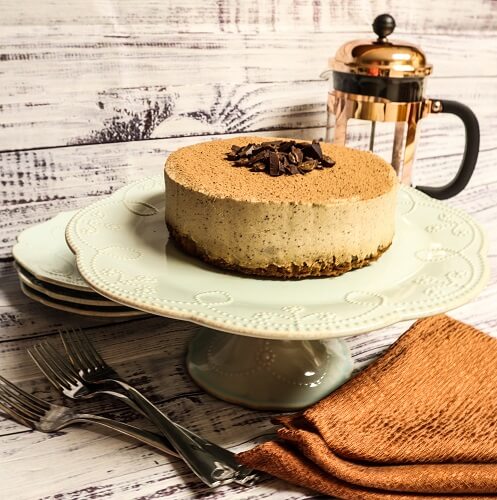 I have been craving tiramisu lately because I haven't had it in so long, so I decided to make a tiramisu cheesecake.  I had recently bought some really good coffee from a local coffee roaster called Dogwood Coffee.  Eric and I love to go there and get oat milk lattes (they always have yummy seasonal ones) and so I thought I would buy some to try at home.  I got their Neon Espresso and it is sooo good!  Just a splash of oatmilk and it is perfect!  It has a chocolate like flavor and it so smooth. I figured it would be so good in my tiramisu.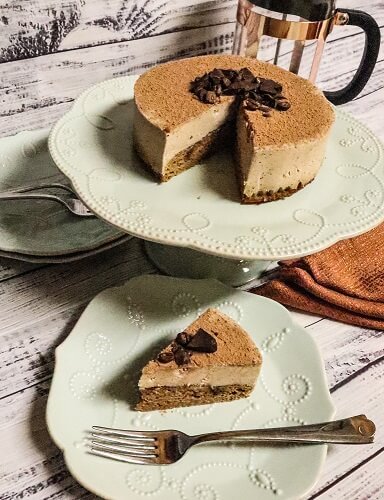 For the base, instead of the usual cheesecake crust or lady fingers, I made a layer of vanilla cake with a hint of coffee.  Then I soaked it with a bit an espresso syrup, and dusted it with cacao powder.  Next I made the cheesecake layer.  I used my usual vanilla cheesecake base, but added the espresso to it. I use a mixture of coconut milk and chickpeas as my base, which may sound weird, but trust me you can't taste the chickpeas at all.  They were my swap for cashews a while back to make nut free cheesecake, and I make most of my cheesecakes this way now.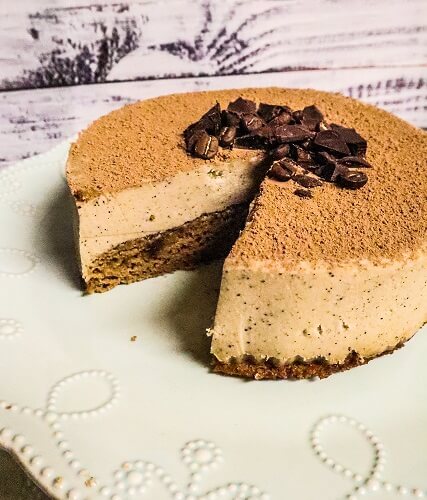 I could not wait to try it!  To finish it off I dusted it off with a bit of cacao powder and it was perfect!  It tasted just like tiramisu, but in cheesecake form!  Creamy, with a light coffee flavor, a soft layer of espresso soaked cake on the bottom, it is so good!  Even better with a cup of coffee on the side.  If you are a fan of tiramisu definitely give this a try!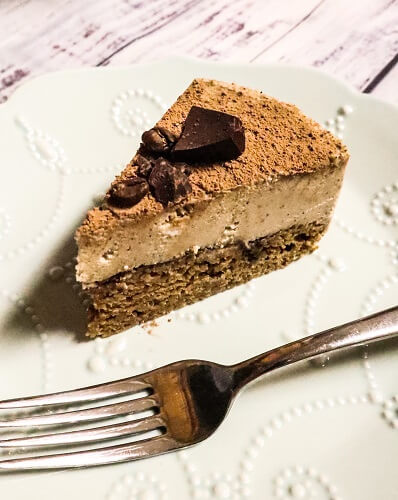 Vegan Tiramisu Cheesecake
Makes one 6 inch cake
Ingredients:
one 6 inch cake pan
Bottom Cake:
1/4 cup plus 2 Tbsp organic whole wheat pastry flour*
1/4 tsp plus 1/8 tsp baking soda
1/4 tsp baking powder
1/8 tsp sea salt
1/4 cup maple sugar
1/2 cup full fat coconut milk (the thick kind, I prefer Thai Kitchen brand) at room temperature
2 Tbsp strong brewed good quality espresso 
1/2 tsp pure vanilla extract
1 1/2 tsp cider vinegar
Soak:
1 Tbsp strong brewed good quality espresso 
1 Tbsp maple syrup
1 Tbsp cacao powder or unsweetened cocoa powder 
  Cheesecake Filling:
1 cup full fat coconut cream (I used the thick part of a can of Thai Kitchen organic full fat coconut milk*)
3/4 cup cooked chickpeas
1/4 cup maple syrup
1 tsp pure vanilla extract
2 tsp finely ground good quality espresso
1/8 tsp sea salt
1/2 cup plus 2 Tbp coconut butter (NOT OIL), warmed to liquid
  Topping:
cacao powder unsweetened cocoa powder for dusting
chopped vegan dark chocolate
  Instructions:
Preheat the oven to 350F degrees and position rack in center of oven.
Oil a 6 inch round baking pan and line it with parchment at the bottom so it will not stick.
Whisk flour, espresso, baking soda, sea salt, and sugar in a large bowl to blend well.
Whisk coconut milk and vanilla extract together in small bowl to blend well, then whisk into the flour mixture until well blended.
Whisk the cider vinegar into the batter.
Transfer the cake batter to prepared pan then place in the oven, and bake cake until tester inserted into center comes out clean with just a few moist crumbs attached, about 20 minutes.
Remove from the oven and let cool completely.
Mix together the coffee and maple syrup for the soak, then brush the cake with it generously (you may have a little left over). Dust with 1 Tbsp cacao powder. Set aside. 
To make the filling, combine all ingredients in a high speed blender or food processor and blend until smooth.
Pour over the prepared cake.
Place cheesecake in the freezer until it is set for about 4 hours (or overnight in the refrigerator if you are not in a hurry).
Remove from the freezer, un-mold and dust with cacao powder and sprinkle with dark chocolate.
Enjoy!
Store any leftover cake in the refrigerator, keeps for up to 1 week.
*I use Thai Kitchen full fat coconut milk.  If you are using a different brand, just make sure it is the thick type, 2/3 of the can at least should be very thick cream or it will not work in this recipe.
Notes: If you would rather use coconut sugar or even just granulated sugar for this, either will work in place of the maple sugar. If you would like to make a 9 inch round cake, double the entire recipe, and bake it in a 9 inch round pan, increasing the baking time to 40 minutes (depending on your oven). This cake can be made gluten free by swapping out the whole wheat pastry flour for Bob's Red Mill gluten free all purpose baking flour (this is a brand I have used before and have tested it in cakes with great results).
(Visited 3,971 times, 1 visits today)