Vegan Thin Mint Cookies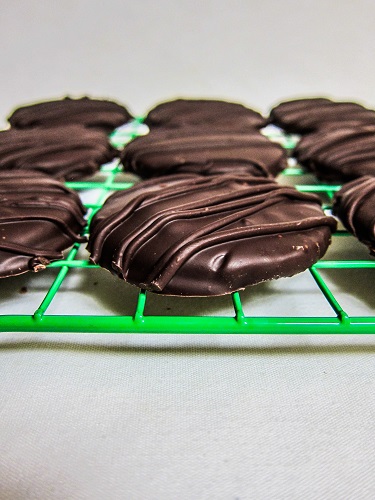 I was never a Girl Scout, but I did love Girl Scout cookies when I was little. We always bought the classics, like the Thin Mints, Samoas, and Tag Alongs and those three were my favorites. Now as an adult, I like to make my own versions of them at home. I know you can get some of the Girl Scout cookies in vegan versions, but I prefer my own non-processed no preservatives added versions. There is just nothing like home made cookies, the store bought ones are just not the same. I like to use good quality more whole ingredients in mine.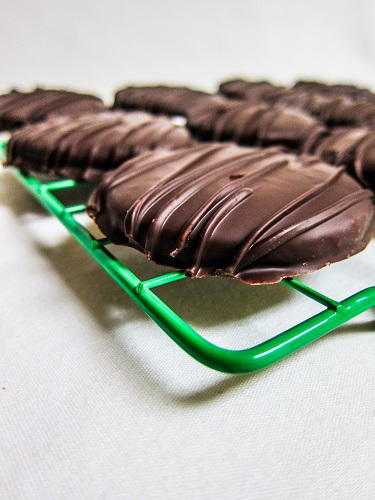 So last weekend I decided to make some home made thin mints. I had made a raw version in the past, but I wanted to try and make a baked version. It was really cold last Monday on my day off and it was a good day to do a baking project. I have been seeing everyone posting their Girl Scout cookie pictures online too and I suddenly was craving some of my own.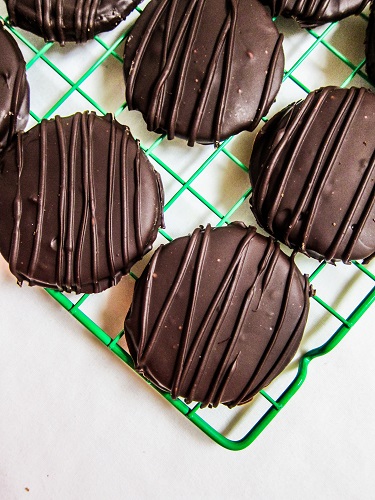 I used a chocolate mint short bread cookie base for these, because I knew it would bake up thin and crispy and it turned out perfect! They do require some rolling and cutting, which takes a little more time than drop cookies, but it is so worth it in the end! The dough tasted amazing and they smelled even more amazing as they baked. Like really good chocolate mint brownies. Except these weren't brownies, they were tender crispy cookies!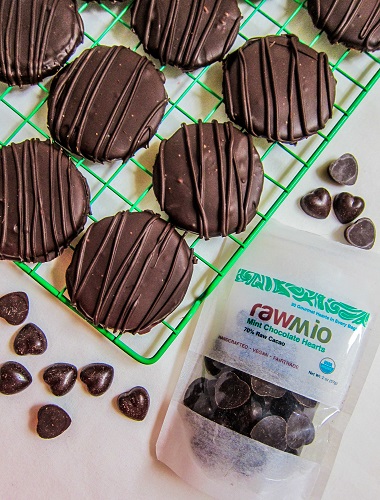 Raw Guru recently sent me some Rawmio Mint Chocolate Hearts, so I thought that they would be perfect to melt down as the coating for these cookies. Because they had to have that chocolate coating! Of course the hearts are good for just snacking too if you have a chocolate craving so definitely check them out on their website. They also have orange, plain chocolate and even CBD infused chocolate ones!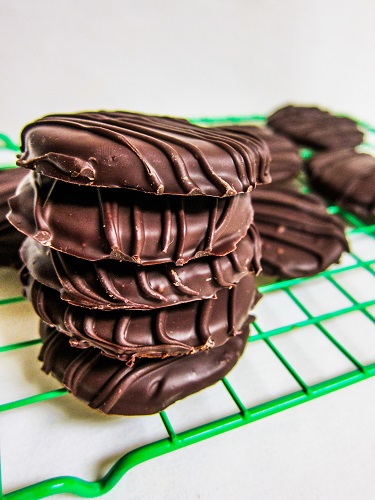 Once these cookies were all set and ready to go I could not wait to try them! They were sooo much better than the pre-made boxed ones! No offense Girl Scouts, but I like home made so much better. They were thin and crispy, with an intense chocolate flavor and cooling mint plus that rich dark chocolate coating! If you are a Thin Mint cookie fan give these a try!
Vegan Thin Mint Cookies
Makes about 24 medium sized cookies
Ingredients:
1 3/4 cups organic whole wheat pastry flour*
1/4 cup Raw Guru cacao powder or unsweetened cocoa powder
1/4 cup plus 2 Tbsp Raw Guru coconut sugar
1/4 tsp sea salt
1/4 cup melted coconut oil
1/4 cup avocado oil (or other neutral oil liquid at cool temperatures)
1 Tbsp filtered water
1 tsp pure vanilla extract
1 tsp peppermint extract
1 1/2 cups Rawmio mint chocolate hearts or vegan chopped dark chocolate with 1/2 tsp peppermint extract added
Instructions:
Preheat the oven to 325F degrees, and line three baking sheets with parchment.
To make the dough, mix all ingredients together in a bowl until combined and smooth (it may be slightly crumbly, and that is ok, just squeeze it back together), then place on a piece of parchment paper and roll out 1/4 inch thick.  Cut into circles with a medium sized cookie cutter and place them onto two of the prepared pans. Re-roll any scraps squeezing them back together and rolling them out, and cutting into more shapes until all of the dough is used. 
Place the pans in the oven and bake for 15-20 minutes or until set and just barely beginning to brown at the edges.
Remove the pans from the oven and let cool completely on wire racks.
When the cookies have cooled completely, melt the chocolate in the top of a double boiler.
Dip each cookie into the chocolate and set on a parchment lined tray.
When you have finished dipping the cookies, place them in the freezer for about 15 minutes until the chocolate sets.
Enjoy!  Store any leftover cookies in an airtight container in the refrigerator or freezer.
*Note: If you wanted to make these gluten free, you could use Bob's Red Mill AP baking flour instead of the whole wheat pastry flour subbed 1:1.
(Visited 890 times, 1 visits today)