Vegan Tahini Date Chocolate Chunk Ice Cream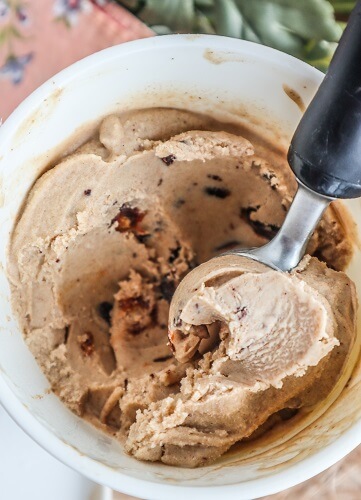 Last week was definitely a week for ice cream!  It was hot and humid every day, and in the 90s and I felt like I was sweating all day from working out in the morning, being hot in the kitchen at work and driving home in a hot car.  So I decided some ice cream was needed to cool off and I made a batch!  I love making my own ice cream in the summer!  It is so fun creating new and exciting flavors!  This time I made some Vegan Tahini Date Chocolate Chunk Ice Cream!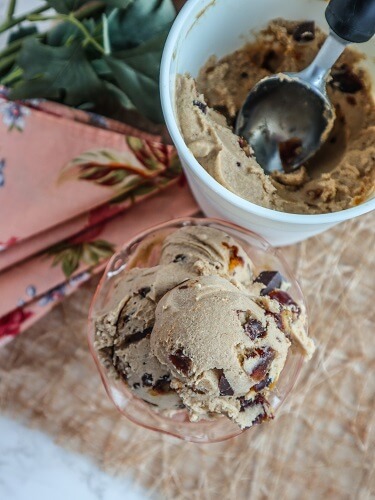 It was inspired by halva, one of my favorite sweet treats ever. I was thinking, what would it be like to turn the flavor of halva into ice cream...and then this is what resulted.  I made a creamy base, with coconut milk and sesame tahini (hence the halva) added a bit of vanilla and a pinch of sea salt, with dates to sweeten it and it honestly tasted like halva!  I love sweetening ice cream with dates because they don't add a lot of excess moisture.  This was a super delicious base even before it was frozen.  I could have just left it like that, but I wanted some sweet chunks in this ice cream as well.  So I stirred in some dates and dark chocolate chips at the end.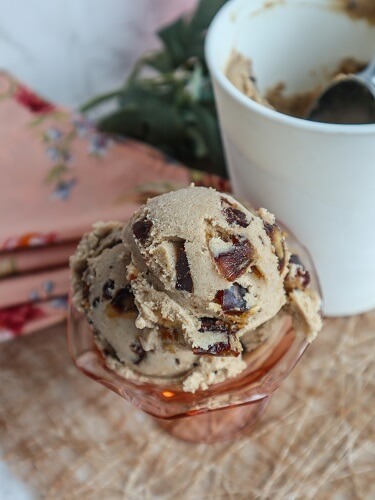 I knew it would be good, but let me tell you it was crave worthy good!  So good that my husband polished off the rest without me even knowing that I didn't use for my photo shoot. I went back to get some more later and it was an almost empty container. He normally eats things like Ben and Jerry's so although I wanted the rest of that ice cream I am somewhat flattered that he liked it that much and that he is eating something fruit sweetened. I will just have to make more ice cream!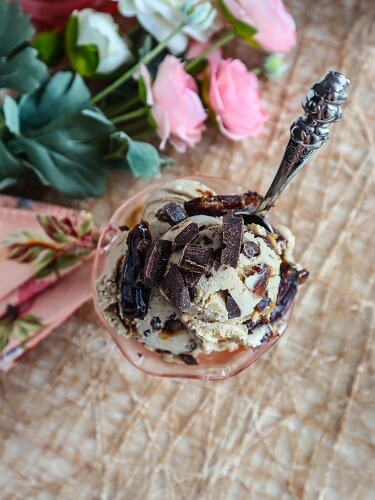 This ice cream is super delicious, creamy and rich like a gelato, with the flavor of sweet vanilla scented halva, with chunks of gooey caramelly dates throughout and decadent dark chocolate! If you are in the mood for some really good ice cream definitely give this Vegan Tahini Date Chocolate Chunk Ice Cream a try!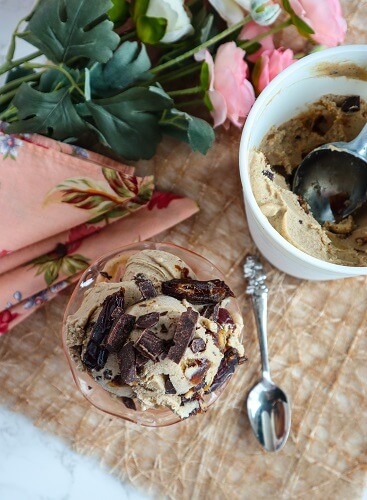 Vegan Tahini Date Chocolate Chunk Ice Cream
Makes 3 cups
Ingredients:
2 cups full fat coconut milk
2/3 cup tahini
1 cup soft, pitted medjool dates (if they are not soft, soak them in filtered water for 30 minutes before using)
1 tsp pure vanilla extract
1/4 tsp sea salt
Mix ins:
1/2 cup chopped soft pitted medjool dates
1/2 cup vegan dark chocolate chunks
Instructions:
Combine the coconut milk,  tahini, 1 cup dates, vanilla and sea salt in a blender and blend until smooth.
Pour into an ice cream maker and process according to directions.  Alternatively, if you do not have an ice cream maker, pour it into a bowl, and whisk every half hour until it is to the consistency of a thick malt.  Stir in the chopped medjool dates and dark chocolate.
Pour into a freezer safe container with a lid, and continue to freeze until firm enough to scoop (at least 4 hours or overnight). If it becomes too firm, simply let it sit out for 15 minutes before serving.
(Visited 320 times, 1 visits today)