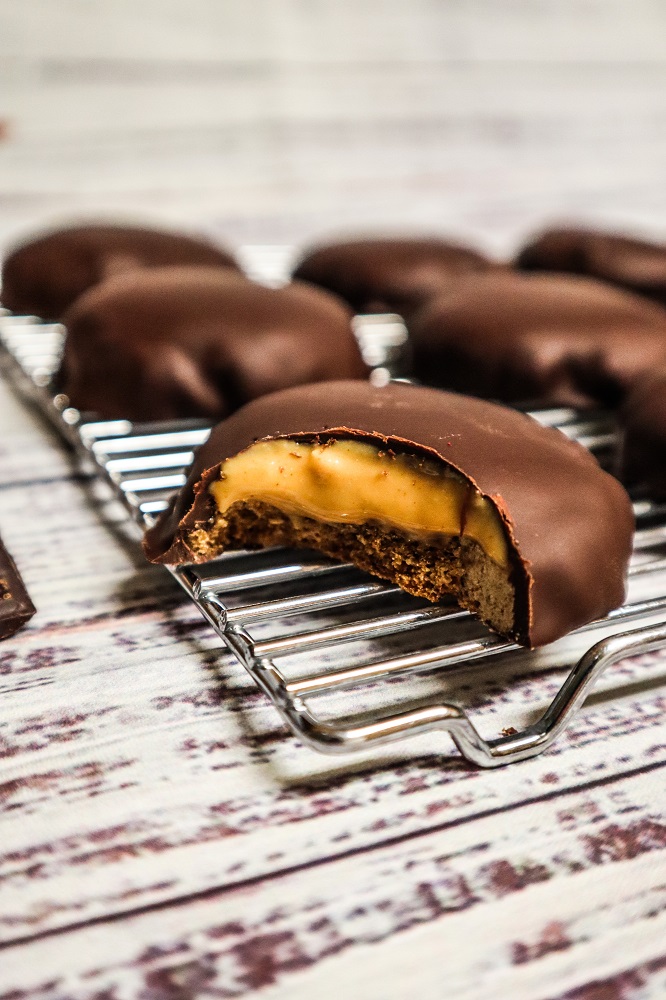 Vegan Tagalong Cookies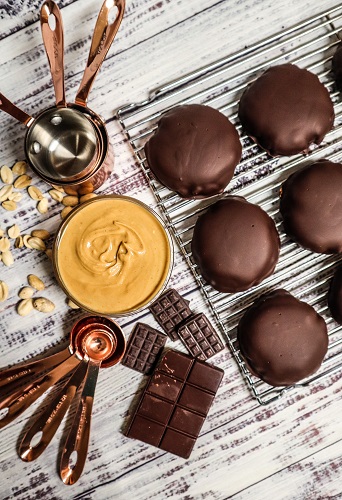 Tis' the season for Girl Scout cookies.  I used to love them growing up, especially the Samoas and Tagalongs, but my Dad always bought the Thin Mints as well.  So now as an adult, I like to make my own home made versions.  I know there are vegan Girl Scout cookies but I would rather just donate money to the Girl Scouts directly if I want to donate since I prefer cookies that aren't made with artificial more processed ingredients. For my own, I use quality ingredients, and they even taste better than the originals I grew up with!  Plus it is fun to recreate your own.  I love making my own treats! So I decided to make some vegan Tagalongs this week.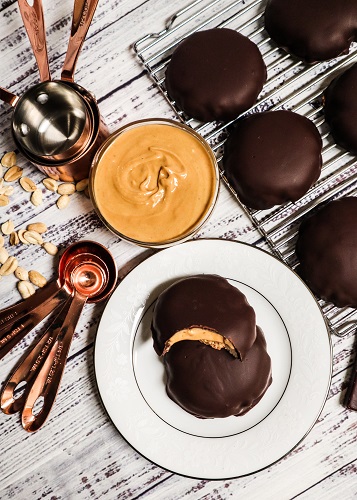 The original cookies had a vanilla base, so I created some buttery vanilla cookies for mine as well.  I used whole wheat pastry flour for the dough, but if you wanted to make these gluten free, you could use Bob's Red Mill gluten free all purpose baking flour instead (I have tested this brand with my baked goods and know that it works well swapped 1:1).  The dough tasted delicious even before it was baked.  Eric was begging me to eat some of it too, so I probably ended up with a few less cookies, but it's alright, cookie dough is one of my favorite parts of the process of baking cookies too.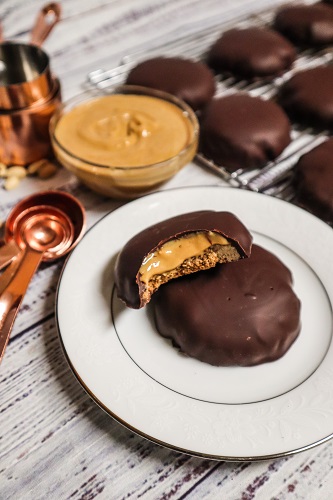 They smelled amazing while baking. But I knew they would be even better once I added the peanut butter and chocolate!  I mean, peanut butter and chocolate is one of my all time favorite combos!  I used my home made peanut butter for these, and I did not sweeten it at all, because I figure the cookies and chocolate are sweet enough, but you could sweeten it with a little coconut sugar or a dash of maple syrup if you wanted to.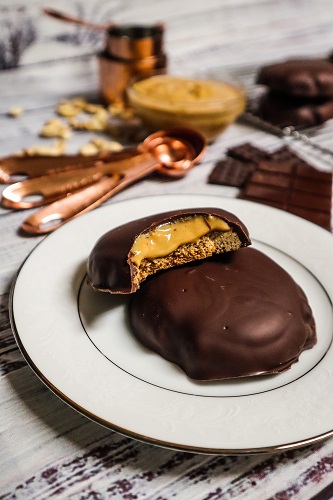 Lastly I dipped them in dark chocolate, then let them chill and harden.  I could not wait to try the cookies!  They luckily it didn't take that long since they were cool to begin with.  They were sooo good!  The crunchy sweet vanilla cookies had much more flavor than the originals, and the salty creamy PB and decadent dark chocolate were perfect on them!  These are sooo much better than the ones I grew up eating.  If you were ever a fan of Tagalongs, give these a try!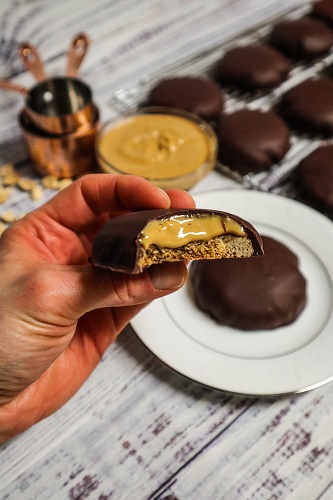 Vegan Tagalong Cookies
Makes 16 cookies
Ingredients:
Cookies:
1 Tbsp ground flax seed
3 Tbsp filtered water
1/2 cup virgin coconut oil, warmed to liquid
3/4 cups coconut sugar or maple sugar
1 teaspoon vanilla extract
1/2 teaspoon baking soda
1/4 teaspoon sea salt
1 3/4 cups organic whole wheat pastry flour
Filling:
1 cup organic peanut butter
Chocolate:
2 cups chopped vegan dark chocolate or vegan chocolate chips
 Directions:
In a small bowl, whisk together the flax seed and filtered water.  Set aside in the refrigerator for 15 minutes.
In a large bowl, mix coconut oil with maple sugar and mix until well combined.
Mix in the vanilla extract and flax mixture until well combined.
Add the baking soda, salt, then the flour, until well combined.
To bake, Preheat your oven to 350F degrees. Line a large baking sheet with parchment paper.
Roll the dough into 1 1/2 inch balls (there should be about 16), and place on prepared cookie sheet a couple inches apart, pressing down so that they are about 1/2 inch thick.
Bake for about 15-18 minutes, until puffed and just starting to brown slightly.  Remove from the oven and let cool on the pan a few minutes, then remove to a wire rack to cool completely.  Save the parchment lined tray.
Spread a 1/8 inch thick layer of peanut butter over each cookie, and place in the freezer until completely cold.
Melt the chocolate in the top of a double boiler until smooth.
Dip each cookie into the chocolate (carefully (I set mine on a fork and did it) and set on the parchment lined tray that you baked them on.  When they are all done, place the tray in the freezer for about 15-20 minutes to allow the chocolate to harden.
Enjoy!  Store any extra cookies in the refrigerator in an airtight container for up to 2 weeks.
(Visited 1,017 times, 1 visits today)