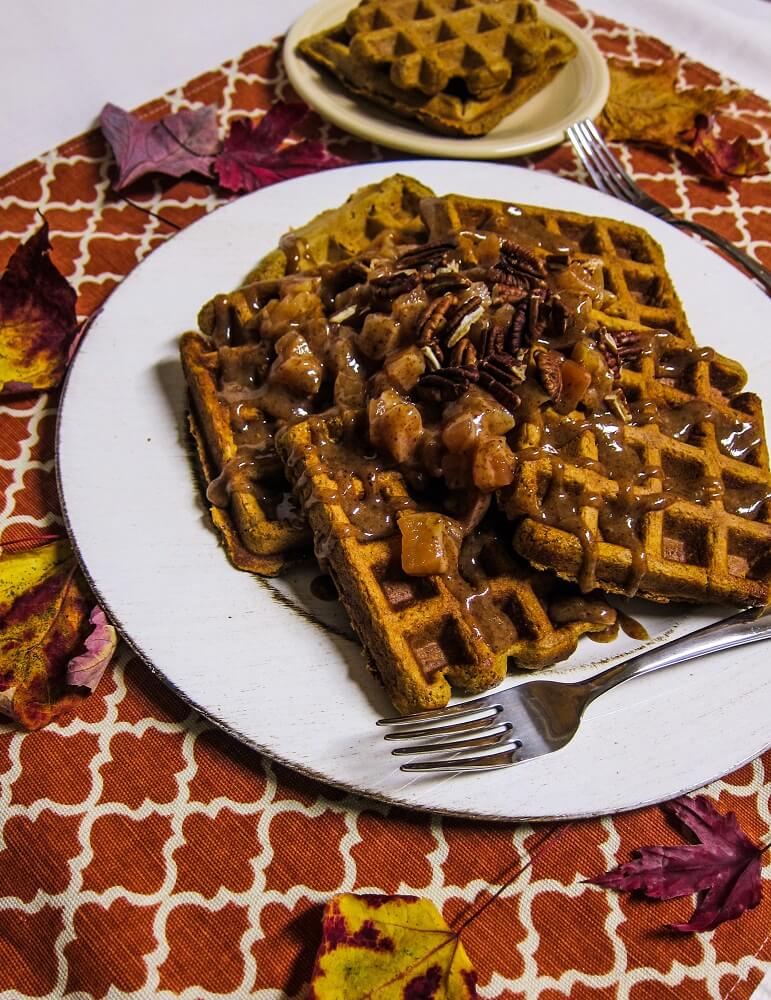 Vegan Sweet Potato Waffles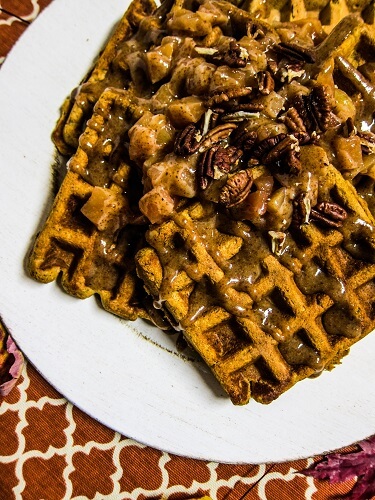 Do you ever just scroll through people's food photos on Instagram and just get really hungry?  I totally do, and I saw some waffles a few days back on someone's feed that looked amazing.  I told myself, you have to make waffles soon!  It had been too long, and they just sounded really good.  Well, I had some leftover mashed sweet potatoes yesterday and I thought, why not make some sweet potato waffles?!  I love repurposing food and making it into something more delicious.  I hate wasting food also, not that the sweet potatoes ever would have been wasted since they are one of my all time favorite things, but it is always nice to make something different the next day with leftovers instead of the same!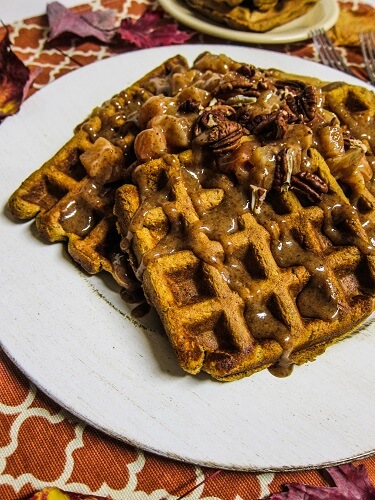 When I was younger, my Mom used to make waffles and pancakes for dinner sometimes instead of breakfast and I loved it.  So that is what I usually do!  Mostly because I don't have time to make a fancy breakfast in the morning and I have more time after work.  I figured the flavorful sweet potatoes would be the perfect addition to waffles!  For the base of these I used my usual waffle base with flax eggs and whole wheat pastry flour sweetened with coconut sugar, and added plenty of sweet potato!  For richness, a bit of  coconut milk and coconut oil (also to prevent sticking).  If you would like to make these gluten free, see note at the bottom of the post.  Lastly some cinnamon and nutmeg because they go so well with sweet potato!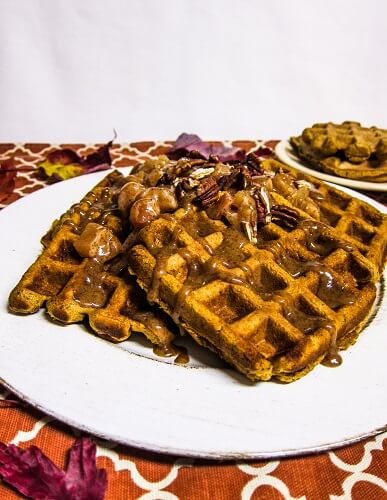 They smelled heavenly while they were cooking!  The aroma of sweet potatoes and cinnamon filling the air!  That is one of the reasons I love making waffles, the house smells so good!  I always worry a little when I make new types of waffles, especially ones involving adding wet ingredients like sweet potatoes because I tried to make pumpkin waffles one time and they stuck to my waffle iron so bad that I had to throw it away.  But these turned out beautifully!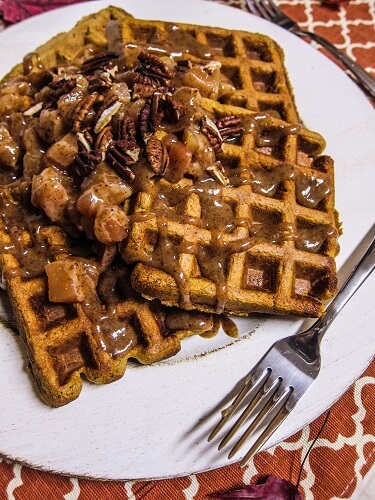 I could not wait to try them!  Maple syrup is standard of course, but I made a quick maple pecan syrup to top them off with as well as some sauteed apples and crunchy toasted pecans!  They were heavenly.  Fluffy in the middle crispy on the outside. You know 10 years ago I never would have guessed I would have been able to make vegan waffles this good!  But I do and that makes me happy!  If you have leftover plain mashed sweet potatoes on hand, give these a try!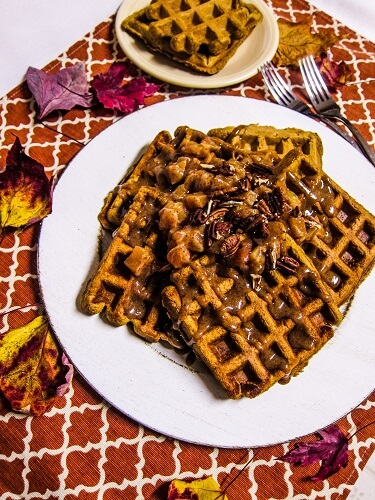 Vegan Sweet Potato Waffles
makes 12 regular sized waffles
Ingredients:
Batter:
2 cups organic whole wheat pastry flour*
1/4 cup coconut sugar
1/2 tsp baking soda
1 tsp baking powder
1/2 tsp sea salt
2 tsp cinnamon
3 Tbsp ground flax seed, whisked together with 1/2 cup plus 1 Tbsp filtered water (and allowed to sit 15 min. before using)
2 Tbsp melted coconut oil
1 cup full fat coconut milk or oat milk
1 cup smooth mashed sweet potatoes or sweet potato puree
Instructions:
Whisk together the flour, sugar, baking soda, baking powder, sea salt and spices in a large bowl.
Then whisk the flax mixture, coconut oil, coconut milk and sweet potato until smooth.
Oil, and pre-heat waffle iron. Once it is heated, pour about 3/4 cup batter onto the iron (or until the iron is just covered but not so much that it will ooze out) and close it.  Cook according to waffle iron package directions.  Remove from the waffle maker and keep warm in an oven at low heat (150F degrees).
Serve with topped with whatever suits you!
*If you would like to make these gluten free, you can sub Bob's Red Mill gluten free all purpose baking flour (I have tested this flour and know it works well in this type of recipe).
(Visited 519 times, 1 visits today)