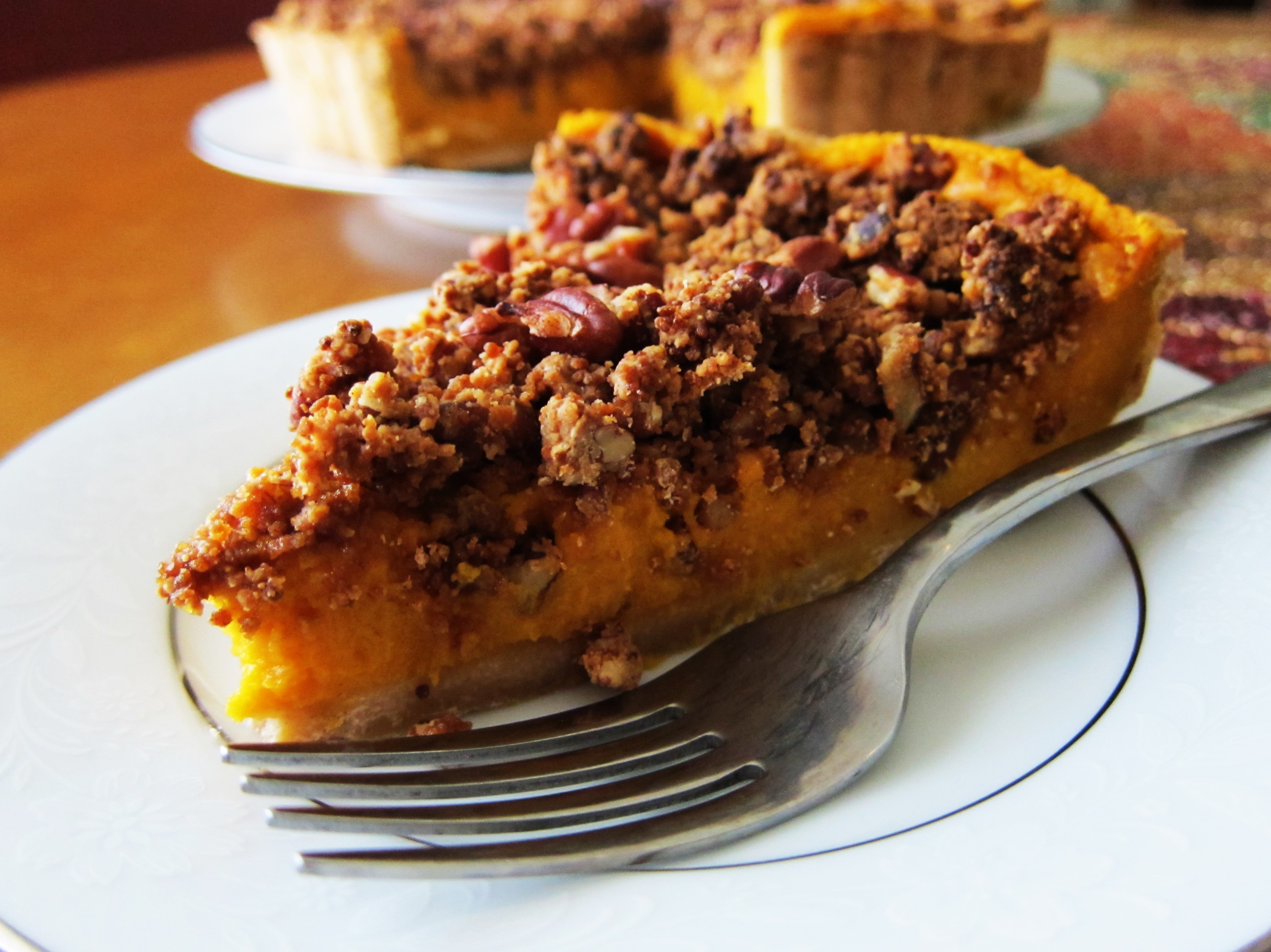 Vegan Sweet Potato Tart with Cinnamon Pecan Streusel Topping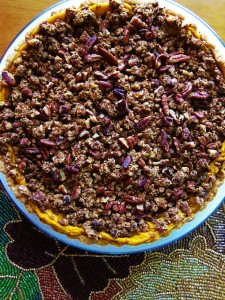 I love, love, love sweet potatoes and yams. One of my all time favorite things is to roast them until they are intense in flavor and then just enjoy them with a squeeze of lime and sea salt, or to make fries out of them with a little olive oil and sea salt.  So good.  Almost like dessert even though it is savory.  I made a sweet potato casserole last week with maple pecan topping and it was so good I decided to make a pie in a similar fashion.  Just a little sweeter of course since this was to be dessert and not just a side dish.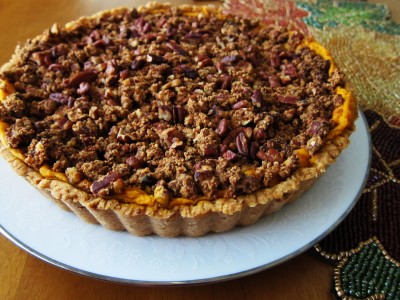 I had about 2 cups of cooked sweet potatoes, so that pie became a tart, but it was still just as good.  I used my usual gluten free pie crust, because I wanted all of the attention to be on the filling and it is a perfect blank palette.  For the filling, a bit of maple syrup, cinnamon and vanilla to flavor and it was so good. Sweet potatoes are so good to begin with, they don't need much added to create dessert.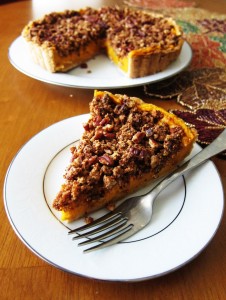 I topped it off with a crunchy pecan streusel topping, and it smelled amazing while baking.  Like spiced brown sugar and sweet potatoes, an aroma that I wouldn't mind wearing around like a perfume it smells so wonderful.  It tasted wonderful too once I allowed to cool and was able to dive in.  Sooo good.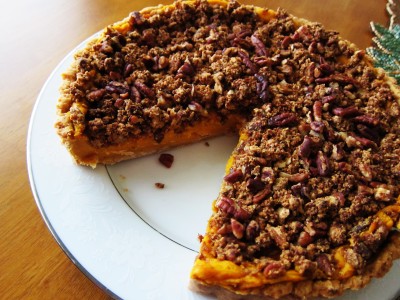 This would be a nice alternative to pumpkin pie for Thanksgiving!  Or, if you happen to roast up some yams and have extra, you know what to do with them now!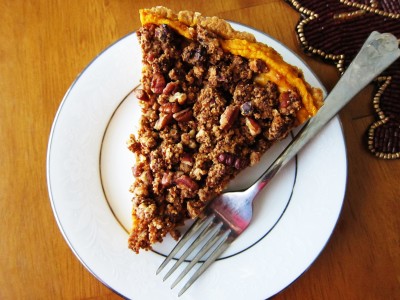 Vegan Sweet Potato Tart with Cinnamon Pecan Streusel Topping
Makes one 8 inch tart
Crust:
1 1/4 cups all purpose gluten free flour
2 Tbsp coconut sugar or maple sugar
1/4 tsp sea salt
1/4 cup plus 2 Tbsp coconut oil in its solid state
about 3-6 Tbsp cold water
Filling:
2 cups cooked yams or sweet potatoes, packed
1/3 cup pure maple syrup
1 cup full fat coconut milk
2 tsp pure vanilla extract
2 tsp coconut oil
1/4 teaspoon ground cinnamon
1/4 teaspoon salt
1 1/2 tablespoons cornstarch
3/4 teaspoon agar powder
Topping:
2 Tbsp coconut oil in its solid state
2 Tbsp coconut sugar
1/3 cup gluten free all purpose flour
1/2 cup chopped pecans
1/2 teaspoon ground cinnamon
To make the crust, in a large bowl, mix together flour, sugar, and sea salt. Cut in coconut oil with a pastry blender or 2 knives until it is in pea sized pieces. Mix in  just enough water to create a smooth dough that holds together but isn't too sticky. Add more water if needed, and knead slightly until a smooth dough is created. Roll out into a 9 inch circle on a sheet of parchment paper, then use the paper to help you transfer it to an 8 inch tart pan (if it rips, just patch it and press back into shape).  Set aside in the refrigerator.
Pre-heat the oven to 375F degrees.
To make the filling, place all ingredients in the blender and blend until smooth, then pour into the prepared crust.
In a bowl, mix together the streusel ingredients with your hands until they clump up (it helps to squeeze them together with your fingers).  Sprinkle the streusel over the pie.
Place in the pre-heated oven and bake for about  40-45 min. until the edges of the crust are lightly brown, and tart is set.  Allow to cool completely.
Serve with coconut whipped cream if desired.
(Visited 352 times, 1 visits today)