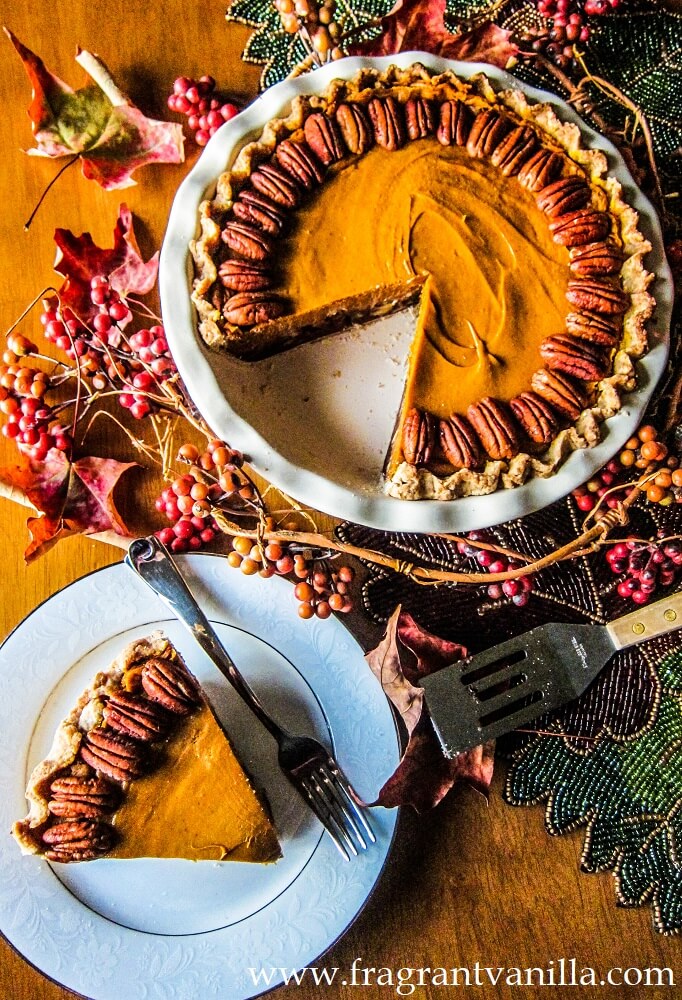 Vegan Sweet Potato Pecan Pie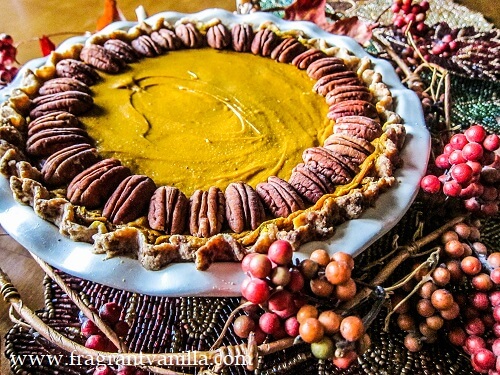 We always had 3 different types of pie at Thanksgiving gatherings at my Grandparent's house when I was little.  It was always apple, pecan and pumpkin.  I would always take some of each as was tradition, but really the pecan was my favorite.  It was my Mom's favorite and my Grandma's favorite too, so maybe that was hereditary.  I mean, I could enjoy apple pie at other times of the year, because it was something my Mom liked to make, but pecan we only enjoyed that one day of the year.  There was just something about that gooey caramelly nutty pecan goodness that was amazing.  I still feel that way, but I now make my pecan pies refined sugar free.  No corn syrup in sight, I usually do a date caramel now, because I love fruit sweetened deliciousness.  In fact I think for the past 10 years or so I have made pecan pie in some form for Thanksgiving, because my Mom always requests it.  Grandma is no longer around, but if she were, I know she would love them.  Well, this year my Mom asked me to make a sweet potato pecan pie to bring to Thanksgiving.
Of course I was happy to make one!  It sounded good to me too!  Sweet potatoes are my favorite in any form, and I love them in desserts.  Plus, I think that they are even more delicious in pie than pumpkin because they have a naturally sweeter flavor.  Not that I don't like pumpkin pie, it is a classic, but I just prefer sweet potatoes if I have a choice.  And, they can be used in the same manor. Just FYI, if you ever want a pumpkin style pie but only have yams or sweet potatoes on hand, if you cook them and puree them they can be swapped for an even more delicious pie.  For this pie, I wanted a gooey layer of pecan pie on the bottom.  Just like the traditional stuff.  So I made a sweet gooey date caramel with pecan butter and stirred in plenty of chopped pecans.  It was so good I wanted to keep sampling it, but I had to stop so that there would be enough for the pie.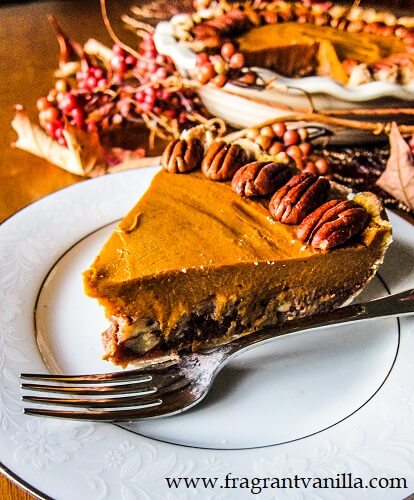 For the filling, I used my pumpkin pie recipe, and it was super delicious even before being baked.  It tasted like delicious sweet potato pudding.  As the pie baked it filled my home with the most heavenly aroma!  Spice and caramel and a buttery smell from the crust....I was super excited!  But, I  had to wait until it cooled which was unfortunately overnight since I made it in the evening.  Once I was able to try it though, it was simply heavenly!  The crunchy pecans suspended in gooey caramel filling and creamy spiced sweet potato filling on top of the buttery crust were just what I was hoping for!  I am proud to share it with my family, and you would never know it is vegan because it tastes like it is rich and traditional.  If you are looking for a new pie to make this Holiday season, give this a try!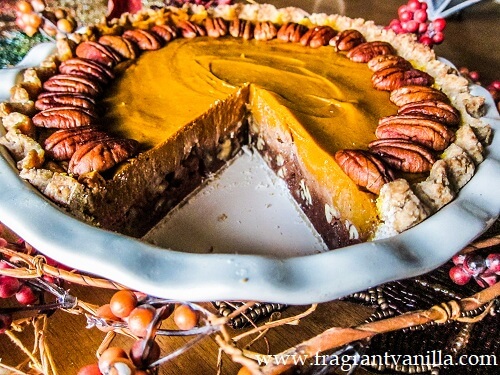 Vegan Sweet Potato Pecan Pie
Makes one 9 inch pie
Crust:
2 Tbsp coconut sugar or maple sugar
1/4 tsp sea salt
1/4 cup plus 2 Tbsp coconut oil in its solid state
about 3-6 Tbsp cold water
Pecan Layer:
2 cups soft, pitted medjool dates
1/2 cup pecan butter (or almond butter if you can not get pecan)
1/4 cup filtered water
3 Tbsp maple syrup
1 Tbsp coconut oil
1 tsp pure vanilla extract
2 cups chopped pecans
Filling:
2 cups cooked sweet potato (canned is ok too), packed
1/3 cup pure maple syrup
3/4 cup full fat organic coconut milk
2 tsp coconut oil
1 1/4 teaspoon ground cinnamon
1 teaspoon ground ginger
1 /4 teaspoon ground nutmeg
1/4 tsp ground cloves
1/4 teaspoon salt
1 1/2 tablespoons cornstarch
3/4 teaspoon agar powder
To make the crust, in a large bowl, mix together flour, sugar, sea salt, and spices. Cut in coconut oil with a pastry blender or 2 knives until it is in pea sized pieces. Mix in  just enough water to create a smooth dough that holds together but isn't too sticky. Add more water if needed, and knead slightly until a smooth dough is created. Roll out into a 10 inch circle on a sheet of parchment paper, then use the paper to help you transfer it to a 9 inch pie dish.  Flute the edges, and set aside in the refrigerator.
Pre-heat the oven to 375F degrees.
To make pecan filling, blend all of the ingredients except the pecans in a blender until smooth, then stir in the pecans.  Pour into the crust and smooth the top.
To make the sweet potato filling, place all ingredients in the blender and blend until smooth.
Pour the sweet potato filling over the pecan layer and smooth out the top.
Place in the pre-heated oven and bake for about  50 min. until the edges of the crust are lightly brown, and pie is set.  Allow to cool completely before serving (I chilled mine overnight in the refrigerator).
  Store any leftovers in the refrigerator.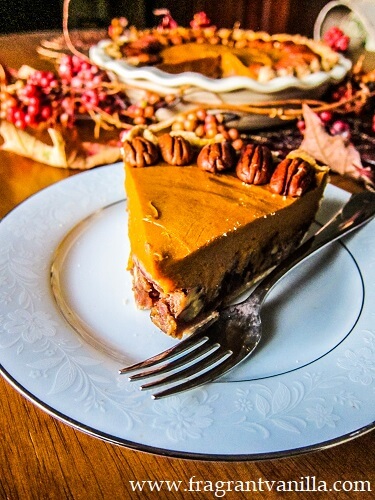 (Visited 718 times, 1 visits today)