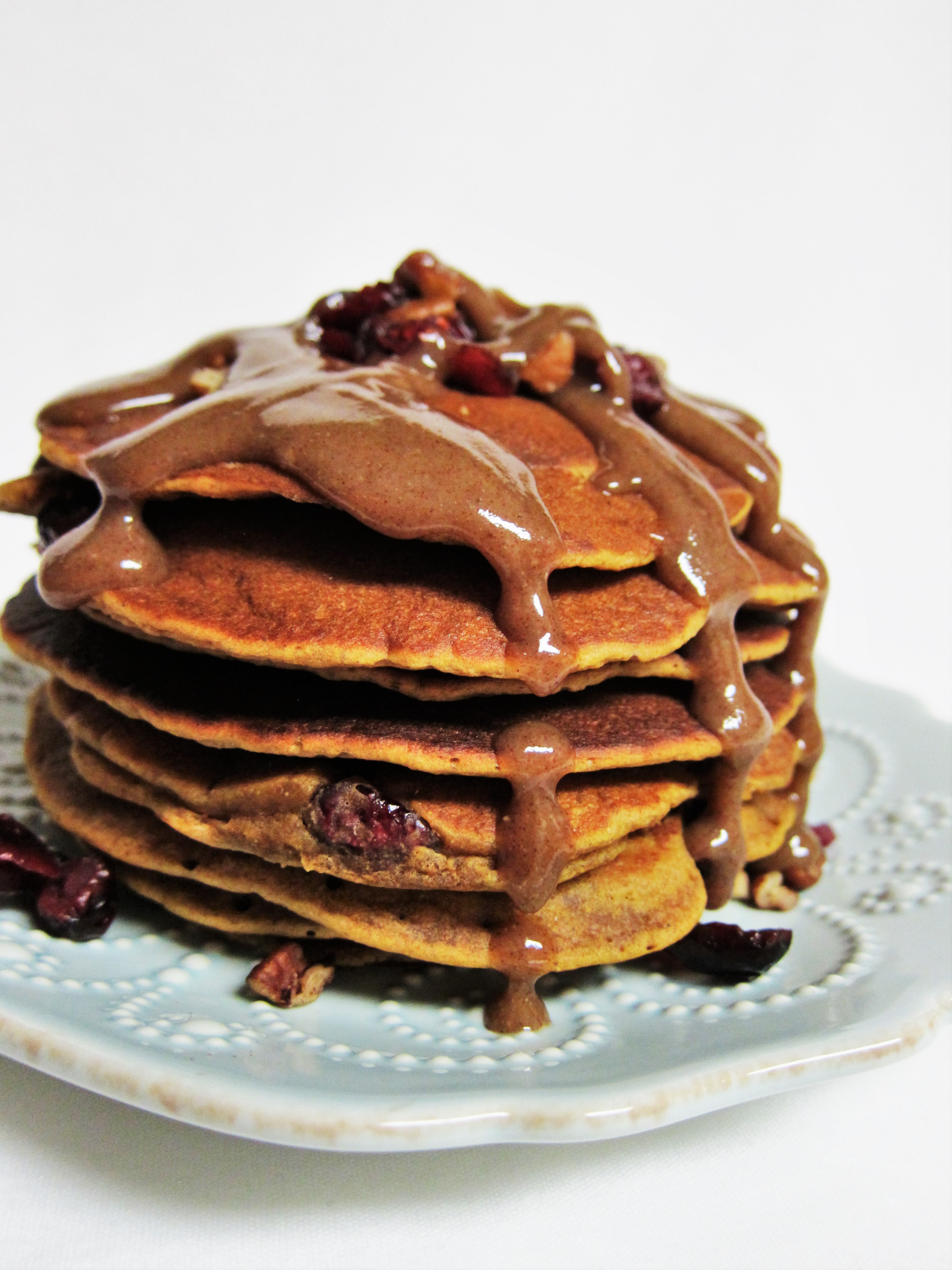 Vegan Sweet Potato Cranberry Pancakes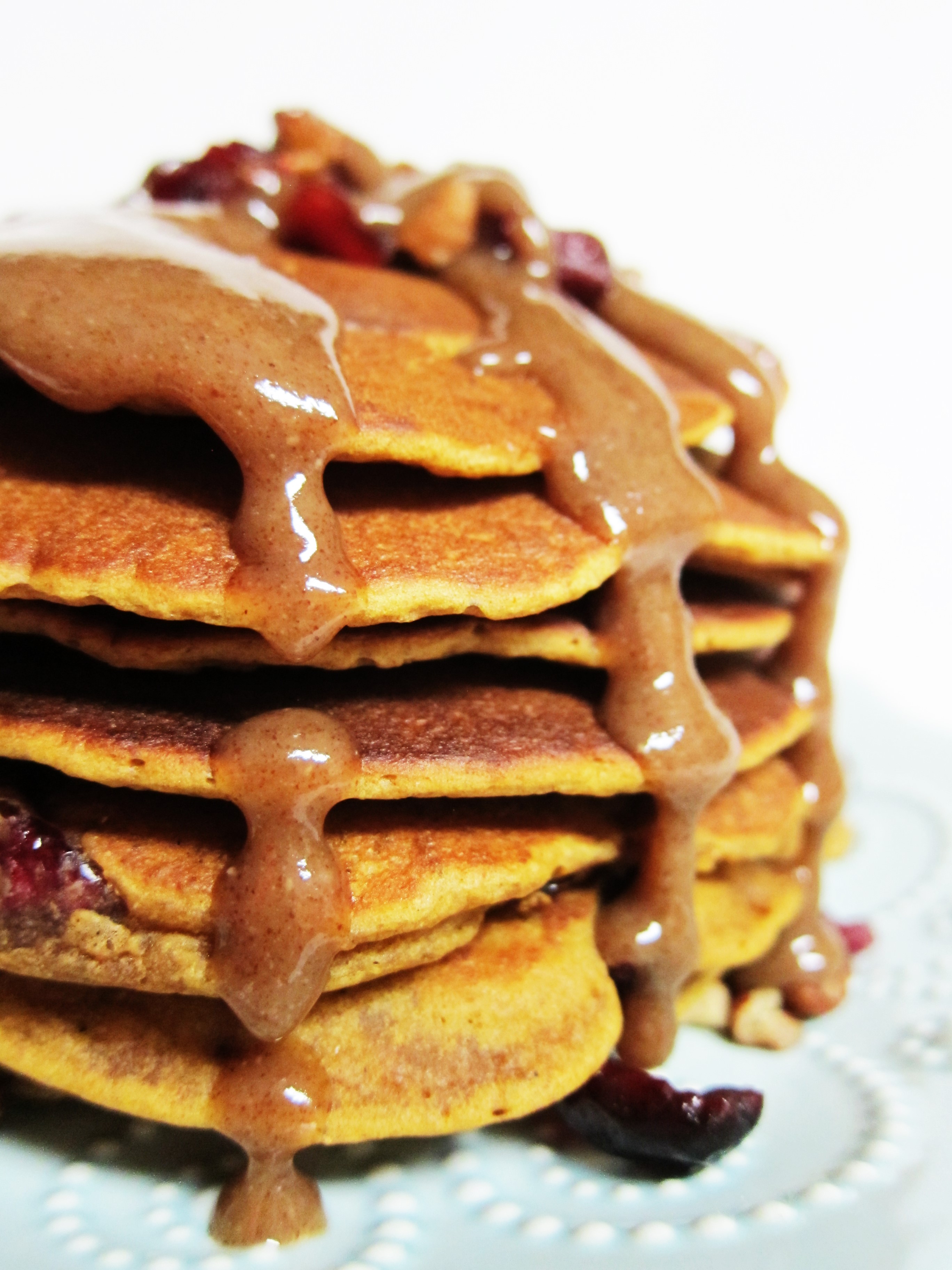 Last Thursday, It was a rather chilly day, and Eric and I had just arrived back from a walk in the in the dark. It was sleeting, which had made it even more chilly, and all I could think about was what sort of warm comfort food I was going to make when I arrived home.  My first thought was waffles, and so I went for it.  Sweet potato cranberry waffles.  Sounded really good.  I had lots of cooked sweet potatoes on hand.  I whipped up the batter, poured it into the iron and they were smelling amazing.  Only one problem.  When I went to open the iron, they were sticking really bad.  A total flop.  Yes, I have some flops I just don't usually share them with you all.  It was sort of funny, and sort of sad at the same time.  Also a little irritating since I hate wasting ingredients.  I tossed the flops out though, and decided pancakes would be fail proof.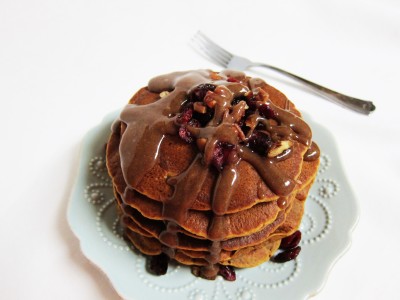 I made them sweet potato cranberry as well, and they came out lovely.  This made me pretty happy after the flop.  Eric was teasing me about my flop waffles, but I still shared some pancakes with him.  They turned out really delicious!  They smelled wonderful while cooking, thanks to the aromatic spices I included and sweet potatoes.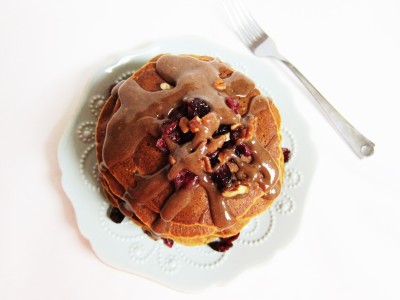 I topped them off with a maple pecan syrup, and it was all in all a delicious combination!  Breakfast for dinner is a treat sometimes, and needed sometimes.  Kind of makes me feel like a little kid again, because I always loved it when my Mom made pancakes or waffles for dinner when I was young.  These would also be perfect on a chilly weekend morning when you have time to relax and enjoy the day!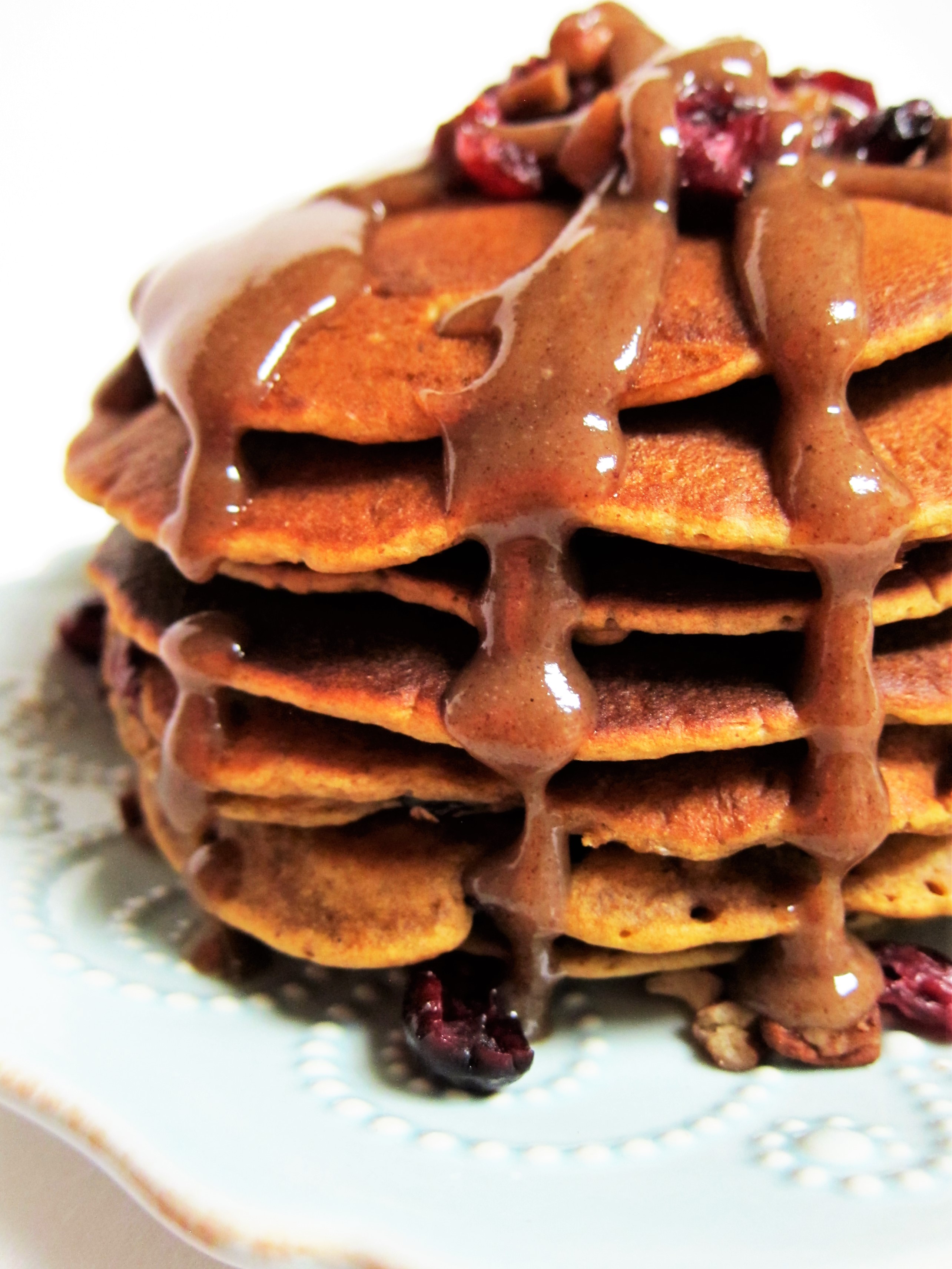 Vegan Sweet Potato Cranberry Pancakes
Makes 3 Belgian Waffles
2 Tbsp ground flax seed
1/4 cup plus 2 Tbsp filtered water
2 cups gluten free all purpose flour
3/4 tsp sea salt
1 tsp baking powder
1/4 tsp baking soda
1/2 cup coconut sugar
1 1/4 cups thin coconut milk  at room temperature
3/4 cup sweet potato puree
3 Tbsp melted virgin coconut oil warmed to liquid
1/2 cup dried cranberries
Maple Pecan Syrup Drizzle:
2 Tbsp maple syrup
1/4 cup pecan butter
1-2 Tbsp filtered water or as needed
In a small bowl, whisk together the flax seed and water, and set in the fridge for 15 minutes until the mixture is gel like.
Meanwhile, whisk together the flour, salt, baking powder, baking soda, and coconut sugar in a large bowl.  Whisk in the coconut milk, sweet potato and oil until combined, then the flax eggs (flax water mixture) until combined. Stir in the cranberries.
To cook pancakes, preheat oven to 200 degrees. Heat a large non-stick pan over medium heat and add a little coconut oil to coat the bottom. Once hot, add the batter in 1/4 cup amounts (I did 3 at a time, but it depends on your pan). Let the pancakes cook for about 2-3 minutes on the first side until set and starting to brown, then flip with a spatula and cook another 2-3 minutes on the other side. When cooked, place on a plate and keep warm in the oven while you repeat the process with the remaining pancakes.
To drizzle, whisk together all ingredients until smooth (if it is too thick to drizzle, whisk in a little more filtered water), then drizzle over the pancakes before serving.
(Visited 47 times, 1 visits today)