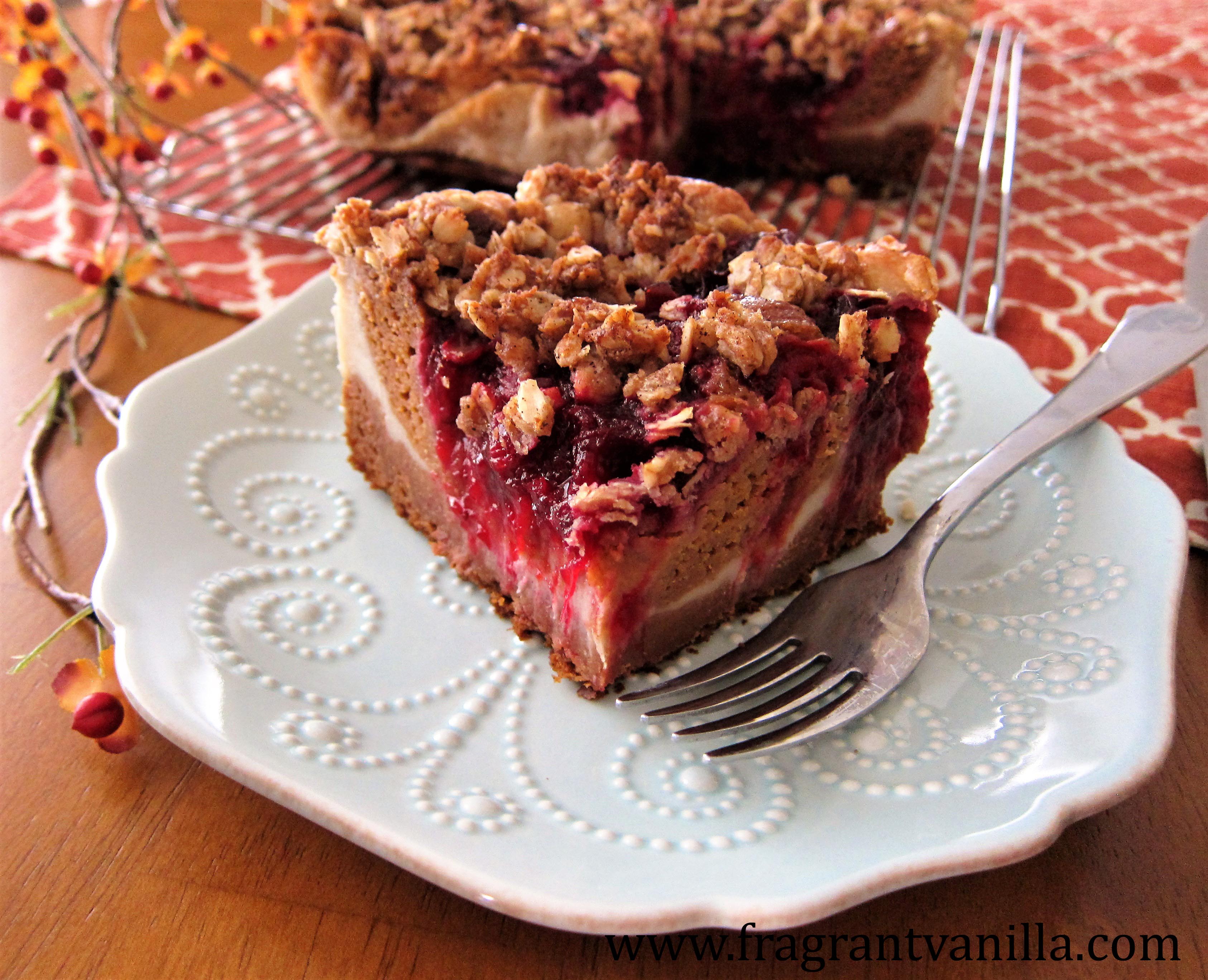 Vegan Sweet Potato Cranberry Coffeecake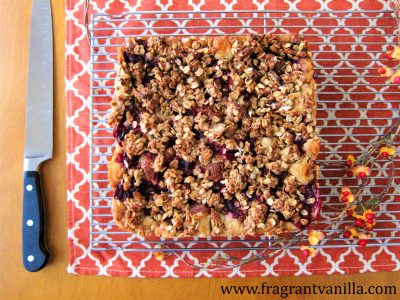 Most of us have Thanksgiving leftovers, and although you could just continue to eat them as they are and reheat them, it is fun sometimes to create new things with them!  Now of course some people just make a giant sandwich and pile it high with all the fixings, but I like to totally reinvent things, like taking something served as a savory side and make it into a sweet delicious dessert.  Because no, I did not get enough pie to be too much, and I like desserts even after Thanksgiving!  If you have leftover mashed sweet potatoes (or yams), or cranberry sauce, have I got a recipe for you!  Vegan Sweet Potato Cranberry Coffeecake!  Coffeecake is always delicious and the perfect thing to bake on a weekend morning, or Black Friday morning for that matter.  So, skip the crowds on Black Friday, stay home and make this coffeecake with your family!  No deja food, just food reinvented, and I know you will all just love it.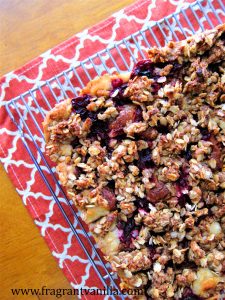 So, I took my classic coffeecake recipe, and included sweet potatoes to keep the cake a little moist (because it is actually oil free), added in some cinnamon to make it more aromatic, and this would have been delicious enough on its own, but I am a fan of coffeecakes with swirls of jammy and rich things.  Like cream cheese, and fruit.  So, I made a cream cheese layer in this cake, and then used my leftover chunky cranberry sauce for the fruit.  It worked perfect!  Now mind you, I did not use that gross processed cranberry sauce in a can that is all jelly and full of sugar, I used some of my home made stuff sweetened with maple syrup and orange.  But of course when you make this use the kind of sauce you like or what you made.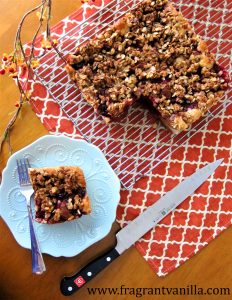 It baked up beautifully!  The bright cranberries so pretty peaking through the streusel on top.  And it smelled amazing.  I could not wait to try it!  It was one of the most delicious coffeecakes I have had!  This is a great use for those leftovers, and even better the second time around if you ask me.  My family very much approved as well, and I think yours will too!  Now you know what to do with those leftovers...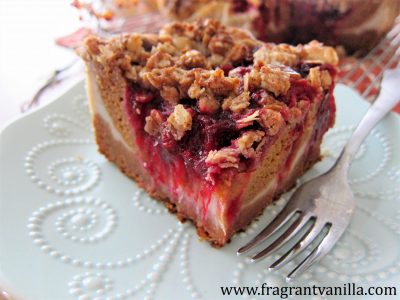 Vegan Sweet Potato Cranberry Coffeecake
Makes 1 9 inch square cake
Ingredients:
9 inch square pan
Cream Cheese:
3/4 cup thick coconut milk (from the top of a chilled can)
1/2 cup cashew butter
2 Tbsp maple syrup
1/8 tsp sea salt
1 tsp pure vanilla extract
1/2 tsp cider vinegar
2 Tbsp arrowroot starch or cornstarch
Streusel:
Cake:
1 1/2 tsp baking soda
1 tsp baking powder
1/2 tsp sea salt
1 tsp cinnamon
1 cup packed soft medjool dates, pitted, soaked in water for 30 minutes and 1 cup of the soaking water reserved
1/4 cup pecan butter or almond butter
1 Tbsp pure vanilla extract
1 cup sweet potato puree
2 Tbsp apple cider vinegar
Swirl:
1 cup cooked chunky cranberries
Directions:
Preheat the oven to 375F degrees and position rack in center of oven. Line a 9 inch square pan with parchment paper at bottom. Coat parchment paper and pan sides lightly with oil so that the cake doesn't stick and line the bottom of the pan with a piece of parchment fit to the pan.
To make the cream cheese, whisk together all ingredients until smooth and set aside.
To make the streusel, combine all ingredients in a bowl, and scrunch together with your hands until clumps are formed and everything is coated in the oil.
To make the batter, whisk flour, baking powder, baking soda, cinnamon and sea salt in a large bowl to blend well.  Set aside.
Place dates, reserved water, pecan butter, sweet potato puree, and vanilla extract into a blender, and blend until smooth, then whisk this blended mixture into the flour mixture until well blended. Whisk in the cider vinegar until bubbles form.
Transfer half of the cake batter to prepared pan, then pour the cream cheese over it, then pour the remaining batter over that, and drop the cranberries over that in 1 Tbsp. amounts.  Then sprinkle with the streusel and place in the oven.  Bake cake until tester inserted into center comes out clean with a few moist crumbs attatched, about 50-60 minutes. Remove from the oven and let cool until warm before enjoying.
(Visited 450 times, 1 visits today)