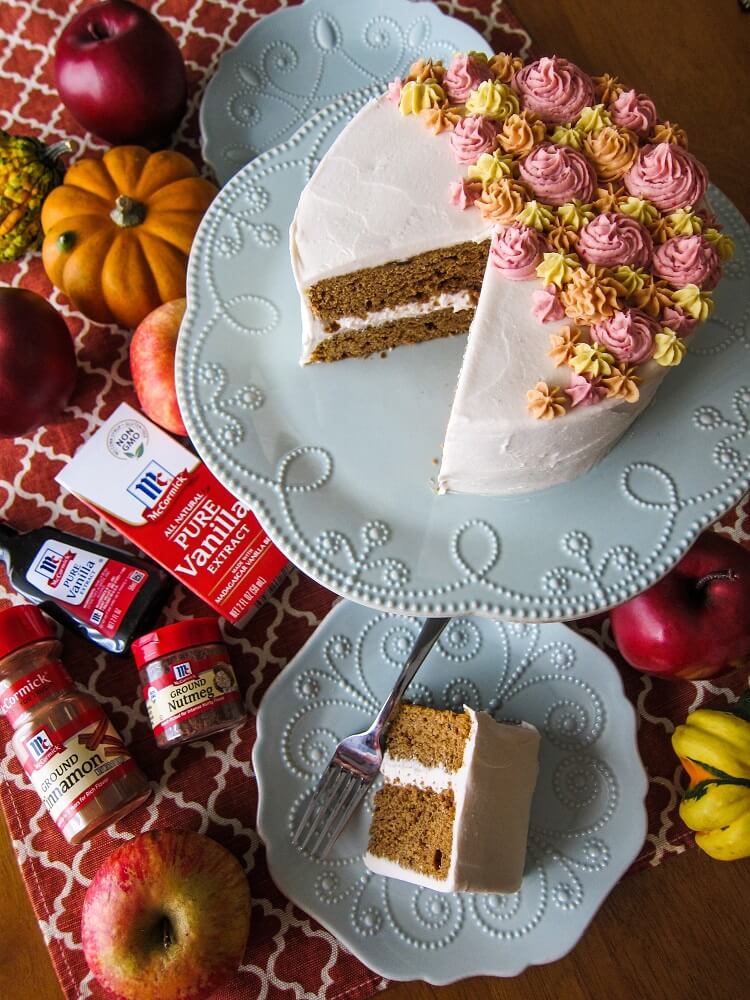 Vegan Sweet Potato Casserole and Vegan Sweet Potato Maple Cake with McCormick Spices!
This post is sponsored by McCormick® but the content and opinions expressed here are my own.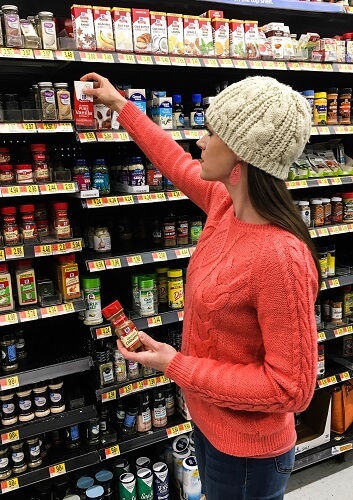 There are so many things to be excited about around the holidays!  Seeing friends and family you might not normally see the rest of the year because they live far away, the celebrations, and of course the amazing food!  I have to say, ever since I was a little kid, the food has always been pretty important to me, even when I did not make it myself.  I loved helping my Mom and Grandma in the kitchen, preparing the meals and desserts for the holidays!  I am so happy I get to continue the tradition of making food for my loved ones around the holidays, even if my Grandmas are no longer around to celebrate with me.  I know they would love the things I am making.  Good recipes start with good ingredients, which is why I love McCormick® Spices.  They are really good quality (they know a thing or two about making spices since they have been around for over 100 years) and they are affordable which is important to me!  Also, you can find them at Walmart, which is where I bought mine, in the baking aisle with all of the other seasonings and baking goodies!  I don't know about you, but it is one of my favorite aisles.  Maybe I am biased because I love to bake!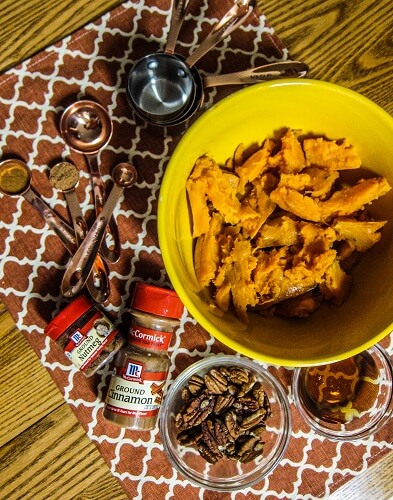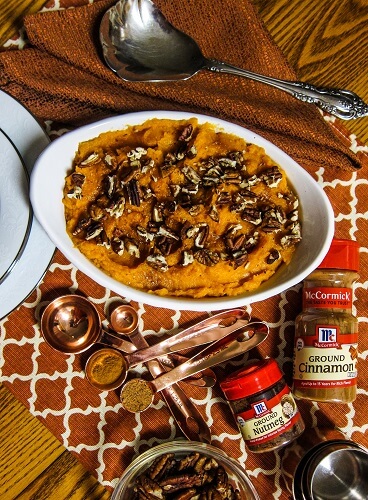 I picked up some McCormick® vanilla (one of my most used ingredients in my recipes), nutmeg and cinnamon at Walmart. I planned on making a dish that my family loves, Sweet Potato Casserole!  We have always been fond of sweet potatoes, and although back in the day my Grandma used to make the casserole with the marshmallows, our tastes have changed a bit and we now prefer it a little simpler and less sweet (but still plenty sweet enough).  It is really simple to make, and so good!  I just take sweet potatoes or yams and roast them into sweet flavorful perfection in the oven, then scoop out the flesh and mash it until it is light and fluffy with a bit of McCormick® cinnamon, nutmeg and maple syrup, then top it off with crunchy pecans and a little bit of maple sugar!  When it is all baked and the topping is all crispy it is heavenly!  The perfect side dish for your holiday meal!  Recipe follows post.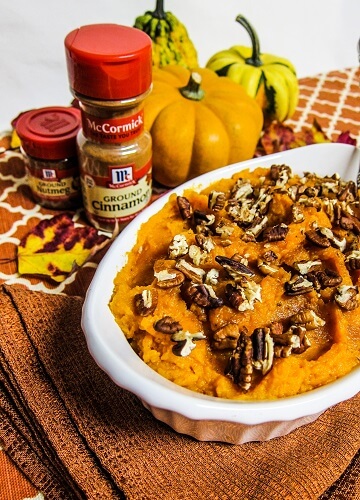 If you happen to have leftovers from the casserole, I also have a delicious Maple Sweet Potato Cake that I made with them.  Don't have time to make something right away with them?  Put them in a container and freeze them for later.  Just thaw before using in your recipe.  I love leftover sweet potatoes in general, there is so much you can do with them.  Make pancakes, muffins, bread, or the cake that I just mentioned if you want to be a little more over the top.  I love making cakes, so of course that is what I chose.  Not only that, it is perfect for Holiday entertaining as well!  Who doesn't love cake?  I know my family does.  My Grandma and Mom passed down their love of maple to me, so that is what gave me the idea to pair the sweet potatoes with maple in this!  Not only that, I already had the McCormick® spices and flavors on hand I would need for it!  So wins all around!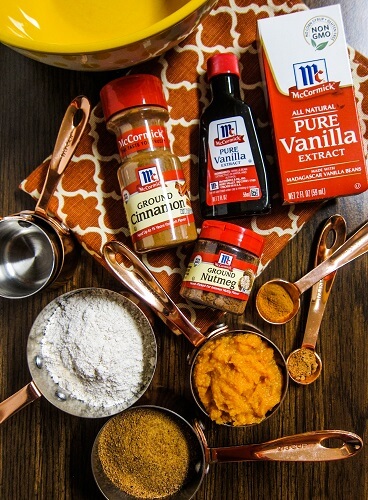 I know some people like to make pie for the holidays, and we do as well, but I like cake even more because it just seems so festive!  For this one, I made a flavorful batter with the leftover mashed sweet potatoes, plus maple sugar and of course McCormick® cinnamon, nutmeg and vanilla for an aromatic cake.  Let me tell you, it fills your home with the most heavenly aroma! What you get is a soft, moist but light and fluffy cake with a slight caramel maple flavor and sweet spices!  It would be good on its own, but I decided to make a luscious faux cream cheese frosting for it!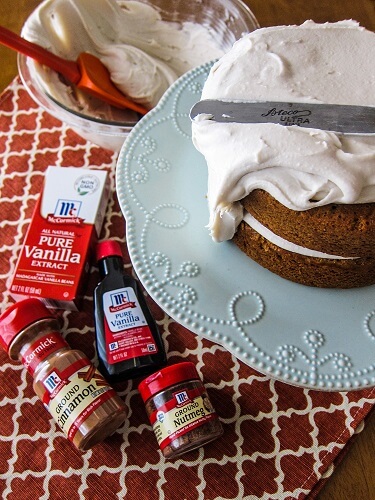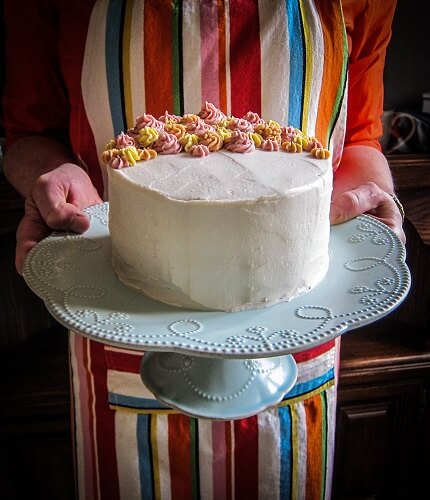 That has always been my favorite type of frosting after all.  I was so happy when I figured out how to veganize it!  I use a coconut cream base with a bit of cashew butter to give it a nice texture along with maple syrup to sweeten, and this time I added some McCormick® pure vanilla extract to it!  Like I said earlier in the post, it is my most used flavor ingredient in my recipes.  The frosting was heavenly alone but I knew it would be even better on the cake!  Once it was all frosted and ready to go we couldn't wait to try it!  It was sooo good, the soft sweet spiced cake with a hint of sweet potato and maple flavor plus the luscious creamy frosting!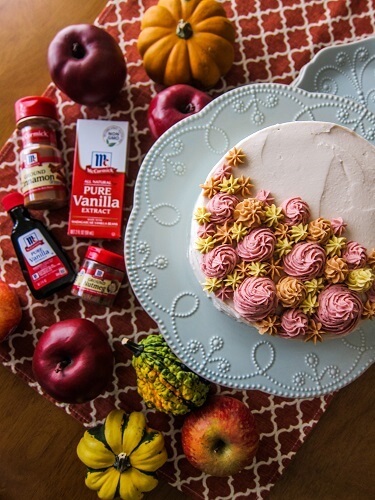 I hope you give these recipes a try this holiday season, my family loved them and I have a feeling you will too!  Definitely check out the McCormick® Spices next time you are in Walmart, or on their website HERE. They are just what you need for making super delicious holiday recipes, and so convenient!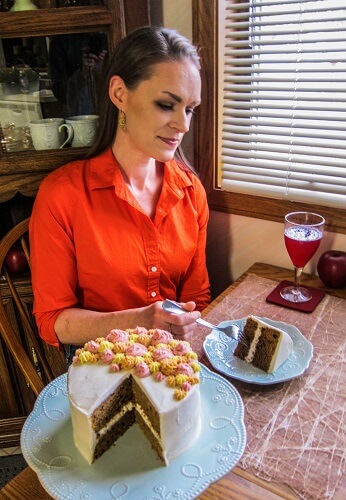 Vegan Sweet Potato Casserole
Serves 8-10
Sweet Potatoes:
Topping:
Instructions:
Preheat the oven to 425F degrees.
Prick sweet potatoes with a fork all over, and place in the oven on a baking sheet. Roast until tender, about 1 hour. Remove from the oven and cool until cool enough to handle.
Remove the skins, place in a bowl, and add the maple syrup, coconut milk, McCormick Sea Salt, and McCormick® Ground Cinnamon and Nutmeg. Mash together with a potato masher or a large fork, and then place in an oiled 8 or 9 inch square baking dish (or two smaller casserole dishes).
Sprinkle the pecans over the top, drizzle with the maple syrup and mix together the sugar and McCormick® Ground Cinnamon and sprinkle over the casserole.
Lower the oven temperature to 375F degrees, and place the dish in. Bake for 20 minutes until warmed through and the topping is toasted and lightly brown.
Remove from the oven and cool slightly before serving.
Enjoy!
Keeps refrigerated for up to 1 week, when kept in an airtight container and the leftovers are perfect for using in my maple sweet potato cake recipe (see below)!
Vegan Maple Sweet Potato Cake
Makes 1 6 inch 2 layer cake
Cake:
1 1/2 cups organic whole wheat pastry flour
1 cup maple sugar or coconut sugar
1 1/2 tsp McCormick® Ground Cinnamon
1/2 tsp McCormick® Ground Nutmeg
1 1/2 tsp baking soda
1 tsp baking powder
1/2 tsp  McCormick® Sea Salt
3/4 cup leftover mashed sweet potato from the casserole or plain mashed sweet potato (canned puree will also work, just make sure it is just sweet potato and not in syrup)
1/4 cup pecan butter or almond butter
1 Tbsp McCormick® Vanilla Extract
2 tsp McCormick® Maple Flavor (optional)
1/2 cup + 2 Tbsp filtered water
2 Tbsp apple cider vinegar
1/4 cup chopped toasted pecans
Frosting:
1 15 oz can organic coconut cream (the unsweetened kind), chilled
1/2 cup raw cashew butter
1/4 cup plus 2 Tbsp maple syrup
1/4  tsp McCormick® Sea Salt
1/2 tsp McCormick® Maple Flavor (optional)
1/2 tsp lemon juice or apple cider vinegar
3/4 cups coconut butter (not oil), warmed to liquid
Instructions:
Preheat the oven to 350F degrees and position rack in center of oven.
Line two six-inch-diameter cake pans with 2-inch-high sides with parchment paper. Coat parchment paper and pan sides lightly with oil.
Whisk flour, baking soda, McCormick® Ground Cinnamon, McCormick® Ground Nutmeg, McCormick® Sea Salt, and sugar in a large bowl to blend well.
Whisk sweet potato, pecan butter, McCormick® Maple Extract, McCormick® Vanilla Extract, and water together in small bowl to blend well, then whisk into the flour mixture until well blended.
Whisk in cider vinegar until pale bubble swirls form in the batter and it is well combined (but don't over mix).
Fold in pecans.
Transfer cake batter to prepared pans and bake cakes until tester inserted into center comes out almost clean with a few moist crumbs attached, about 25-30 minutes.  Remove from oven.
Cool cakes completely in pan on rack, about 1 hour. Cut around sides of pans to loosen. Turn cakes out onto platter; peel off parchment paper.
Meanwhile, to make the frosting, combine all ingredients but the coconut butter, in a high speed blender or food processor and blend until smooth.  With the motor running, add the coconut butter and process a minute more (if it starts to get lumpy at all during the process it is just the fat separating because it is 2 different temperatures.  Just continue to blend until it is smooth, and it will get warm so it will just have to chill longer).
Pour the frosting into a bowl and let sit in the freezer until the consistency of whipped cream, whisking every 15 minutes (this may take anywhere from 15 minutes to hour to an hour depending on how warm it has gotten and which appliance you used).
When ready to frost, place one cake layer on a plate. spread frosting about 1/2 inch thick over the first layer, then top with the second. Spread remaining frosting over the top and down the sides of the cake. You can tint the remaining frosting with natural food coloring if you wish and decorate the top, or just decorate with pecans.
Refrigerate for at least 1 hour before serving.
Store any leftover cake in the refrigerator, keeps in an airtight container for up to 1 week.
(Visited 1,228 times, 1 visits today)