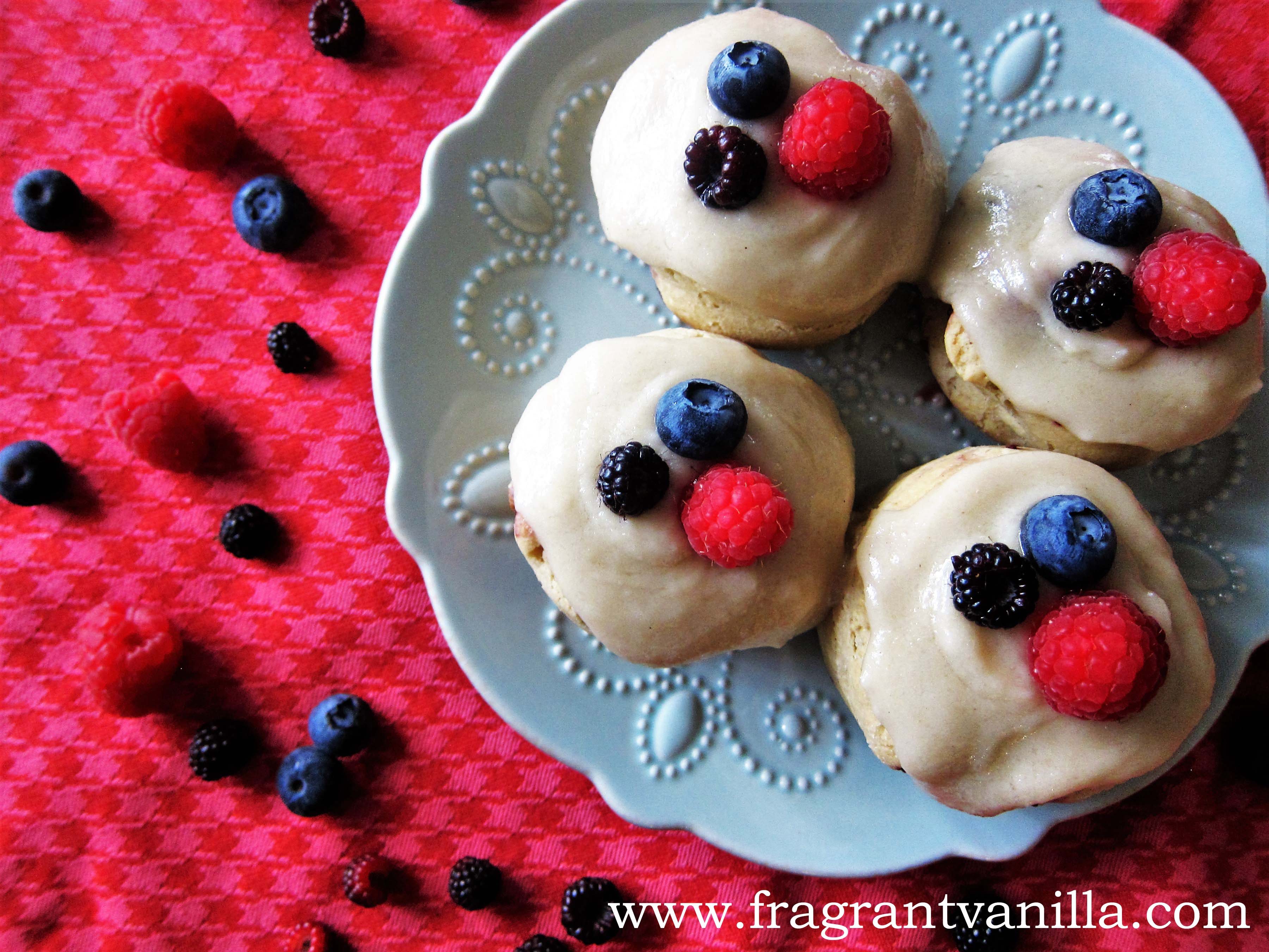 Vegan Summer Berry Sweet Rolls with Cream Cheese Frosting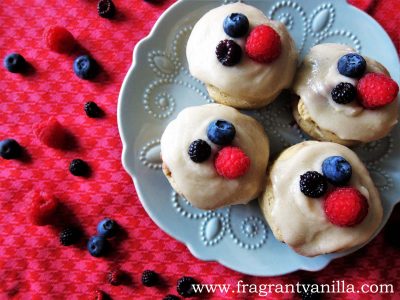 My perfect summer day off involves going for a run in the morning and having it be cool and refreshing outside, then enjoying some berry picking and more time outside maybe going for a walk in the woods, and later making something fabulous with those berries, and afterwards relaxing with my favorite person and a glass of wine.  That was last Sunday, a really good day.  I picked some wild raspberries, and they were fabulous.  That is one of my favorite parts of Summer is the wonderful fruit and it actually being available locally.  I have yet to go to a strawberry farm, but I like the wild raspberries best anyhow.  I have been wanting to make sweet rolls for a long time, and since it was my day off, I finally got around to it.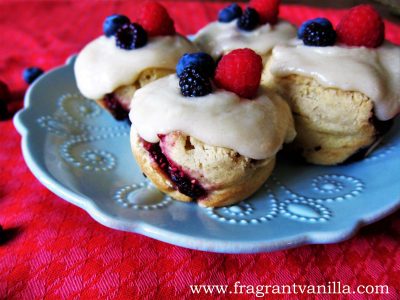 I used to make sweet rolls quite often a few years back actually, but the whole yeast thing and letting the dough rise, and flour that I used to use were all kind of off putting to me lately.  I don't want to say that I have gotten lazier, just busier, and I now often times want things that require less time. Which is good for you all in a way because I know you do not want to spend all day in the kitchen either.  So, made my first gluten free (well non raw gluten free) sweet rolls.  They have baking soda and powder and cider vinegar to help them rise instead of the usual yeast and it works pretty slick!  I use Bob's Red Mill gluten free flour because I feel like it has the best texture for baked goods.  I used the fresh raspberries along with some blueberries to fill these rolls, and they turned out awesome!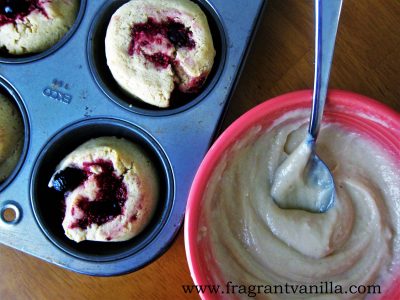 They had to have a "cream cheese" topping of course, so I made a faux cream cheese that I have used in the past and it was perfect. They were delicious warm, with the gooey frosting and jammy berries inside.  Summer's take on regular sweet rolls.  These only take about 15 minutes to bake, so they really don't require much of your time before you can enjoy them!  If you are looking for the perfect weekend morning treat (because these were made for lazy Saturday mornings), you need to try these!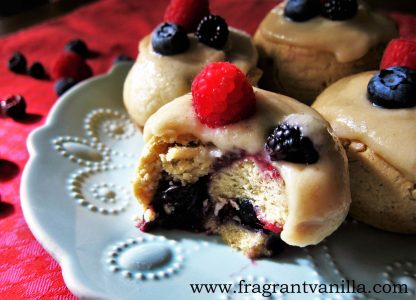 Vegan Summer Berry Sweet Rolls with Cream Cheese Frosting
Makes 4
Dough:
3/4 cup Bob's Red Mill all purpose baking gluten free flour
1/2 tsp guar gum
1/2 tsp baking powder
1/4 tsp baking soda
1/8 tsp sea salt
1/4 cup filtered water
1 Tbsp maple syrup
1 tsp cider vinegar
2 Tbsp coconut oil, warmed to liquid plus extra for brushing
Filling:
1 cup fresh organic raspberries, mashed
1 Tbsp maple syrup
1 Tbsp chia seeds
1/4 cup fresh organic blueberries
"Cream Cheese" Frosting:
1/4 cup raw cashew butter
1/4 cup coconut milk (or as needed)
1/4 tsp cider vinegar
1/8 tsp sea salt
1 Tbsp maple syrup
Preheat the oven to 375F degrees, and line 4 muffin tins with coconut oil.
To make the dough, combine the flour, guar gum, baking powder, baking soda and salt in a bowl, and mix together. Mix in the water, vinegar, and coconut oil until blended, then knead the dough lightly and place it on a sheet of parchment (dust it lightly with flour). Roll out 1/4 inch thick in a rectangle on the parchment.
Mix together the filling ingredients, and spread over the dough (leaving a 1/2 inch boarder at the top and bottom). Roll up from the top down jelly roll style. Cut into 4 pieces, and place cut side up in an oiled muffin tin. Brush the tops with a little coconut oil. Place in the oven and bake for 15 minutes until puffed up and starting to brown a little (but do not overbake). Remove from the oven and let cool until warm.
Whisk together frosting ingredients, and spread over the tops of the rolls. Enjoy!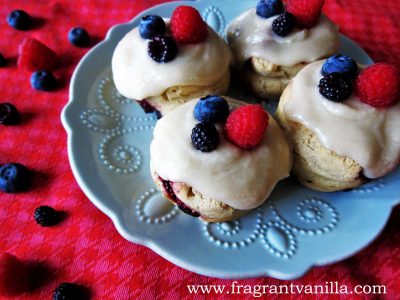 (Visited 54 times, 1 visits today)