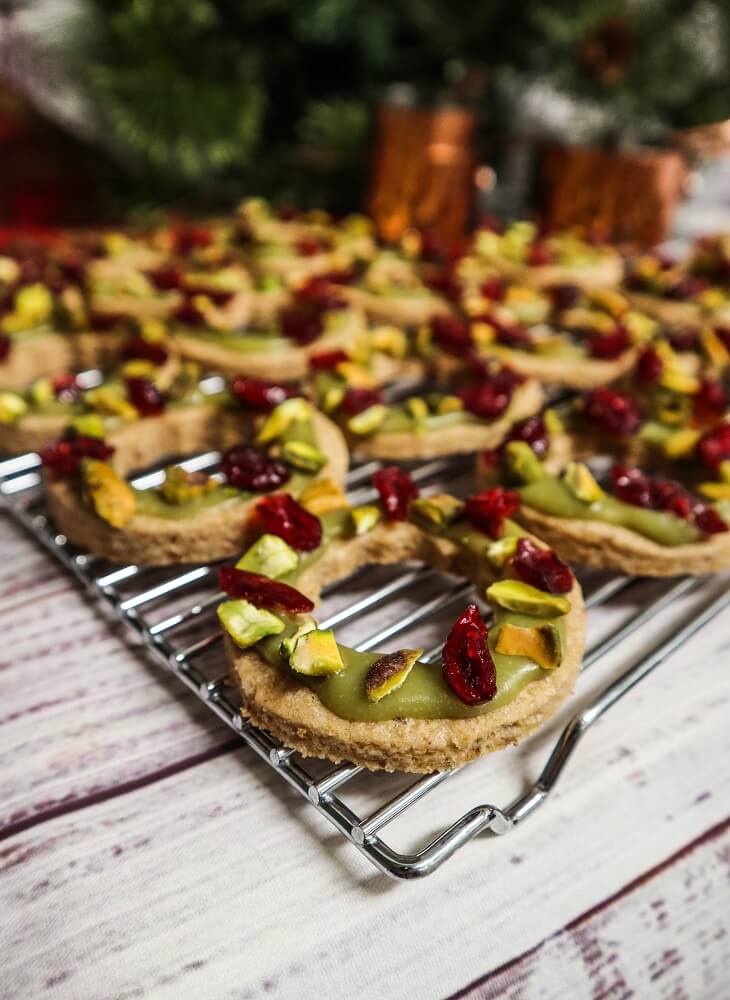 Vegan Sugar Cookie Wreaths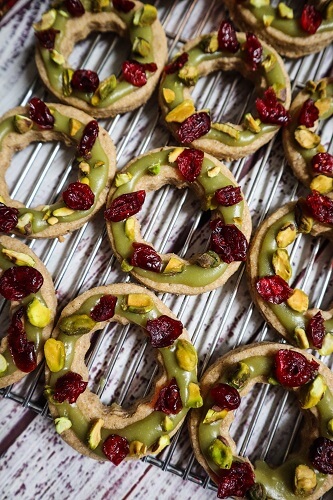 I can't believe Christmas is 2 weeks away!  Where has the time gone this year?  Also, it has been warmer here lately in Minnesota and we have no snow on the ground so it doesn't seem like winter is on the doorstep.  But I am still in a Christmas cookie baking mood! Baking a bunch of different kinds of cookies this time of the year is one of my favorite parts of the season!  When I was little my Mom and I used to make our old favorites plus a few new ones we wanted to then freeze some of them in a big container to enjoy for the holiday season plus share some with others.  My grandma also had a similar tradition, only she mainly made the cookies to pack into tins to give as gifts.  I always loved the variety she made. I enjoyed the cookie making process, plus the heavenly aroma of cookies that filled our home always made me happy!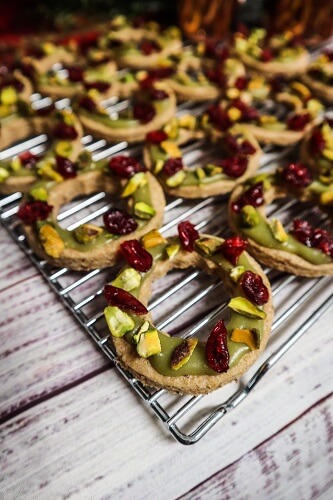 Some cookies were easy to make, and some were a bit more tedious, but I think the tedious ones ended up being my favorite usually. The ones like the sugar cookies or gingerbread that I was able to decorate and add a personal touch to.  Last weekend I decided to make some sugar cookies.  I saw some non-vegan sugar cookie wreaths on Pinterest, and decided that I would try to make my own version!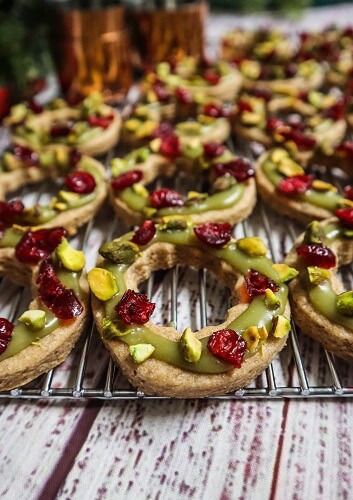 Sometimes when baking I use coconut oil in my cookies, but this time I decided to use Earth Balance buttery sticks because it was what I had on hand.  I used maple sugar to sweeten them and whole wheat pastry flour for the base, so they are a little darker than traditional sugar cookies.  But if you wanted them lighter you could go with the AP flour and granulated sugar.  The dough was super delicious even before the cookies were baked.  Yes, I was eating the scraps as I rolled them out!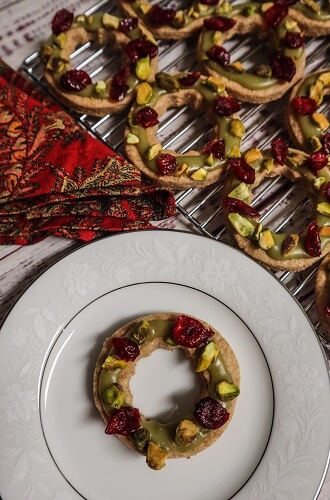 They smelled heavenly while baking and cooling and they deserved a just as heavenly decoration on top!  Instead of making a traditional powdered sugar glaze, I made a coconut butter maple glaze tinted green with a bit of spinach powder, then topped them off with crunchy pistachios and sweet cranberries. They turned out sooo good!  They were buttery and sweet, that coconut glaze the perfect topping with the salty crunchy pistachios and chewy cranberries! I would be proud to include these on any gifted cookie plate or in a cookie tin.  They are so cute and taste so good!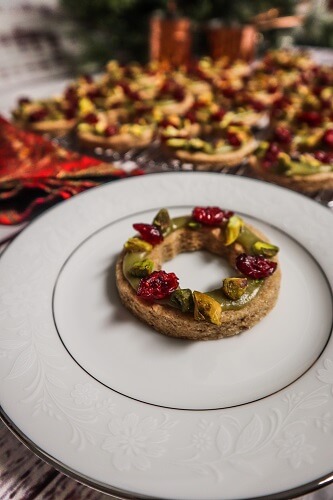 j,,
Vegan Sugar Cookie Wreaths
Makes about 3 dozen cookies
Ingredients:
1 cup Earth Balance vegan butter, softened (or your favorite plant based butter)
1 cup maple sugar (coconut sugar or granulated sugar will also work)
1 Tbsp ground flax seed mixed with 3 Tbsp filtered water
2 Tbsp thin coconut milk
1 tsp pure vanilla extract
3 cups organic whole wheat pastry flour
3/4 tsp baking powder
1/4 tsp sea salt
Icing:
¼ cup plus 2 Tbsp coconut butter, warmed to liquid
¼ cup plus 2 Tbsp filtered water (or as needed)
1 Tbsp maple syrup
1/2 tsp pure vanilla extract
1/2 tsp spinach powder or matcha powder
chopped pistachios
dried cranberries
Instructions:
Preheat the oven to 350F degrees, and line two sheet pans with parchment.
In a bowl, mix together the butter and maple sugar until well combined.  Add the flax mixture and 2 Tbsp coconut milk, and vanilla and mix until combined. Add the flour, baking powder and sea salt and mix until the dough has formed. It should be smooth and pliable, if it seems too stiff add a touch more coconut milk.
Turn the dough onto a sheet pf parchment and roll out 1/4 inch thick.  Use cookie cutters (1 larger round and one smaller round) to cut out wreath shapes and move to parchment lined trays (if the dough seems too soft to manage, pop into the refrigerator for a few minutes).  Re-roll any scraps and repeat.  Set at least 1/2 inch apart on baking trays.
When the cookies are all on the trays, place them in the oven and bake for about 12-13 minutes until set and just starting to brown. Remove from the oven and let cool.
Mix together the coconut butter, maple syrup, vanilla and spinach powder until smooth adding a touch more filtered water if it is too thick (you want it a thick glaze consistency).
Spread or pipe a thin layer of the icing over the cookies, and sprinkle with the pistachios and cranberries.  Set the glazed cookies in the freezer for about 5-10 minutes until set.
Store any leftover cookies in an airtight container in the refrigerator or freezer.  Cookies keep up to 2 weeks refrigerated, or 4 months frozen
(Visited 381 times, 1 visits today)