Vegan Strawberry Shortcake Iced Latte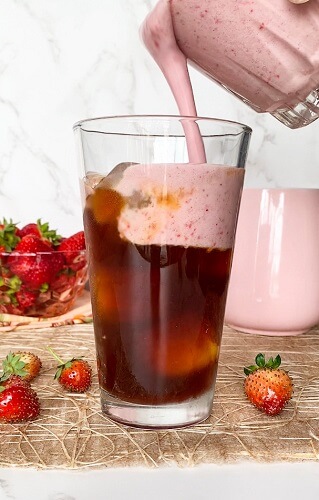 Last weekend I decided to recreate a delicious coffee drink that I enjoyed last summer at a local coffee shop.  It was one of my favorites and they don't have it on the menu this year so I figured why not?!  Also it is fun to make fancy drinks at home and sip them outside while I relax as well as much cheaper. The drink was a Vegan Strawberry Shortcake Iced Latte, and it honestly turned out just as good as the ones from the coffee shop!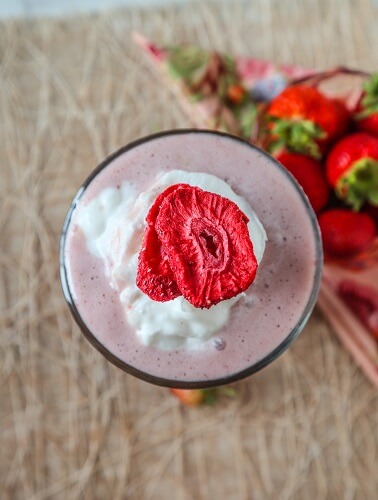 I started off with iced coffee, which I sometimes make a big jar of ahead of time so I can use it for drinks like this or just chilled with oat milk. I then took some oat milk and blended it with a touch of vanilla and some maple syrup for sweetness.  I used full fat oat milk for this, but you could use a lighter one too, just use what you have on hand and prefer. If it happens to be sweetened though, you may not need the maple syrup.  I just buy unsweetened.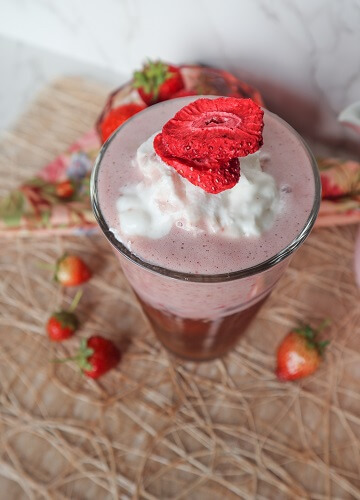 I then blended in some strawberry powder to give it loads of delicious strawberry flavor and it was perfect!  If you are wondering what strawberry powder is, it is freeze dried strawberries ground into powder in the blender.  I buy mine at Aldi.  Strawberry powder is also awesome for tinting cake frosting or icing and giving it a berry flavor without the moisture.  This milk tasted like the best strawberry milk ever once the berries were added!  I definitely loved strawberry milk at school lunch when I was a kid.  Wasn't as much of a fan of the chocolate for some reason.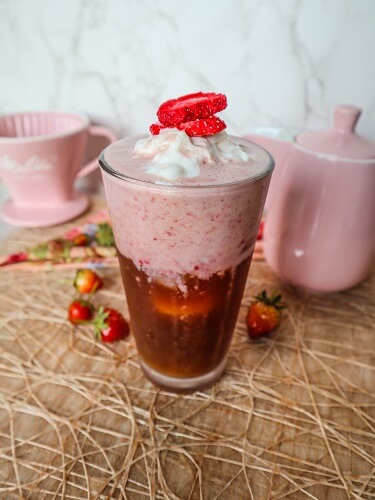 Lastly I topped off the drink with some vegan almond whipped cream (which I got at Aldi as well) and it was perfect!  It tasted just like the drinks I loved, and it was super delicious!  Just the right amount of balanced strawberry flavor, vanilla and coffee!  People pay big bucks for fancy drinks like this, but why not whip one up at home!  If you are in the mood for a delicious summer coffee drink, definitely give this Vegan Strawberry Shortcake Iced Latte a try!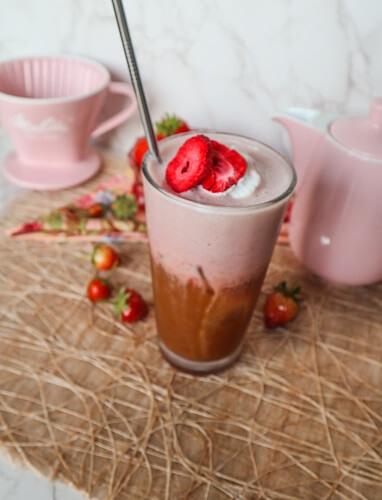 Vegan Strawberry Shortcake Iced Latte
Makes 1
Ingredients:
1/2 cup ice
1 cup strong brewed coffee
2 tsp maple syrup
1 Tbsp strawberry powder*
1/4 tsp pure vanilla extract
1/2 cup oat milk
vegan whipped cream (optional for topping I used Aldi Almond whipped cream)
Instructions:
To make the latte, add the ice and coffee to a tall glass.
In a smaller glass, blend or whisk the maple syrup, strawberry powder and vanilla into the milk.
Pour the strawberry milk over the coffee in the glass.
Top with vegan whipped cream if desired.
(Visited 113 times, 1 visits today)