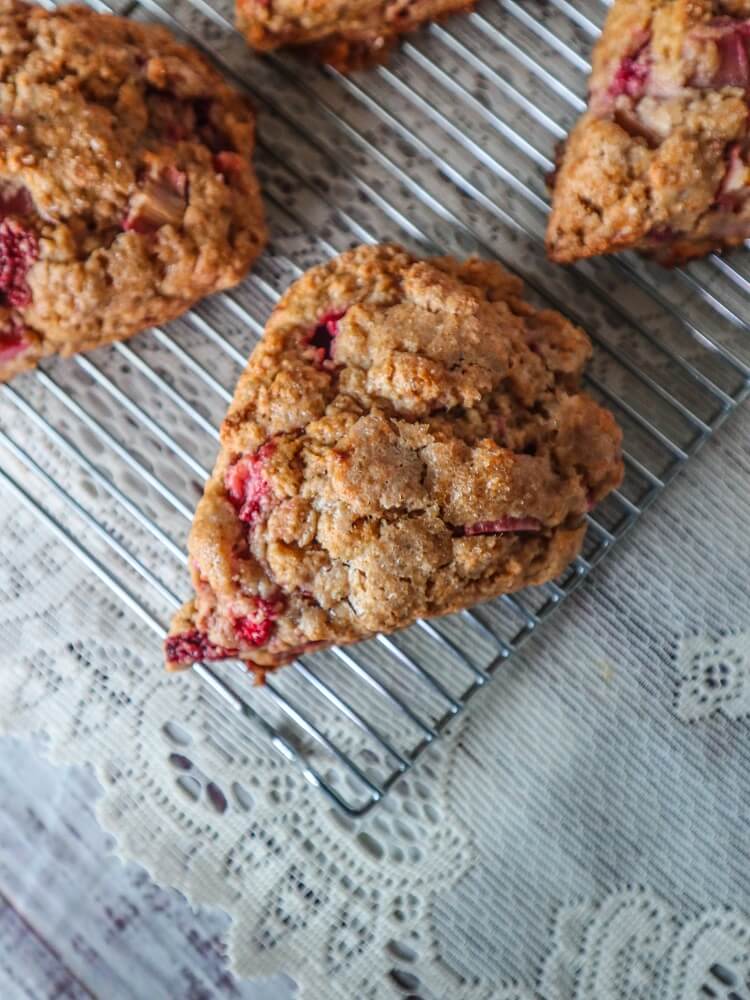 Vegan Strawberry Rhubarb Scones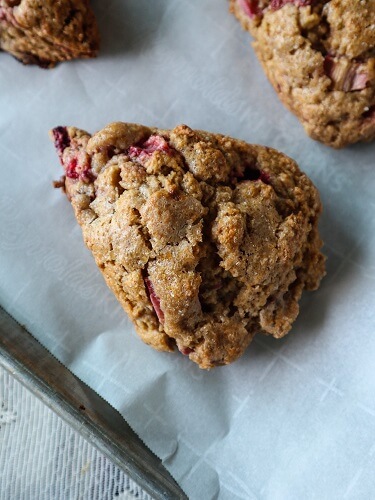 Strawberries and rhubarb are one of my all time favorite combinations!  I think it all started when I was little.  My Grandma used to grow a row of giant rhubarb plants behind her garage, and she would use them to make this really delicious strawberry rhubarb sauce which she would give to us in large jars.  It was so good I would eat it by the large bowl full just by itself.  I remember my Grandma telling me not to eat so much at a time or I would get a tummy ache, but I never did.  It was wayyy better than applesauce!  It had the perfect balance of tart and sweet.  So good over ice cream also for a sundae!  I still like to make strawberry rhubarb desserts now as an adult.  Last weekend I decided to make some Vegan Strawberry Rhubarb Scones!  This is something I have been baking a lot at work lately because we have a giant box of rhubarb, and the customers seem to love them so I wanted some for myself at home!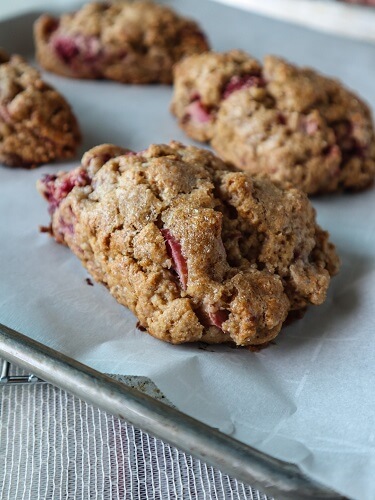 I have actually never made strawberry rhubarb scones at home so this seemed like the perfect opportunity.  I have only made strawberry and knew I loved those.  I made a couple of changes though from the ones I make at work, such as using whole wheat pastry flour instead of the ap flour we use there so they are a little darker in color.  If you wanted to make these gluten free, you could use Bob's Red Mill all purpose baking flour swapped 1:1 for the flour I have used.  I have used it before and it comes out successfully.  Also, I used maple sugar instead of granulated sugar because that is what I prefer to use at home, but you can also use either brown sugar, white sugar or even coconut sugar if you prefer those and they will still be delicious!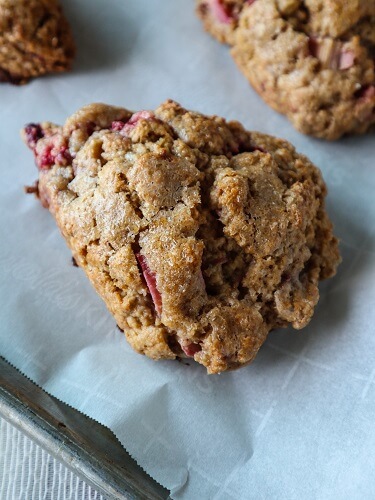 Other than that, the ratios of oil and coconut milk I used are similar  and work well so I did not change them.  No these are not a low fat scone, I developed them to make them the best texture and flavor and we could all use a nice treat once in a while lol!  I love scones even more than muffins because they are a little less sweet, but they have that crunchiness on the outside and tenderness in the middle.  For these, just mixing the dough until combined and leaving lumps of coconut oil is best for the lovely texture. You do not want to over-mix, you want to handle these just enough to create the tender texture kind of like you would treat a biscuit dough.   I have made them so many times I know how it should feel, and if it is your first time you may be tempted to mix it until smooth but don't do it!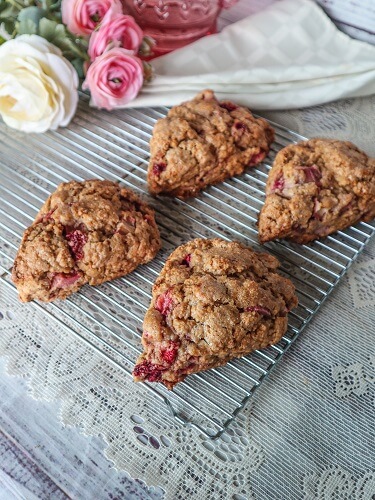 These smelled so lovely while baking!  I could not wait to try one! They are definitely something that should be enjoyed still slightly warm from the oven because it brings out the flavor!  They are just sweet enough with a tender texture, and pockets of jammy sweet berries and tart rhubarb throughout, with a crisp sweet coating on the outside!  If you are looking for a treat for brunch or just because, definitely give these Vegan Strawberry Rhubarb Scones a try!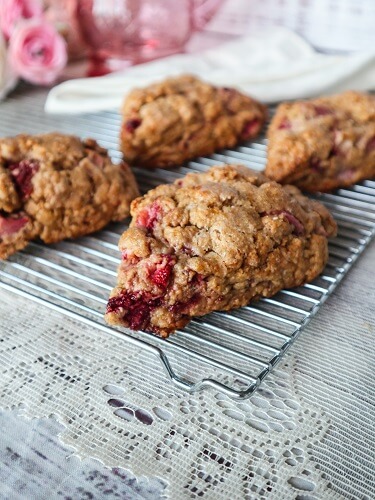 Vegan Strawberry Rhubarb Scones
Makes 8
Ingredients:
3 cups organic whole wheat pastry flour* or organic all purpose flour
3/4 cup maple sugar or brown sugar
2 1/2 tsp baking powder
1/4 tsp salt
3/4 cup solid virgin coconut oil, cut into chunks (if your house is above 65F degrees, chill it first)
1 1/2 cups (or as needed) cold full fat organic canned coconut milk (whisked until smooth if chunky)
1 Tbsp pure vanilla extract
1 cup fresh rhubarb sliced into 1/4 inch slices
1 cup fresh or frozen strawberries, cut into quarters or sliced
coconut milk for topping (if needed)
turbinado sugar for sprinkling
Instructions:
Preheat oven to 375F degrees with the rack set at the middle position.
Line a baking sheet with parchment.
In a large bowl, combine the flour, sugar, baking powder, and salt. Cut in the coconut oil with a pastry blender or 2 knives until the mixture starts to clump into pea sized pieces. In a small bowl, stir the vanilla into the coconut milk. Add the coconut milk to the dough, and stir a few times, but do not over-mix. The dough should hold together when squeezed, but still be clumpy.
Fold in strawberries and rhubarb until evenly distributed.
Place dough on a floured work surface, and shape into a 4 inch wide log. Use a bench scraper to cut into 8 triangles.
Place scones on the prepared baking sheet, reshaping slightly if necessary.
Brush the tops lightly with the coconut milk (only if they seem dry, you want the sugar to stick), and sprinkle with coconut sugar.
Place in the oven and bake for about 15 minutes , then after about 15 minutes you may need to reshape with 2 bench scrapers if the scones are spreading. Turn them then place back in the oven and bake 15 minutes more until they are lightly browned and cooked throughout.
Cool on a wire rack.
Enjoy!
*If you prefer to make these gluten free, you can swap the whole wheat pastry flour for an all purpose baking flour like Bob's Red Mill Gluten Free All Purpose Baking flour (I have tried this brand with success).
(Visited 989 times, 1 visits today)