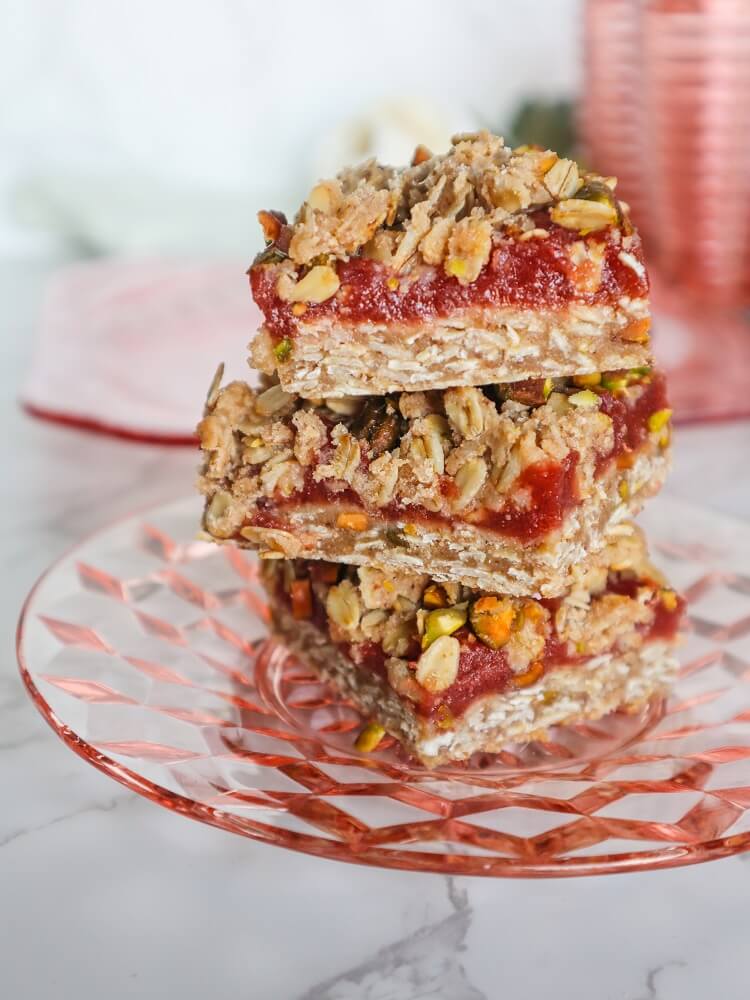 Vegan Strawberry Rhubarb Pistachio Jam Bars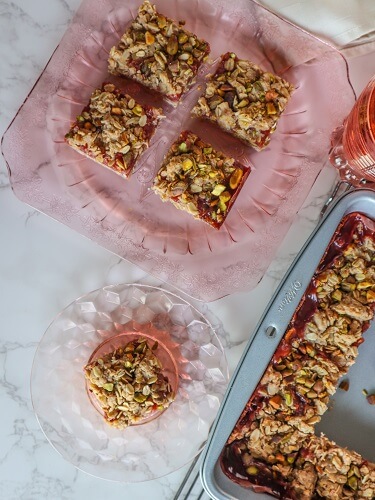 I am super excited for rhubarb season!  We aren't quite there yet in Minnesota.  Well, maybe that is an understatement.  We just cleared the snow and grass is barely beginning to grow so maybe about a month.  But there is hope, it got up to 88 degrees this week, a record high for that day!  I saw a Facebook post that someone had some just poking up in their garden.  Anyways, until it has grown enough to be harvested, I am enjoying the strawberry rhubarb jam and frozen rhubarb I saved from last year.  I decided to take some of that jam last weekend and make some Vegan Strawberry Rhubarb Pistachio Bars to satisfy my rhubarb dessert craving!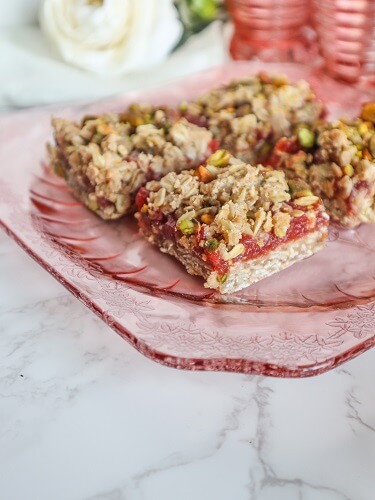 I love jam bars with the crumble on top!  They are like the best of both worlds with cookies (since the top and bottom are similar to a cookie recipe) and jam, and much easier to make than a sandwich cookie!  When I make my dough for the crust and topping, I like to make it with a recipe that has oatmeal in it for more texture.  Don't get me wrong, I love all streusel and crumble topping but oatmeal just completes it in my opinion.  This one has a buttery rich tasting crust thanks to the coconut oil used in it, and it is really easy to make!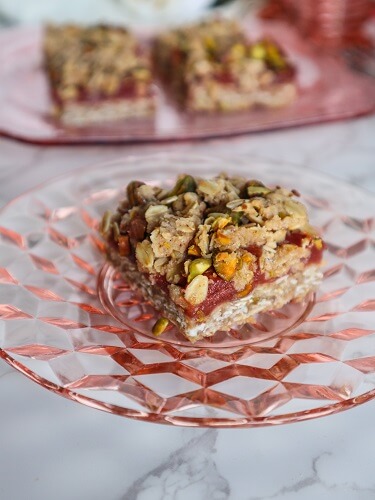 I decided to add pistachios to this as well, because why not?  They are nutty and delicious and so pretty in everything you add them to! They added a nice crunch to the crust and topping, plus a touch of saltiness since the ones I had were salted.  You can use unsalted if you prefer.  For the strawberry rhubarb jam, I used some of Eric's Dad's home made jam and it was perfect!  If you can not find strawberry rhubarb jam, you could cook about 3/4 cup of rhubarb and combine it with 1 1/2 cups jam (I would sautee it with a little water in a pan over medium heat until it softens, then drain any excess water before adding it to the jam).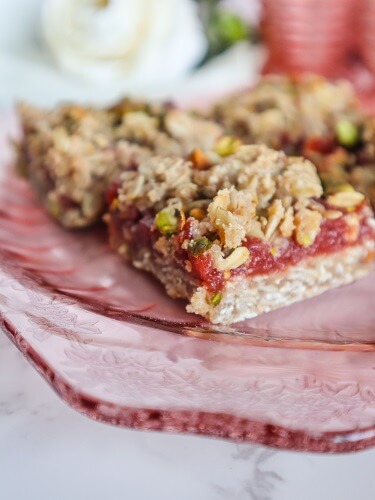 These bars smelled so heavenly while baking, I could not wait to taste them!  They turned out so delicious!  The pistachio vanilla topping and crust were just the right amount of crunch and had a rich buttery texture and paired perfectly with the sweet tart rhubarb!  Strawberry rhubarb pie is one of my favorite things ever and honestly this is on the same level of delicious but less work to make!  If you are a strawberry rhubarb fan, definitely try out these Vegan Strawberry Rhubarb Pistachio Bars this year!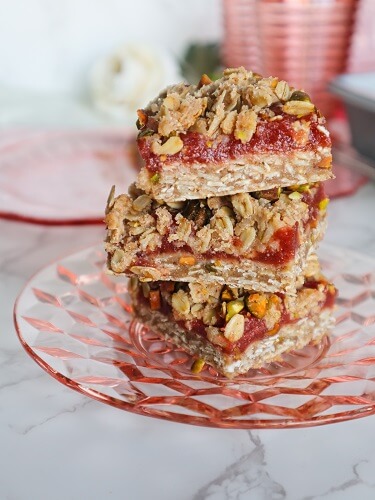 Vegan Strawberry Rhubarb Pistachio Bars
Makes 16
Ingredients:
1 1/2 cups rolled oats
1 1/4 cups vegan whole wheat pastry flour
1/2 tsp baking soda
1/2 tsp sea salt
1/2 cup melted coconut oil
1 cup maple sugar or brown sugar
1 Tbsp ground flax seed mixed with 3 Tbsp filtered water
1 tsp pure vanilla extract
3/4 cup chopped pistachios
2 cups strawberry rhubarb jam
Instructions:
Preheat the oven to 350F, and line a 9x9 pan with parchment.
In a large bowl, combine the oats, flour, baking soda, sea salt, and set aside.
In another bowl, mix together the coconut oil, maple sugar, flax mixture and vanilla, then mix into the oat mixture until well combined. Mix in 1/2 cup of pistachios.  Set aside.
Press 2/3 of the oat mixture into the 9x9 inch pan evenly, then spread the jam over it. Sprinkle with the remaining oat mixture and pistachios and place in the oven.
Bake for 30 minutes, then remove from the oven and let cool completely before cutting into 16 bars.
(Visited 286 times, 1 visits today)