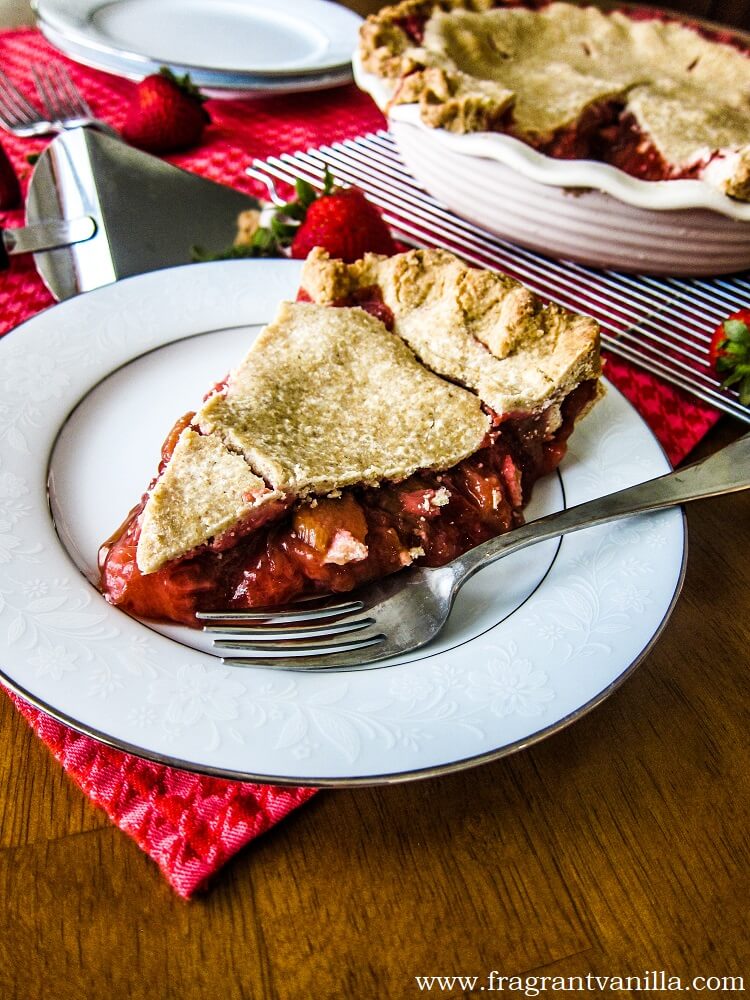 Vegan Strawberry Rhubarb Pie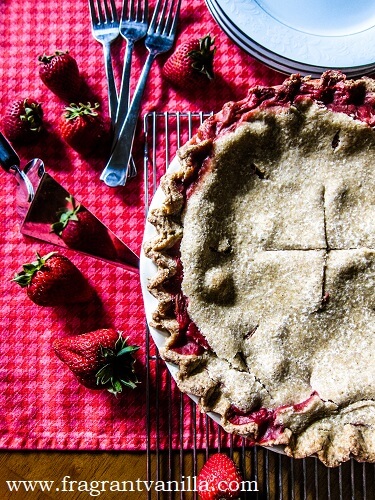 When I was little, my Mom and I used to go to this local 50s style diner restaurant that had the best strawberry rhubarb pie.  It was amazing. The perfect balance of tart and sweet, with plenty of jammy filling and a flaky crust.  I have had plenty of other ones that were just sub par because whoever made it added too much sugar and it was too sweet, or the flavor was just meh.  I am super picky about strawberry rhubarb stuff, because my Grandma used to make a simple strawberry rhubarb sauce with the rhubarb that grew in her back yard and nothing could compare to it, except a good pie like that one at a diner.  They were both just the pure flavors of strawberry and rhubarb and not much else.  So now, when I try to make strawberry rhubarb desserts, I try to get that balance right too.  I have been craving strawberry rhubarb pie for a few weeks now, and I just got some rhubarb from my Dad's garden and organic strawberries were on sale at the store so I finally made time to make one.  I do not consider myself a good double crust pie maker, in fact, most of the time they turn out wonky and whatnot, so I usually opt for a crumble topping which is hard to mess up.  But I wanted a pie like the diner one, because that was what I was craving so I went for it even with that in mind!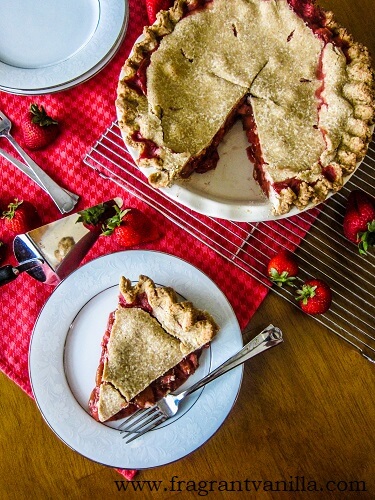 For the crust, I went with an organic whole wheat pastry flour, because it is what tastes the best to me.  It is what I used before I went vegan even, because I didn't want to go for the bleached white flour and I had grown to love it.  Yes, I have made gluten free pie crusts (since I know some of you might wonder why this isn't gluten free because many of my other recipes are), but I don't prefer them if the pie is just for me and my family because we are not gluten intolerant so it is not a big deal to use the whole wheat pastry flour. However, if you are gluten intolerant, you can still make this pie, just sub Bob's Red Mill all purpose gluten free flour 1:1 and it will still turn out (I have used it before for crust).  The dough will just be a little more fragile so you will have to be a little more careful.   I use coconut oil instead of butter in this crust and it gives it a slight sweetness that I enjoy.  I admit I was snacking on the scraps of this pie crust like cookie dough it was that good.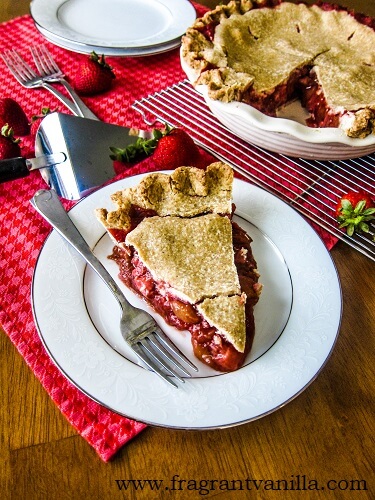 For the filling I kept it super simple, just strawberries, rhubarb and coconut sugar.  Because the fruit was super flavorful that was all it needed.  Now like I said earlier, I am not an expert double crust pie maker, so I didn't do anything pretty or special with the crust, just poked the vent holes in it and popped it in the oven.  It didn't come out the prettiest, but you know what?  It tasted so good I did not care.  My pie crusts always look a little ugly (this one cracked because I wasn't careful with the dough), but they taste good!  The fruit was perfectly jammy and sweet with just enough tartness from the rhubarb, and the crust was rich and delicious just like I had imagined it being. It got a big thumbs up from my family as well, so I know it is a keeper.  This is perfect served a little warm with some coconut milk ice cream!  Anyone else a big strawberry rhubarb fan?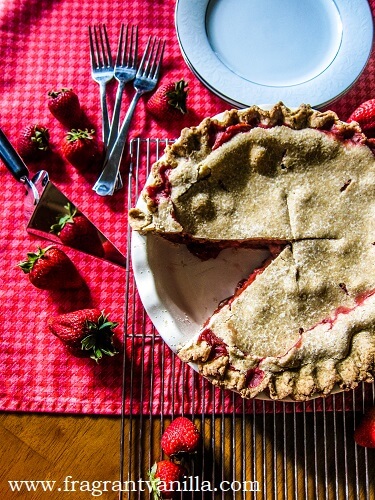 Vegan Strawberry Rhubarb Pie
Makes one 9 inch pie
Crust:
1/4 cup coconut sugar or maple sugar
1/2 tsp sea salt
3/4 cup coconut oil, chilled in its solid state
about 6-12 Tbsp cold water
Filling:
4 cups organic strawberries
4 cups organic rhubarb
1/2 cup coconut sugar
1/4 cup cornstarch
To make the crust, in a large bowl, mix together flour, sugar, sea salt, and spices. Cut in coconut oil with a pastry blender or 2 knives until it is in pea sized pieces. Mix in  just enough water to create a smooth dough that holds together but isn't too sticky. Add more water if needed, and knead slightly until a smooth dough is created. Roll out into 2 10 inch circles on two sheets of slightly floured parchment paper, then use the paper to help you transfer one to an 9 inch pie dish.  Set them both aside in a cool place.
Pre-heat the oven to 375F degrees.
To make the filling, combine the berries, rhubarb, coconut sugar, and cornstarch in a bowl, and toss together.  Pour this mixture into the crust, then take the other crust, and place over the top of the pie, using the parchment to assist you.
Place in the pre-heated oven and bake for about  50 minutes or until the pie juices are bubbling (check the pie half way through, and if it is getting too dark, then cover the top with foil).
Remove from the oven to a wire rack.
Allow to cool completely before serving.
(Visited 1,108 times, 1 visits today)